Leadership Conference Draws
More Than 100 Alumni, Parents
by Alex Sachare '71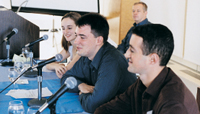 Erika Dunham '04, James Thompson '03 and Bram Alden '03 (l to r) urged alumni to be involved with students in programs.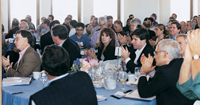 More than 100 alumni and parents attended the conference and went home with a better understanding of the importance of fund raising.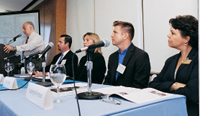 Dean of Student Affairs Chris Colombo (far left) chaired a panel that featured (l to r) David Charlow on financial aid, Sandy Johnson on advising, Eric Furda on admissions and Kathryn Wittner on student-alumni programs.

PHOTOS: SHAWN CHOY '03

More than 100 enthusiastic alumni, students and parents gathered on campus for the first Columbia College Fund Leadership Conference on September 28. Dean Austin Quigley, Trustee Richard Witten '75, University VP for Development and Alumni Relations Susan Feagin and panels of alumni, students and senior administrators stressed the importance of alumni involvement, especially financial involvement, to the health of the College and its many programs.
Much of the College Fund, which last year, under the leadership of Director Susan Birnbaum, raised more than $8.3 million in unrestricted gifts, is used on financial aid for students. Stressing Columbia's commitment to need-blind admissions and full-need financial aid, Dean Quigley and others spoke of initiatives being undertaken by peer schools such as Harvard, Yale and Princeton to decrease a financial aid student's debt by the time he or she graduates and emphasized how Columbia needs to raise funds to counter these initiatives or find itself at a disadvantage as it tries to attract the best and brightest students.
Dean Quigley updated the attendees on the latest news at the College, including the evolution of the Core Curriculum with a planned new general science course and changes in the undergraduate writing program. He also spoke of plans to develop a team-taught, senior level course that would serve as a culmination of the Core experience and "would enable students to do some intercultural analysis." Quigley also described the ongoing renovations to Hamilton Hall, including the creation of a new office that will serve as a home for the Core Curriculum.
Alumni of all ages, along with students and parents, attended the Leadership Conference, creating strong representation across all eras. The conference served as a kickoff for the new Class Agent program, which seeks to provide a framework for alumni to reconnect and stay connected with the College and their classmates through a strong volunteer network. The goal is to identify and enlist Class Agents who will lead the fund-raising effort within each class by networking and enlisting additional Class Agents, asking classmates to support the College Fund, identifying and cultivating non-donors, hosting class events and reconnecting "lost" classmates with their class and with the College. This initiative will build continuity between existing alumni programs, including the Senior Class Fund, reunions and direct mail.
For more information, please call (212) 870-2288 or (866) CCALUMNI or log onto www.college.columbia.edu/alumni/giving.





CCT Home


This Issue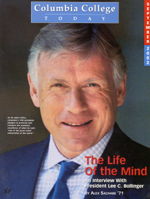 Previous Issue

CCT Masthead