| | | | | | | |
| --- | --- | --- | --- | --- | --- | --- |
| | | || | | || | | |
ALUMNI UPDATES
James Sanders '76: Manhattan's Prose Laureate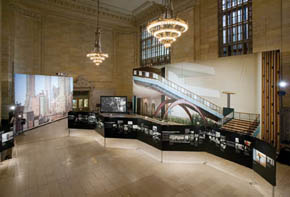 PHOTO: © PETER MAUSS/ETRO

Last June, a pedestrian walking through New York's Grand Central Station might have suddenly noticed that he was surrounded by sights both familiar and unfamiliar. Over his head loomed a long city bridge, buildings and the blue of an East River sky. Beside him stood a clean-lined lobby from the '50s and a high, vaulted corridor from the old Penn Station. The city — or an older version of it — had temporarily moved indoors.

For this unmoored moment, the pedestrian could have thanked James Sanders '76, author of Celluloid Skyline: New York in the Movies. In this landmark book, published in 2001, Sanders wrote the history of "movie New York," a larger-than-life metropolis dreamed up by the cinematographers, directors and writers working in the Hollywood studio system. In research libraries and studio archives, Sanders had studied New York's cinematic depictions — from the early street-scene footage filmed by Manhattan's own turn-of-the-century film companies (Edison and Biograph, where D.W. Griffith made a film, were based here) to the huge, detailed recreations that still take up substantial real estate in Hollywood's backlots. While still immersed in his research, Sanders had dreamed of turning Celluloid Skyline into a multimedia exhibit. Last year, Turner Classic Movies, in conjunction with Time Warner Cable, finally agreed to sponsor the show, and Sanders got to work.

The result was a display that drew an estimated 100,000 visitors and press coverage from Belfast to Brazil. Visitors to Grand Central's Vanderbilt Hall found four gigantic "scenic backings" — swooping, detailed cityscapes that rose as high as a three-story building and stretched as wide as 60 feet. (The 40-foot-tall Vanderbilt Hall was one of the few rooms in the city that could have housed the exhibit.) A pair of 50-inch plasma monitors showed short films of daily life in New York shot between 1896–1903. Two larger screens showed New York background footage from the 1930s on. Images of old Broadway — its neon signs advertising Admiral Television and Coca-Cola — created "an eerie, dreamlike overlay of past and present," wrote Caryn James in The New York Times. The idea was for visitors to stand in front of these screens as the actors had, starring in their own personal New York movie.

Sanders could be said to be starring in his own New York film, probably a downtown indie. He is a man with a bewilderingly large number of successful pursuits: architect and environmental designer, writer, conference host for an online virtual community (Echo) and sometime curator. As a writer, co-writing with his friend Ric Burns '78, he has won two Emmys (for New York, the well-received 1999 PBS series, and their 2006 documentary on Andy Warhol). He has co-curated exhibits on 42nd Street and New York housing. As an architect, he has designed apartments for high-profile clients such as Molly Ringwald and the late Edward Said. What pulls it all together is New York.

"James was and is, at least in my mind, the prose laureate of Manhattan," says writer Don Guttenplan '78, the London correspondent for The Nation, who met Sanders when he was a sophomore. The two walked endlessly around the city, immersed in talk, exploring its public and forbidden places. "Hacking was [then] an MIT expression for benign illicit entry," says Guttenplan. He and Sanders "hacked," memorably, into the space between Grand Central's roof and its ceiling. "James knew where the door was. He also knew that the stars on the ceiling are reversed — like a 'flipped' photo." "In a way," Guttenplan recalls, he "taught me how to be a New Yorker."

It may have been partly for love of the city that Sanders ended up at the College. Sanders, who was from old Columbia stock, must have guessed early on that he would apply to the school. His father, Albert '41E, had attended the College for two years. "He was in the first Lit Hum class taught by Mark Van Doren," Sanders recalls. As a young New York boy, James was taken by his father to hear Isaac Asimov '39 GSAS, '41 GSAS speak at the Engineering School, and to Baker Field to watch Columbia football. When it came time for college, Sanders applied to Cooper Union and got in, but he knew already that he wanted a liberal arts education before going to architecture school. "I would be a better architect, and a better person," he says now.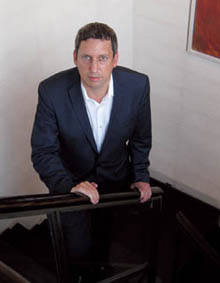 PHOTO: self-portrait

It was the right decision.

"I loved it. I was never so happy," he says. With professors such as Eugene Santomasso, Joe Masheck '63 and "of course, Ken Jackson," the young intellectual was able to flex his muscles. There was "that sense in which you could literally feel yourself growing," he remembers. Celluloid Skyline began as a series of notes — lists of films — for an unwritten paper for Jackson's "American Urban History" class. His various projects, he believes, are "an attempt to recreate on my own the experience of being able to learn and write at the same time … to me, it goes right back to Columbia."

What's next? Maybe a book (Sanders was awarded a Guggenheim fellowship last year to do research on "the experience of cities"). Or an urban improvement project. The Celluloid Skyline exhibit may be moving to D.C. next summer. Then there's his new family: A few years ago, the gregarious Sanders added "father" to his long list of credits. He and his partner, Ingrid Bernstein, a creative director in advertising, live in Tribeca with their 3-year-old son. One thing, though, you can probably bet on, at least for now: Sanders won't be leaving New York.
Rose Kernochan '82 Barnard
| | | | | | | |
| --- | --- | --- | --- | --- | --- | --- |
| | | || | | || | | |


CCT Home


This Issue


Previous Issue

CCT Masthead