THE LIFE OF THE MIND CONTINUED [ 2 OF 3 ]


You mentioned raising money for financial aid and dealing with that issue as one of your priorities. What other issues do you see as most pressing?
We have to figure out the problem of space. That is, not only land and the size of buildings, but what goes into them. What is going to be the nature of this intellectual community as we expand? There's no question the University must find ways to grow. Every major university during the past hundred years has been expanding by an average of one million square feet a decade. Over the past five years, that has accelerated; I think it's fair to say it has doubled. If Columbia is going to continue to be a place for some of the most creative work in every field, and especially in the sciences, which demand a great deal of space relative to other subjects, we're going to have to solve the expansion problem. As I say, it's not just a physical problem, but a community, intellectual, academic issue. The space that we are looking at right now, 36 acres, is one of the most glorious academic sites in the world. How to preserve that feeling and to expand the University is a major concern.
Besides the space issue, is there anything else you see as pressing?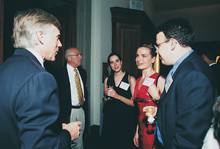 In his first weekend as Columbia's 19th president, Bollinger visited with numerous alumni at Reunion Weekend, including members of the Classes of 1992 and 1997.
PHOTO: EILEEN BARROSO
Yes. What areas of knowledge do we need to develop more, to participate in more? Life sciences is by any standard an intellectual revolution of the first order, and Columbia has to be part of that. I think the School of the Arts will be one of the best schools of the arts in the world within the next 10 years. There are other areas I could talk about, such as the Earth Institute where Jeffrey Sachs is our new director, the enormous issues of sustainability, public health, public policy, all related to economic development. Participating in those great issues of our time, the way we do as a university, is a focus. Then there is the work we do in partnership with the surrounding community, the outreach of Columbia, the engagement of the community in embracing where we are and making that our identity, willingly and with passion. That is extremely important.
At Michigan, you had a reputation as a visible president, one who was very accessible to students. How do you achieve that, and will you try to be the same visible president here at Columbia?
I will, but I don't try to be. I do what I do. I like students, I like having small meetings with them. I also like large meetings. When there are controversies and issues, I like to be personally engaged with those issues. I also like to teach. And I treat ceremonies as very important. I write my own Commencement speeches. All of those things are a part of how I view the position and what I like to do, and my hope is that does make me accessible.
If there was one thing that was done at Michigan that you could pick up and take to Columbia and implement here, what would that be?
A life sciences institute, one that is free of disciplinary boundaries yet tied to the disciplines through joint appointments, focused on two or three highly important and promising areas of discovery; weaving that into an undergraduate program through classes and opportunities for students to work in labs; and engaging that science with every other area of the university, not just with ethics, which are important, but with the arts, with literature. It's too early to tell, but this may be an intellectual revolution that changes the way we think about life, about the interactions that we have in the world. You want people in all disciplines to be thinking together about that.
Michigan has a prominent intercollegiate athletics program. What do you see as the role of athletics in the life of Columbia, and how do you feel about the lower-key approach to athletics taken by the Ivy League, as opposed to the Big Ten?
I think athletics are very important as part of a liberal arts education. I do not think of them as extracurricular activities. I want to make them as widely available as possible for students to participate in. I think that competition and the activity of athleticism are a part of the human condition, have a kind of existential root that is akin to the need for dance or musical expression or philosophy. I want to encourage and help our athletics program. I believe we can continue to become more competitive. At the same time, we must take care to avoid some of the darker problems that have emerged in intercollegiate athletics across the country.
Going back to the big picture, what has been the effect of the events of September 11 on Columbia University?
Some people thought there might be a flight from New York City and Columbia would be affected by that. I believe that all things show that has turned out not to be true. Student applications are the same or up, and recruitment and retention of faculty and staff are as strong as ever.
But on another level, there is no doubt that there are profound effects. You cannot be in New York City and not feel that. Those effects are different here, not only in degree but in kind, from other parts of the world, and they have many manifestations. I think a desire to help and a desire to do things that are meaningful are two consequences of these deeper effects on the psyche. So I do think it has had major effects, but not only of the adverse kind.
Finally, what is your fondest hope for Columbia in the years ahead? What would you most like to accomplish?
My fondest hope is that Columbia continues to stand for the centrality of ideas and the life of the mind, and that it seeks to engage with the world from that perspective. When you come to a university, you come because you love thinking, you love knowing, you love searching. You don't do it to be alone, to be asocial. You do it because in turn you can engage the world in a richer way. That's the essence of Columbia. Everything revolves around that kind of love of ideas, and my prayer is that it will be that way 100 years from now.
Alex Sachare '71 is the editor of Columbia College Today.
[ home ]