AROUND THE QUADS
Inauguration, Homecoming Set for October 3-5
By Laura Butchy and Peter Kang '05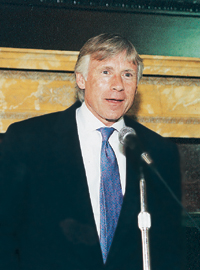 President Lee C. Bollinger
PHOTO: EILEEN BARROSO
Around the Quads
Before this year's Homecoming festivities take place at Baker Field on Saturday, October 5, a special celebration will be held on campus. With events beginning on Wednesday, October 2, and running through Thursday night, October 3, Columbia will celebrate the inauguration of its 19th president, Lee C. Bollinger.

While a dinner on Wednesday evening, October 2, will be a private affair with friends and family, all activities on Thursday, October 3 are open to anyone who registers in advance.

Thursday's festivities will begin with a morning 5K run/walk. A devoted runner, Bollinger will lead off the participants at 7:30 a.m. on a route that will begin at Grant's Tomb, Riverside Park and 122nd Street. The runners and walkers will wind their way through the neighborhood and finish on College Walk.

The formal inauguration ceremony will take place on campus at 10 a.m., starting with a processional from Butler Library to a stage on Low Plaza (similar to Commencement). Students, faculty, staff and VIPs are expected to speak at the ceremony. The program had not been set at press time, but a list of speakers will be posted online. Immediately following the program, there will be three separate luncheons on South Field and Low Plaza for alumni, faculty and staff.

Thursday afternoon will feature academic symposia similar to those held on the College's popular Dean's Day. Two interdisciplinary talks will be held at 2 p.m., and there will be a second set at 3:45 p.m. Speakers had not been determined at press time.

More students are expected to join in the celebration on Thursday evening, when a carnival will be held on College Walk beginning at 6 p.m.

All events on Thursday are free and open to alumni but require pre-registration. For more information on the inauguration events or to register, please visit www.columbia.edu/cu/ceremonies/inauguration, or call the Developmental and Presidential Affairs Office at (212) 870-2527.

The scene shifts to Baker Field for Homecoming 2002 on Saturday, October 5, when Columbia takes on Princeton in football and soccer. The men's soccer game will take place at 11 a.m., followed by the football game at 1:30 p.m. and the women's soccer game at 2:30 p.m.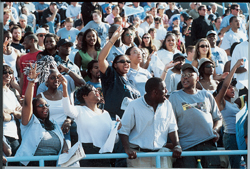 Although the football team was beaten by Penn, Columbia fans still found much to cheer about at last year's Homecoming .
PHOTO: BEN ASEN
Homecoming festivities will kick off at 11 a.m. with an alumni picnic in The Lion's Den, the big tent between the football and soccer fields. Alumni, students, parents, faculty, administrators and others in the extended Columbia family will be able to enjoy a barbecue lunch. An alumni football toss, scheduled for noon outside the tent, will put Lions supporters in a football mindset and also give them a chance to win half-price or free tickets to the Homecoming game (only $2 for three throws). The first 2,500 fans at the football game will receive a special giveaway.

The Homecoming game will be the football team's first Ivy League challenge in the post-Johnathan Reese '02 era, after the Lions open their season against non-league foes Fordham and Colgate. Young players will be relied upon in a more wide-open offense, which, combined with an experienced defense, will try to avenge last year's loss to Princeton on the road as well as the Homecoming loss to Penn at Baker Field.

Fans who still thirst for soccer after an exciting World Cup tournament this summer can enjoy two Ivy League match-ups when Columbia and Princeton square off in men's and women's soccer.
Barbecue lunch tickets will be sold at the Lion's Den for $10 ($5 for children). Tickets to the football game and a parking pass can be purchased in advance from the Athletics Ticket Office (212-854-2546) or at www.gocolumbialions.com.

For further information about Homecoming, please contact Sharen Ovalles in the Alumni Office at (212) 870-2742 or so290@columbia.edu.