OBITUARIES
M. Moran Weston II '30: First Black University Trustee
By Lisa Palladino
The Rev. Dr. M. Moran Weston II '30, who led one of Harlem's most prominent churches, helped found what became the nation's largest black-owned financial institution, and built housing for thousands, died on May 18 at his home in Heathrow, Fla. He was 91.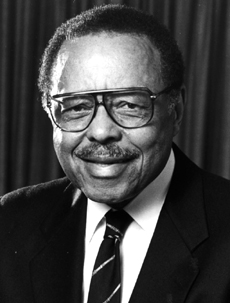 The University made Weston its first black trustee in 1969; he served until 1981, when he was named trustee emeritus. The University named a SIPA lectureship for him in 1998, the M. Moran Weston II Distinguished Lecture in Urban Public Policy. Its citation said: "To visit the streets of Harlem and Morningside Heights is to encounter the tangible results of your visionary work, whether it is a child care center, housing for the elderly and the mentally ill, a condominium high-rise or a business started with a Carver [Federal Savings Bank] loan."
Milton Moran Weston II was born on September 10, 1910, in Tarboro, N.C., the son and grandson of Episcopal priests. He studied under his mother at a parochial school that his grandfather founded and followed his mother and father to St. Augustine's Junior College in Raleigh, N.C. After graduating as valedictorian, he yearned to escape the sometimes violent racial prejudice that he witnessed and experienced in the South. "I knew I'd never live to be a man in North Carolina, so I left," he said.
In 1928, Weston enrolled at the College, where he was one of five black undergraduates. He demonstrated for civil rights, protesting against lynching in the South and whites-only clubs in New York. He wrote a column, "Labor Forum," in The Amsterdam News and helped organize civil rights rallies in Madison Square Garden.
Weston earned a master's in divinity from the Union Theological Seminary in 1934 and a Ph.D. in religion from GSAS in 1954. The University awarded him an honorary degree in 1969.
Weston became associated with St. Philip's Episcopal Church in Harlem in the mid-1940s. The church, on West 134th Street, was founded in 1818 by blacks who were not allowed to attend regular services at Trinity Church on Wall Street. In 1945, Weston helped found the church's credit union, then served as the church's business manager. He left to be executive secretary of the department of Christian social relations in the National Council of the Protestant Episcopal Church.
Weston worked as a real estate broker for a decade beginning in 1947. In 1948, he joined with 14 others to found the Carver Federal Savings Bank; he directed the bank and sat on its board continually for 50 years, becoming chairman emeritus in 1999. Weston was principally responsible for raising $250,000 for a federal charter after the state had denied it a charter. Carver was intended to help prospective black homeowners obtain first mortgages, a service many banks considered too risky. Weston served as president and chairman of Carver, which today describes itself as the largest independently owned black financial institution. Its assets exceed $2 billion.
Weston saw no oddity in a priest being a banker. "A banker-priest is really no more strange than an educator-priest or a social worker-priest," he said in an interview with Ebony in 1969. Weston also thought it natural for a priest to be a developer. By skillfully tapping federal antipoverty funds and donors such as his friend Brooke Astor and her foundation, he built a number of housing developments, a community center and a nursing home, among other things. He was well known as a champion of affordable housing in the community.
In 1957, Weston returned to St. Philip's, then one of the nation's largest Episcopal churches, to be its sixth rector. He served St. Philip's until 1982.
In his years as a minister, Weston exercised influence in ways comparable to that of Adam Clayton Powell Jr., pastor of the Abyssinian Baptist Church in Harlem and a member of Congress. In 1964, when Powell called for a boycott of New York City schools to protest segregation, Weston received comparable attention by arguing that it did no good to keep children out of school.
Weston taught social history at SUNY Albany from 1969–77, as well as elsewhere; organized monthly breakfast meetings of black leaders; and served on many boards, including that of the NAACP Legal Defense and Educational Fund, Inc., which was founded by Thurgood Marshall, a St. Philip's member. Weston was a lifetime NAACP member.
Weston's leadership style was persistent and low key, and his sermons were intellectual in tone. He preferred to be a catalyst in the background. "I do nothing," he said in an interview with The New York Times in 1986. "I cause things to happen. If I have a gift, it is to encourage people that they can do the impossible."
Weston married the former Miriam Yvonne Drake, a clinical psychologist, in 1946. He also is survived by their daughter, Mother Katherine Weston, a nun of the Greek Orthodox Church; son, Gregory '82L; two grandchildren; and a sister, Catherine Weston.