ALUMNI PROFILE
U.S. Ambassador to Vietnam Ray Burghardt '67 Learned His Lessons Well
By Alex Sachare '71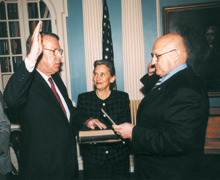 Ray Burghardt '67 is sworn in as U.S. Ambassador to Vietnam by Deputy Secretary of State Richard Armitage on December 3, 2001. Burghardt's wife, Susan '68 TC, looks on.
More than three decades after he went to Vietnam in his first Foreign Service posting, Ray Burghardt '67 is back in Southeast Asia as the U.S. Ambassador to what is now the Socialist Republic of Vietnam. He works far from Morningside Heights, but says he uses the lessons that he learned at Columbia every day.
"Few people constantly draw on the things that they learned in college more than 30 years ago, but I do," says Burghardt, who returned to Columbia for his class' 35th reunion last spring. "Comparative politics, comparative law, economics, anthropology — I use them all."
The campus demonstrations in spring 1968 impacted many people in many different ways. For Burghardt, who was doing graduate work at SIPA at the time, those demonstrations — and his ability to explain them to a panel of questioners — helped launch his career as a diplomat.
"I was a government major at the College, concentrating on international affairs," he says. "I spent a year at SIPA and then took the Foreign Service test. When I went to take the oral exams in Washington, it was the late spring of '68, right around the time of the demonstrations.
"One of the questions they asked me was if I would explain to them what was happening on campus. It was part curiosity on their part, but it also was part brilliance. They made me explain in detail what was going on. And that's exactly what we do as diplomats."
Burghardt has built a successful career out of being able to observe, analyze and explain often-complicated political situations in different parts of the world, advocate his government's position and persuade others to accept it. "I've specialized mostly in East Asia, with a minor in Latin America," he says, having served in both regions. Burghardt is fluent in Vietnamese, Mandarin Chinese and Spanish, with a little French thrown in.
A Peace Corps volunteer in Colombia after his graduation, Burghardt began his Foreign Service career in Vietnam in 1969, serving as a refugee affairs officer for the Agency for International Development in Gia Dinh Province, then as a political officer at the U.S. Embassy in Saigon. He later was responsible for Vietnamese refugee issues in Hong Kong during his assignment there from 1977–80. He was deputy directory of the State Department's Office of Vietnam, Laos and Cambodia Affairs from 1980–82, and in March 1982, he was part of the first U.S. Government delegation to Hanoi to negotiate resolution of American servicemen missing in action.
Burghardt then served at the U.S. Embassies in Honduras and Guatemala and was special assistant to President Ronald Reagan and senior director of Latin American Affairs. He returned to the Far East in 1987 as political counselor in Beijing and was deputy chief of mission at the U.S. Embassies in Seoul (1990–93) and Manila (1993–96), consul general in Shanghai (1997–99) and director of the American Institute in Taiwan (1999–2001). He was nominated as Ambassador to Vietnam on September 4, 2001, confirmed by the U.S. Senate on November 15 and sworn in on December 3.
Burghardt, who was born in New York and raised in the metropolitan area, traces the roots of his diplomatic career to Columbia.
"I was very inspired by Henry Graff's course on American diplomatic history, which I took during my sophomore year," he says. "I enjoyed it so much, I then persuaded the government department to let me take his seminar on the American presidency. I took a course in Oriental Civilization at Barnard run by Ted de Bary '41 that absolutely fascinated me. And in my senior year, I took a course with Seweryn Bialer — a comparison of Soviet and Chinese political systems. These were my first introductions to China and Asia."
It was more than the subject matter that left an impression. "The thing about great education is that it doesn't cut you any slack," Burghardt reflects. "The professor at a school like Columbia is not afraid to tell you when the point that you are trying to make is not clear or when your argument doesn't make sense. A good education develops intellectual rigor and forces you to be able to defend yourself. That's what we diplomats do for a living — negotiate and persuade."
Asked about the campus turmoil of the late '60s, Burghardt says, "I was a vice president of the Young Republicans, so you can see that I was relatively conservative." Then he paused and offered thoughts shaped by years of having worked in Southeast Asia.
"I've always felt that what we were doing in Vietnam was not immoral," he says. "We were helping the South Vietnamese defend themselves. At that time, the majority of the people in the south did not want to be controlled by the communist regime in the north. But I had to go to Vietnam to realize that it probably was a hopeless cause because the government that we were defending had no political base. The government had very little legitimacy in the eyes of the people. The immorality was to lose 58,000 lives in a hopeless cause. But today, both Vietnamese and Americans are focused on our new relationship, achieving reconciliation between our two peoples and developing strong ties in commerce, educational and cultural exchange programs and many other areas. We can't forget the past, but our focus has to be on the positive relationship we are building today. "