| | | | | | | |
| --- | --- | --- | --- | --- | --- | --- |
| | | || | | || | | |
COVER STORY
Columbia Announces Campaign for Undergraduate Education
By Alex Sachare '71



The Columbia Campaign for Undergraduate Education will officially launch on Saturday, September 8, with an overall goal of raising $865 million to benefit the undergraduate community. This represents Columbia's reaffirmation of the concept of placing undergraduate education, and especially the College, at the University's core.
The undergraduate campaign, announced in conjunction with the celebration of Hamilton Hall's 100th anniversary, is part of the $4 billion Columbia Campaign, which was formally launched in fall 2006 and is expected to conclude on December 31, 2011. Already, more than $2.2 billion has been raised.
"We have a historic opportunity to broaden and strengthen the financial base of undergraduate education at Columbia," declares Richard Witten '75, a co-chair of the Columbia Campaign for Undergraduate Campaign as well as the larger Columbia Campaign. "It's historic because the fundamental importance of a high-quality undergraduate program now is stage center at the University. And it hasn't been that way at Columbia since the institution's inception in 1754."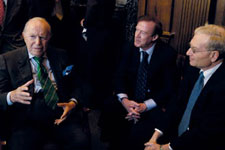 Photo: Eileen Barroso

Witten notes two other reasons why the timing is right for the campaign. "Never have our alumni felt so good about the institution and been in better position to help — wealthier, more important, more connected to Columbia. Also, as globalization continues, it becomes clear that only those great research institutions that have both the will and capacity to think globally will succeed.
"When you take all three of these things together, you get the perfect situation for us to engage in a monumental campaign of this sort."
Michael B. Rothfeld '69, chair of the College's Board of Visitors and, like Witten, a University trustee, emphasizes the importance of building Columbia's endowment through the campaign.
"In gross dollars, Columbia has the seventh largest university endowment in the United States, but its endowment per student is well below several Ivies and other peers," he says. "The Columbia Campaign for Undergraduate Education will build endowment in such critical areas as student financial aid and faculty development. For any alumna/us who cares about not only securing the College's excellence but also making it more competitive, participation — at any level — is crucial."
Those remarks echoed the words of Dean Austin Quigley and V.P. of Arts and Sciences Nicholas Dirks in a letter announcing the undergraduate campaign. "The campaign focuses us all on core academic needs at an auspicious moment," they wrote. "A Columbia education has never been more highly valued than it is now, and for good reason. We have an opportunity to strengthen for the long term the foundation upon which our undergraduate mission depends."
This campaign is an example of a significant change in philosophy at the University, which is committed to investing in the undergraduate community as never before. Five years ago, in an interview with CCT during his first week as University president, Lee C. Bollinger expressed his attitude toward undergraduate education this way: "I believe the general health of a university — and I mean by that the character of the scholarship that is being done, the nature of the interactions among faculty, staff and students, the very heart of the place — is dependent on whether there is a strong, vibrant desire, natural and instinctive, to educate and help the youngest members of the community. We know this as parents: You cannot live a healthy life, in all respects, if you ignore your children. The same is true with respect to a university and undergraduates."
The Columbia Campaign for Undergraduate Education is led by co-chairs Witten, Mark Kingdon '71 and Philip Milstein '71; committee co-chairs Rothfeld, Robert Berne '60, Abigail Black Elbaum '92, Jonathan Lavine '88, Charles Santoro '82 and George Van Amson '74; and committee members Russell C. Horowitz '88, Conrad Lung '72, Phillip M. Satow '63, Kyriakos Y. Tsakopoulos '93 and Michael L. Winchell P'03, P'06, P'10.
"Columbia exposed me intellectually as well as socially to so many new experiences, people and ways of thinking about the world," says Lavine. "It helped me develop an intellectual openness and a curiosity that changed my life."



"Contributing directed funds to the capital campaign allows me to accomplish two goals at once: improving the quality of a Columbia education and helping to make a difference in many people's lives," states Kingdon. "Phil Milstein, Richard Witten and I have created a new institute for modern Jewish studies at Columbia, and I am supporting both research and practical work to promote religious and cultural tolerance."
The undergraduate campaign seeks to raise money for three broad areas — financial aid, student life and faculty support.
Financial aid long has been an issue for Columbia as for other schools. As the cost of a College education has risen, more students have been graduating with a significant amount of loan debt. The College announced last year that it would replace loans with grants for students with families whose income is below $50,000 a year, but to do so, and to increase the number of students eligible for grants and to extend financial aid to students from abroad, the endowment for financial aid must be significantly increased.
"Nothing characterizes Columbia more than the cumulative intellectual capacity and wide-ranging diversity of its student body," wrote Quigley and Dirks. "The single biggest goal in the campaign is to preserve that inclusive character by building endowment for student financial aid, with a campaign objective of $400 million for Columbia College alone. That is the only way to secure and strengthen the College's need-blind admissions and full-need financial aid programs."
"We compete in an Ivy League with well-endowed institutions, and to remain competitive, we have to be able to offer comparable financial aid packages," observes Milstein. "The only way to do that is to raise endowment funds for financial aid. But there's more. Need-blind admissions and full-need financial aid are part of our culture, something that all graduates of the College believe in. We must preserve them because they are among our guiding principles."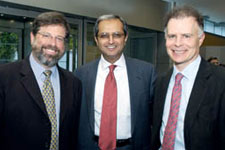 Photo: Eileen Barroso

This effort received a significant boost in April when John W. Kluge '37 announced the largest pledge ever for financial aid at any university, $400 million, of which $200 million will be directed to support College students. At the announcement, Kluge noted, "I was the beneficiary of a scholarship here and this institution made me a better person. I want other young people to benefit from this institution as I did." Kluge, who recognizes the need for others to step up as well. added, "I would like this gift to be a token of what alumni can and should do."
"He's exactly right," says Milstein. "We have not reached our goal. The need is still there. We can't just rely on the extreme generosity of one individual. Everyone should step up according to their ability."
Improving student services so as to create a positive, integrated student experience is another goal. "A successful campaign will enable us to increase substantially the number of academic advisors and career counselors, strengthen residential life staff, leadership programs, internship opportunities, study abroad options and fellowship guidance, and also improve the facilities and technological support these initiatives require," declared Quigley and Dirks. "Enhanced experiential education of every kind, coordinated closely with curricular programs, will better prepare students to be leaders, innovators and explorers in our world of social diversity, both national and international, and to deal with global opportunity and responsibility."
Building an endowment to sustain faculty, chiefly through the establishment of endowed professorships, is the third campaign objective. Goals have been set to increase the size of the professorial ranks teaching undergraduates by up to 10 percent and to create as many as 50 new professorial chairs, the latter spurred by a $37.5 million matching challenge established by Trustee Gerry Lenfest '58L at the campaign's launch. Postdoctoral lecturers will be added, and their positions endowed, to strengthen teaching in the Core Curriculum.
"We are way behind in terms of the number of endowed professorships, when you compare us to our peers," notes Milstein. "What could be a better moment to step up than the Lenfest challenge, which provides people who would like to create an endowed professorship an opportunity to do it at half the usual cost? We have more than enough outstanding professors who are worthy of recognition as endowed professors and who should be so recognized."
Campaign priorities also include endowment and ongoing support for faculty research as well as funds for construction of the new interdisciplinary science building at Broadway and 120th Street, the renovation of existing laboratories, offices and classrooms, and upgrades to student advising and the Center for Career Education.
---
Alex Sachare '71 is CCT's editor.
| | | | | | | |
| --- | --- | --- | --- | --- | --- | --- |
| | | || | | || | | |