| | | | | | | |
| --- | --- | --- | --- | --- | --- | --- |
| | | || | | || | | |
AROUND THE QUADS
5 Minutes with … Michael J. Novielli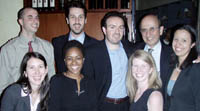 Michael J. Novielli '03, assistant director of Columbia's Student Services Center as well as the liaison to students on Manhattanville planning, volunteers as the chair of Columbia College Young Alumni. CCT met with him during the summer to find out more about what he and CCYA were up to.
Q: Where did you grow up?
A: I was born in Astoria and lived there for five years. Then we moved to Long Island, to Massapequa.
Q: What did you want to be when you grew up?
A: I wanted to teach social studies.
Q: How did you end up at Columbia?
A: I knew I wanted to study history and East Asian studies — and for some bizarre reason I stuck to it — and I was interested in the activities as well. When I first came to campus, I saw all kinds of events. I liked the vibe: I applied early decision.
Q: Were you active on campus as a student?
A: I had the pleasure of serving as Columbia College student body president for two years, which was the defining experience of my college career. I was involved in a few other activities as well, such as serving as one of my class' Senior Fund co-chairs and being a resident adviser in John Jay and Carman.
Q: What accomplishment are you proudest of as student body president?
A: The work we did to im­prove academic advising at the College — continuing the work of my predecessor, Ariel Neuman '01, to improve the class center experience, and through the implementation of a peer-advisor pilot program.
Q: How did you get interested in CCYA?
A: I wanted to be involved as a young alum. Like many, I went to school in Boston for a year and did the interviewing/ARC stuff. Then Emily Morris '02 got me involved. I was elected to this office [as chair] about a year ago.
Q: What is CCYA's mission?
A: Our mission is to streng­then the community of recent Columbia College graduates by hosting academic, social, athletics, community service and career networking programs. Quite simply, we want to find ways to keep young alumni connected to alma mater and each other. Young alumni are the future of our alma mater, so that is why I feel that the work we do as volunteer leaders is so important.
Q: What's new with CCYA?
A: We're looking to expand beyond New York City.
We've set up a regional chair system so that we [can] have alums plan events in nine cities. Ideally, we'll have more events, more frequency — we'll get the people who won't come to happy hour.
Most young alumni need job support, and CCYA can bring together people from similar industries. A lot of people are interested in the CCYA Networking Nights about finance, entertainment, law and so forth.
Recently, there was a dinner at Henry's restaurant with New York City Schools Chancellor Joel Klein '67 and about seven young alums. He gave really candid and genuine advice to everyone.
We also give social/artistic/cultural events in the city, such as a chocolate tasting a few months ago, as well as athletics events.
Q: What's the most fun event you're working on right now?
A: An outing to see Cirque du Soleil at Madison Square Garden this winter.
Q: Where do you live?
A: On the Upper West Side, near campus, in a four-bedroom with three roommates. It's comfortable and convenient.
Q: If you could go anywhere right now, where would it be?
A: Shanghai, in China. It's a good combination of urban and traditional. I worked there one summer and really liked it.
Interview: Rose Kernochan '82 Barnard
| | | | | | | |
| --- | --- | --- | --- | --- | --- | --- |
| | | || | | || | | |