WITHIN THE FAMILY
We'll Be Seeing You More Often
By Alex Sachare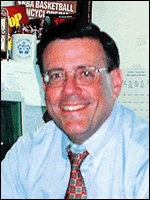 We are proud to announce that Columbia College Today has reached another milestone.
Beginning with the September 2001 issue you hold in your hands, CCT is now being published six times a year. Your alumni magazine itself isn't changing, only the frequency with which it will be appearing in your mailbox. From now on, you can expect to find all the news, features, photo spreads and departments that you have come to enjoy — yes, especially Class Notes — every two months.
It's a giant leap for a magazine that once was renowned for its irregular publication schedule, but it is long overdue. Every other college in the Ivy League has an alumni magazine that is published at least six times a year. CCT, which only three years ago achieved a quarterly publication schedule after decades of coming out two or three times a year, can now stand alongside its peers in frequency as well as quality.
This would not have been possible without the staunch support of the leaders of the College administration and the CC Alumni Association. Publishing a magazine costs money, and as with anything else, you tend to get what you pay for. If you want to go from four to six issues per year, while maintaining the high level of quality College alumni want, expect and deserve, you have to cover the cost of staff additions as well as the production costs of the extra issues.
Not that Columbia College Today has ever been an inexpensive proposition. The magazine is sent free to all alumni of the College, as well as faculty, students and parents of current students. Also, the previous irregularity of publication made any thought of attracting significant revenue from advertising a moot point (something we hope will change in the future). A successful voluntary subscription drive each year has helped defray some of the cost of the magazine, but only some, much the way tuition only covers part of the cost of a student's education. The rest of the money has to come from somewhere, and that somewhere is the College budget.
In an environment where there are many interests competing for limited resources, Dean Austin Quigley, CCAA President Jerry Sherwin '55 and CC Office of Alumni Affairs and Development Executive Director Derek Wittner '65 have stepped up and shown that improved communication with alumni — with the goal of better connecting alumni to the life of the College — is a priority. This is one of many themes in a five-year plan for the College that aims to increase participation, as measured by alumni giving, and recently was endorsed by the University's Board of Trustees. You'll be reading more about this in upcoming issues of CCT.
Why is six issues a year important? Because the best way to connect, or re-connect, alumni with the College is through regular communication. A quality alumni magazine, whose objective is to inform alumni about what's happening at the College as well as to provide interesting stories about alumni, students and faculty, is the cornerstone of an overall communication program that will also feature enhanced electronic communication. Of course, we hope this will lead to increased participation, but that's your choice. The fund-raising solicitations will come elsewhere. Here we're asking you for a few moments of your time and attention, and we hope you'll find the experience enjoyable and the time well spent.
We'll be seeing you again in a couple of months!


CCT Home
[an error occurred while processing this directive] [an error occurred while processing this directive] [an error occurred while processing this directive] [an error occurred while processing this directive] [an error occurred while processing this directive] [an error occurred while processing this directive] [an error occurred while processing this directive] [an error occurred while processing this directive] [an error occurred while processing this directive] [an error occurred while processing this directive] [an error occurred while processing this directive] [an error occurred while processing this directive] [an error occurred while processing this directive] [an error occurred while processing this directive] [an error occurred while processing this directive]

CCT Masthead