FEATURE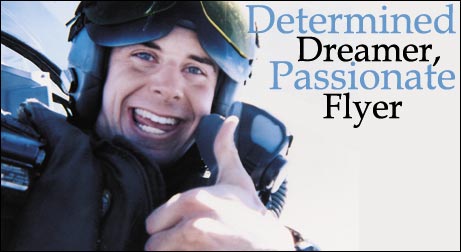 By Courtney A. Kjos, Barnard '99
Randy Murff '97 met and fell in love with Courtney A. Kjos, Barnard '99, while both were serving in the military in South Korea — halfway around the world from Morningside Heights. Although Murff never formally proposed to Kjos, an engagement ring was presented to her by one of his closest friends shortly after Murff was killed in a flying accident on June 12. Murff had purchased the ring three weeks earlier in the United States and was going to propose to Kjos in Hawaii during a trip the couple had planned to take in October.
When I first met Randy Murff, it was in a bar in Seoul, South Korea. He was sitting in a high-backed chair at a low table and I noticed immediately how broad and muscular his shoulders were. I thought that they would be so nice to curl up in. I was so right.
Randy was stationed at Kunsan Air Base, on the west side of the South Korean peninsula. He was an F-16 fighter pilot with the 35th Fighter Squadron — impressive, but he didn't try to charm me with Top Gun stories. Instead, he let me know where he went to college: Columbia. I was amazed. A First Lieutenant in the United States Army myself, I realized that I had found possibly the only other young military officer in Korea who had gone to school on Morningside Heights. We spent the rest of the evening comparing stories about our college years. We laughed because almost all of our friends were doctors, lawyers, bankers and consultants from Long Island. We mourned the loss of Ferris Booth and wondered about the never-explored Lerner Hall. As the night closed, I took another long stare into his large, round, star-studded blue eyes and fell in love with him. Right there.
On the evening of June 12, at 9:35 p.m., Randy Murff's F-16 crashed into a rice paddy during a routine night training mission, and he was killed instantly. He was 26 years old. Yet in that short time, he accomplished more, dreamed more, and lived more than many people do their entire lives. He followed a simple principle that is oft forgotten in a world that places high value on money and prestige; he simply did what he truly wanted to do.
In his 26 years, Randy Murff had achieved success in almost everything he tried. He was an outstanding student, athlete and pilot.
Randy is still remembered on the fields of Bellaire (Texas) High School. His decision to play football was made his freshman year, a late start for the average American player, who normally begins in elementary school, especially in a football-crazy state like Texas. However, when Randy, weighing over 200 pounds, approached the coach to express his interest in taking up the sport, he was not met with resistance. You can never have too many big linemen, the coach probably thought to himself.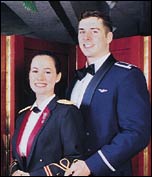 Randy Murff and Courtney Kjos pose in dress mess at the St. Barbara's Day Ball while in Korea. St. Barbara is the patron saint of air defense.

Yet Randy had more than size on his side. He also had athletic talent that quickly became apparent. He was voted first team All-District, and to the Houston Independent School District All-Academic Team as well. By his senior year, he was co-captain of the football team, offensive MVP and Male Athlete of the Year. He also lettered in baseball and track, all while posting grades that earned him a place on the school's honor roll.
Numerous prestigious universities recruited Randy, and he chose Columbia over Princeton and Cornell, among others. At Columbia, he achieved the same success he had enjoyed in high school. Gracing program covers with gritted teeth and menacing, outstretched arms, No. 68 was a huge offensive lineman — literally. He grew to 6-2, 315 pounds, but despite the robust belly, Randy was a strong, fit powerhouse on the field. "Big Randy," as he would later call his football self, lettered all four years at Columbia, twice made the All-Ivy Second Team and was named to Columbia's "Team of the '90s." As co-captain his senior year, he stood shoulder-to-shoulder with such as Marcellus Wiley '97, who now stars for the NFL's San Diego Chargers, and helped the Lions to an 8-2 record, their best mark since 1945.
Randy loved football; he felt a strong loyalty to the team. Yet if he had been offered an NFL contract, he would have turned it down because he wanted to fly. Every night he would force his roommate to watch Wings on the Discovery channel. Although a Dean's List student, he studied flying far more than he read history. He followed his ambition right to the Air Force recruiter's office, where he was shown a fighter plane. But the recruiter was brutally honest with the would-be pilot; he told "Big Randy" that he simply wouldn't fit in the cockpit.
Most people would give up, go home, reopen those history books and change plans. Not Randy. He embarked on a weight-loss program that consisted of running and eating one Mama Joy's deli sandwich a day. He felt so drained from the toll on his body that he slept away every afternoon. But it produced results — in nine months he dropped 100 pounds.
He weighed 210 when he graduated from Officer Training School in June 1998, a year after his college graduation, still in pursuit of his dream. Randy had a true, heartfelt passion for flying F-16 fighter jets, and he was not about to be denied. He displayed the kind of ambition and drive that made even hard-working fellow Columbians take notice. "He loved flying and he went after it hard," said Gary Kahn '97, his roommate and teammate. "I have never seen that type of determination from anyone in my life. He was the 5-year-old who wanted to be an astronaut or a fighter pilot and refused to let his childhood dream die. How many of us get herded into the jobs that we figured we were supposed to take and didn't follow our dreams?"
Not Randy. He was awarded his wings in July 1999 after graduating from Undergraduate Pilots Training at Laughlin Air Force Base in Texas. One year later, in July 2000, Lieutenant Murff graduated as a mission-capable fighter pilot from follow-on fighter training at Luke AFB in Arizona. He was then assigned to the 35th Fighter Squadron at Kunsan AB, Republic of Korea.
Randy was an exceptional fighter pilot with a particular skill for air-to-air missions. He was one of his squadron's best, logging over 250 flying hours and being chosen for special schools and missions. He transported jets from Korea to Moody AFB in Georgia. He conducted over 10 sorties within certain strategic areas that resulted in him being awarded the Aerial Achievement Award. He was chosen to attend Fighter Electronic Combat Officer Course (FECOC) at Nellis AFB, Nevada, and was chosen as Electronic Combat Pilot for the 8th Fighter Wing, a position that normally is given to a major. As Wing ECP, he would have been the Wing expert and trainer on radar and radar warning gear.
He loved going to work every day. He would call me every evening between 9:30 and 10:30 p.m., and the wonder and excitement on the other end of the phone was like a child's. "I flew today," he would say. "I felt just like I was in Star Wars!"
No words can recreate Randy Murff. He lived every moment of his life exactly as he wanted. He flew with desire, energy and sheer excitement; he loved with abandon, devotion and pure adoration. He valued his friends and celebrated his friendships with bravado and a wild spirit. He never missed a moment to tell someone close to him what he or she meant to him. It didn't take me long to realize that I hadn't been alone when I fell in love that night in Seoul. He had fallen in love with me as well. Right there. And he never let a breath slip through his lips without telling me.


Editor's note: Murff's obituary also appears in the August 2001 issue.