FEATURE
Henley: Pimm's, Pageantry, and a World-Class Regatta
By Dan Richman '98
The author, who rowed at Henley in 1994 while in high school and in 1998 with the Columbia lightweights, returned as a spectator this summer and offers his perspective on Henley and rowing.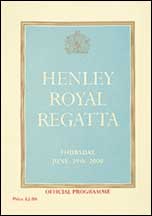 COURTESY OF DAN RICHMAN '98


Depending on whom you ask, the Henley Royal Regatta is either a world-class regatta or the world's largest garden party. Either way, it is the ultimate gladiator event of rowing. On one hand you have two crews, facing off to elimination. On the other, you have up to a half-million spectators craning their necks while applauding with polite admiration as each battle gracefully passes by.
In 1829, a boat race between Oxford and Cambridge was held along the stretch of the Thames just below the town of Henley. Ten years later, the town decided to conduct a regatta of its own over the 2,112-meter straightaway (just over 112 miles) below Henley bridge. Crews from all over England came to join the rowing festival, and the Henley Regatta was born. It has been rowed every year since 1839, save the years during the two World Wars.
It's not likely those original participants could have foreseen what Henley would become. Only 12 years after the first Henley Regatta, it received its royal patronage. In 1878, it received international recognition when a four-oared crew from Columbia won the Visitors' Challenge Cup and became the first international crew to win an event there. Columbia's victory was heralded across the front page of the New York Times the following day. Since then, Henley has hosted the sport's greatest athletes rowing to the applause of kings and queens, in addition to visitors from all over the globe.
At Henley, spectators may be found drifting by on pleasure boats, strolling the towpath, or sipping Pimm's on the finely manicured lawns of the Stewards' Enclosure, where access is granted only to those with special invitations, and only if they meet strict codes of dress and conduct. Men must wear jackets and ties at all times; women are required to wear dresses with skirts that fall below the knees. It is a place to see and be seen, a place where details such as the direction of the stripes of your tie signify your rowing club or university, and thus your status. The vantage from the Enclosure is unmatched, and while it is more than a mile from the start, its attendees are addressed with formal race reports as the crews pass various landmarks along the course.
To be competitive at rowing, oarsmen must combine grace, strength, mental agility, commitment and teamwork at the highest levels. To say that rowing is just pulling an oar is like saying golf is just swinging a club. Like golf, rowing technique can take years to master. But unlike golf, the efforts of eight men must be perfectly synchronized to the millisecond to be effective. Strength and fitness usually decide a rowing race. By the time the race is halfway done, the body has become a pressure cooker for pain. The strongest minds conquer this sport; one weak mind on a crew can be a source of almost certain failure for the entire boat. Few other sports rely on teamwork to this extent.
Rowing is a journey that enables one to discover and redefine perceived limits. It requires a commitment that is difficult even without classes to worry about. A Columbia College oarsman will come away from crew with life lessons that cannot be taught in a classroom. His education on the water will teach him the value of hard work, self-confidence, courage and the ability to compete with others on levels that are far greater than physical. As this nation's first intercollegiate sport, rowing has stood the test of time as the ultimate team competition, and with proper support it will continue to do so for centuries to come.
By the time a competitor reaches Henley, he will have put in close to a thousand hours of training and preparation a year. Consisting of five days of one-on-one, knockout races among some of the best crews in the world, it is not difficult to see why Henley is held in such high esteem among oarsmen, for whom a victory can be surpassed only by capturing an Olympic or World Championship gold medal. Henley is, simply, the world's premier rowing regatta.
There are 17 events at Henley, ranging from the best schoolboy crews to Olympic-caliber national teams; qualifying for the final draw is an achievement in itself. Every event has its own sterling silver prize, and each year the winners' names are engraved into the large sterling silver cups. After more than 150 years of engravings, the trophies have grown in size to accommodate the names, and consequently, much like with hockey's Stanley Cup, the cost of the engravings alone makes the trophies priceless.
The Henley Royal Regatta is a unique sporting competition that mixes history, tradition, pageantry, brute strength and physiological excellence. Columbia's presence at the regatta two of the last three years is not only a testament to the quality of its rowing program, but a representation of the caliber of student athletes that can be produced at the College.