| | | |
| --- | --- | --- |
| | | 1 | 2 | 3 | | |
COLUMBIA FORUM
Finding His Own Way: Jacob Collins '86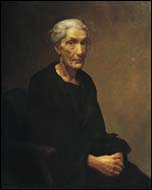 Irma (2000). Oil on canvas, 30 x 24 inches.


As an art student who wanted to paint in "a traditional, old fashioned style," Jacob Collins '86 didn't get much support. The more benign artists with whom he studied thought his approach was "interesting, but wrongheaded," he recalls, while "two people were very hostile." So Collins had to find his own way as an artist, eventually settling into a style he labels "classical realism," combining disparate elements of nineteenth-century painting.
His perseverance paid off. Collins is now recognized as one of the most gifted young American realists, widely acclaimed for his figure painting, still lifes, landscapes and interiors — and is much sought-after as a portraitist. His works — here represented by Wine Still Life (2000) and Irma (2000) — are featured in galleries in New York, Houston and San Francisco, and hang in collections ranging from Harvard's Fogg Art Museum to New York's Union League Club.
Collins is a true Columbia-blue blood. He is grandson to Morris Schapiro '23 and great-nephew of Meyer Schapiro'24, the famed Columbia art historian. His father, Arthur, is Class of '56, and his mother, Linda Schapiro, is Barnard Class of '51. His brother Rufus graduated from the College in 1984. And Collins is married to Ann Braschares, Barnard '89, with whom he has a son.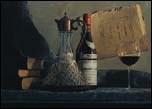 Wine Still Life (2000). Oil on canvas, 16 x 24 inches.


At first, Collins (who also studied at the Art Students League in New York and at the Ecole Albert Defois in France) opted to show his paintings in San Francisco and Houston galleries because he didn't know how sympathetic the New York art market would be to his painting. Today, the market has seen the light, and Collins says he's "in the middle of many like-minded artists." Like many of those, he's also crossed the East River to work and live. In 1997, he founded the Water Street Atelier in Brooklyn Heights, where he teaches painting and drawing. The school has 25-30 students who have "a full-time commitment to this type of art" and "piece together the old way of making paintings."
In May, the Spanierman Gallery in Manhattan (www.spanierman.com) held a major exhibit of his recent paintings. The John Pence Gallery in San Francisco (www.johnpence.com) plans its own exhibit of Collins's work from October 12 to November 11, 2000.
Photos courtesy of Spanierman Gallery, LLC, New York
| | | |
| --- | --- | --- |
| | | 1 | 2 | 3 | | |