Marianna Wright '91 Is "the Butterfly That Roared"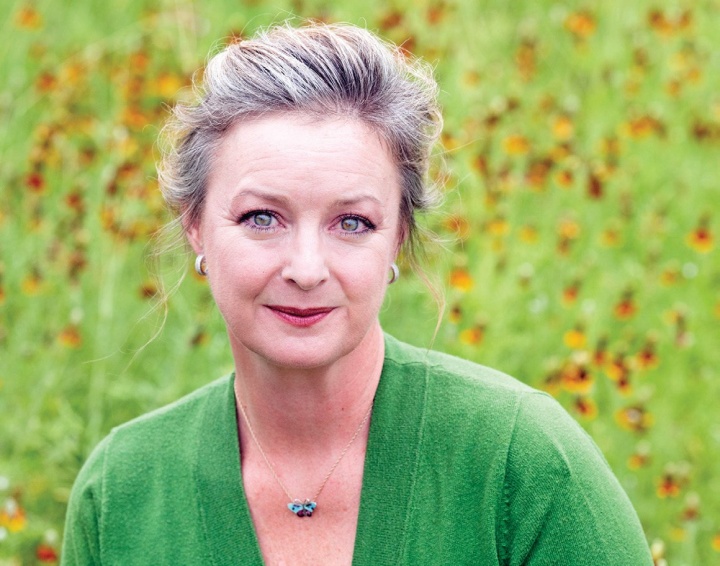 S
ome people are social butterflies.
Marianna Wright '91,
executive director of the National Butterfly Center (NBC), uses butterflies for social justice.

More than 240 species flutter in the center's 100-acre gardens, located a mile from the Rio Grande in Mission, Texas, at the state's southern tip. As many as 200,000 butterflies, notably migrating Monarchs, have been seen at the center in one day. For nine years Wright has made it her mission to educate NBC's 35,000 annual visitors not just about butterfly mating habits ("It could be a four-hour experience with a nap and flying conjoined!" she says) but also about climate change and environmental justice issues.
While bees may be the better-known pollinators, butterflies do their fair share — but global warming, commercial pesticide use and habitat destruction have been steadily eroding their numbers. "We're going to have to be tough to defend our planet and the things that support human life, if we want to survive," says Wright, a history major who headed fundraising and donor development at a local nonprofit hospital before joining the NBC. "We have a motto at the National Butterfly Center — 'If we can save the butterflies, we can save ourselves' — and it's really that simple."
Wright believes that engaging Hispanic visitors in environmental conservation education and climate change activism is "critical work" — especially for students. "For people of color, the outdoors is traditionally associated with danger and fear," Wright says. "There's a stigma associated with enjoying the outdoors. That's something we need to change."
The center, which also boasts 350 bird species as well as endangered plants and wildlife, annually hosts more than 100 school field trips, which largely comprise Hispanic students. "These children are often loaded with baggage from the legacies of immigration, migrant and other farm work, and colonizer settlement of this region, all of which involve terrorism," Wright says. "The work we do — sharing our wonder, knowledge and skill — gives children and families a safe start outside and the confidence to navigate nature. The healing has to start with helping them fall in love with the beauty and magic of butterflies."
Wright has dual U.S.-Mexican citizenship and grew up in McAllen, Texas; she remembers watching restaurants refuse to seat her Hispanic father. "I began experiencing racism at a very early age. I have very little tolerance for injustice, and it is something that unfortunately is abundant," says Wright. "The South had Jim Crow. In Texas, we had Juan Crow."
Her parents wanted her to leave Texas for college. They knew she loved the state so much she was likely to spend her life there, and thought she needed to see some of the rest of the country first. UC Berkeley was Wright's first choice. Her father said to her, "You cannot go to school in California because they smoke dope there." She remembers thinking, "Dad, have you heard of Allen Ginsberg ['48]?"
Wright and the butterfly preserve became a hot spot in national politics in July 2017. As she drove her black Honda into the sanctuary and down a steep embankment, she spotted five workmen on the property using chainsaws, a brush hog and a brush boom to mow vegetation and chop down mesquite trees.
The men told the astonished Wright they were clearing land for the construction of the Trump administration's border wall, even though this was months before a congressional vote of authorization. Had it been built, the wall would have cut nearly through the middle of the Butterfly Center.
Today, after four years of struggle, Wright calls herself "the butterfly that roared." The NBC's lawsuit against the federal government for violating its procedures and taking property without compensation is wending its way to trial. In the interim, former Trump advisor Steve Bannon and his business associates built a wall adjacent to the NBC and alleged that Wright and the center were involved in "human trafficking" and "drug smuggling." She is suing him for defamation.
Wright worries the new administration will confiscate the same land for a patrol road as part of a "border wall system." "Biden has not raised a hand against us, not yet anyway," says Wright. "I am cautiously concerned. It's still the government."
During the furor over the proposed border wall, the Butterfly Center found itself the recipient of a nearby 350 acres, a gift from The Nature Conservancy. While Wright is "thrilled" by the donation, she says it couldn't possibly make up for the wholesale negative impact of a wall in the Rio Grande Valley conservation corridor. "It doesn't even begin to address it," she says.
George Spencer is the former executive editor of Dartmouth Alumni Magazine. He lives in Hillsborough, N.C.

Published three times a year by Columbia College for alumni, students, faculty, parents and friends.
Columbia Alumni Center
622 W. 113th St., MC 4530, 4th Fl.
New York, NY 10025
212-851-7852
cct@columbia.edu

Columbia Alumni Center
622 W. 113th St., MC 4530, 4th Fl.
New York, NY 10025
212-851-7488
ccalumni@columbia.edu