In the Winter 2018–19 issue, which featured the much-appreciated profile of my classmate Dr. Richard Axel '67, I was also pleased to be reminded of the now–108-year-old Yule Log tradition.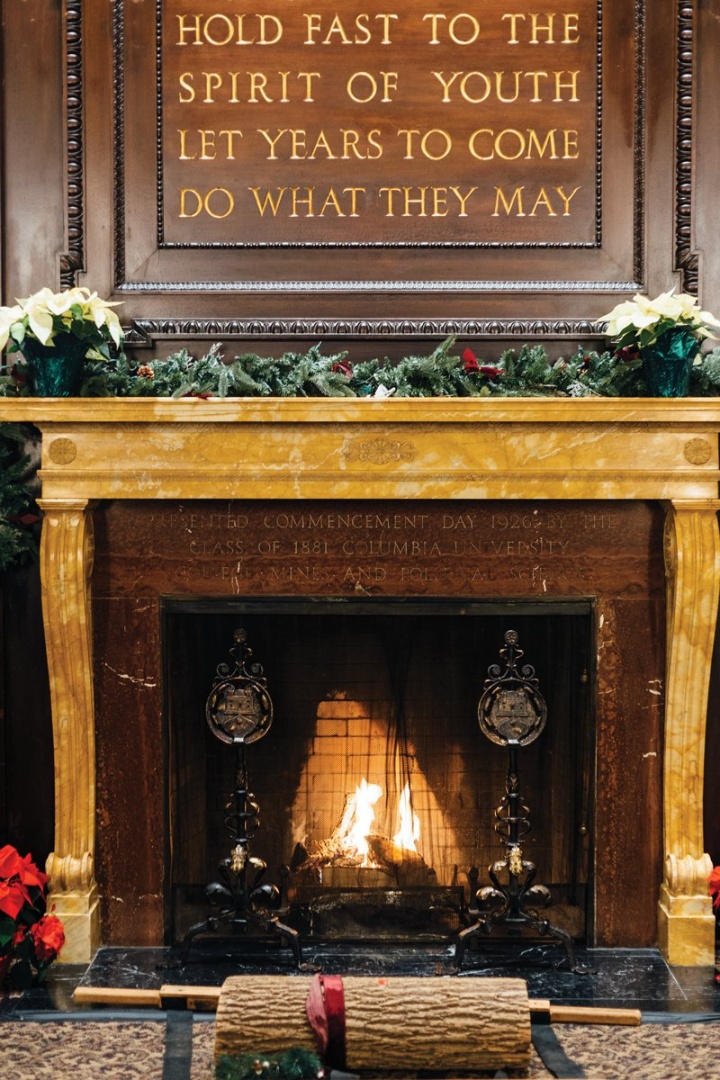 I encountered the Yule Log ceremony in my freshman year, 1963. It was presided over by history professor Dwight Miner CC 1926, who — in addition to his academic expertise in American history and Contemporary Civilization — was an expert on Columbiana. This perhaps was the result of having grown up on Morningside Heights, matriculated at alma mater and taught there all his adult life.
Professor Miner was regularly voted the College's most popular professor, and I became especially enamored of his knowledge of Columbia history. He told the story behind poet Clement Clarke Moore CC 1798's composition of "A Visit from St. Nicholas" (popularly known as "The Night before Christmas") — off the top of his head! — as a Christmas present to his children. Then he read the poem (my recollection is that he recited it from memory) with the same theatricality that enhanced his teaching.
Professor Miner also gave a short history of the Yule Log ceremony, which was then more than 50 years old. He observed that the age of the event was somewhat unusual, saying, "Typically, a tradition at Columbia is something that happens one year in a row."
Ah, nostalgia. Thanks for the reminder of one of the many things I loved about Columbia and of all the great teachers like Miner and, now, like Axel.
Carlton Carl '67
Martindale, Texas
Thank You
Thank you for publishing such a satisfying product as Columbia College Today. My daughter, Emily Frances Hyatt '14, adored her time at Columbia. The academic rigor, diverse student population and New York City backdrop are memories that she often cites as making it such a special experience.
Emily moved to Berlin to work for a few years and now is pursuing a master's in transcultural studies at the University of Heidelberg. I have witnessed her growth and drawn such pleasure from seeing her thrive at Columbia and beyond. CCT is a link for me to the University and a view to the ongoing inspiration that students offer to the world.
Geoffrey Hyatt
Westminster, Colo.

Published three times a year by Columbia College for alumni, students, faculty, parents and friends.
Columbia Alumni Center
622 W. 113th St., MC 4530, 4th Fl.
New York, NY 10025
212-851-7852
cct@columbia.edu

Columbia Alumni Center
622 W. 113th St., MC 4530, 4th Fl.
New York, NY 10025
212-851-7488
ccalumni@columbia.edu