Carlos Cortés '09 Is Bringing Caribbean Chocolate Culture to the Bronx
A chocolate dynasty debuts in New York.
By Anne-Ryan Sirju JRN'09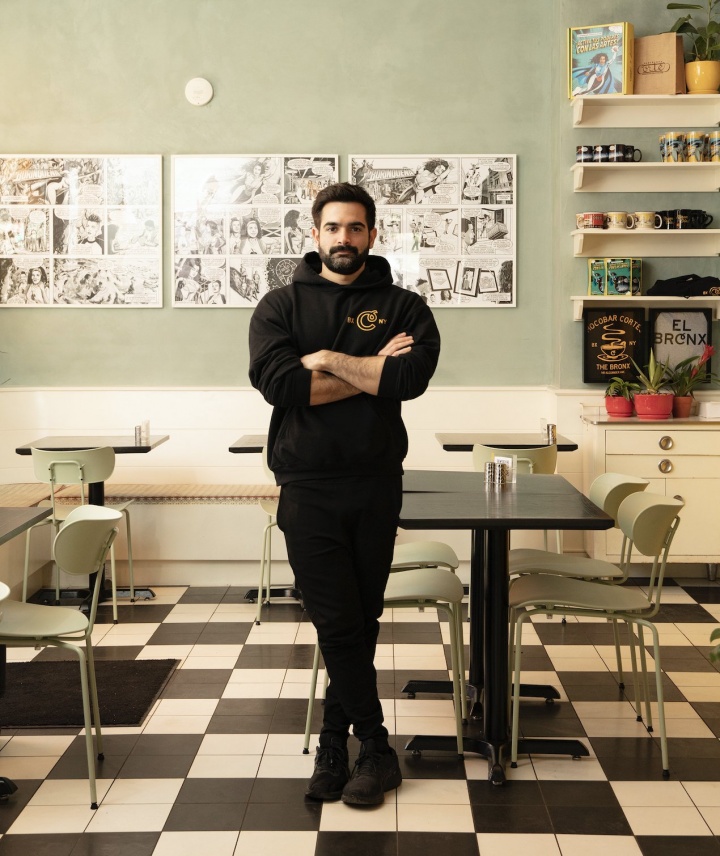 Photographs by Jörg Meyer
O
n a bitingly cold late January day, I stepped under the bright yellow awning of the South Bronx's Chocobar Cortés and was suddenly dropped into a tropical vacation. Bold black-and-white checkerboard floors, straw chandeliers and high arches over the bar feel pulled straight from Puerto Rico, and that's exactly how
Carlos Cortés '09
wants it. As a fourth-generation member of Chocolate Cortés, a 93-year-old family-owned Puerto Rican and Dominican bean-to-bar chocolate company, Cortés is on a mission to bring his family's and culture's flavors to the world.

The Bronx eatery is an offshoot of the original Chocobar Cortés restaurant in San Juan, opened by Cortés's mother, Elaine Shehab, in 2013. The NYC location opened in December 2021 to much fanfare: The New York Times described the menu as having "a Willy Wonka giddiness" (fun touches like lighting fixtures made from old chocolate molds add to the charm, as does the bathroom plastered in floor-to-ceiling vintage Chocolate Cortés ads); The New Yorker raved about the chocolate grilled cheese (made with chocolate-infused butter!) and thick Puertorriqueño hot chocolate. Says Cortés, "It's exciting that people are paying attention to what we're doing! When I would tell people I was opening a chocolate restaurant in the Bronx, they would be like, 'What, where?!' And now they're understanding."
The concept for the Bronx outpost had been brewing in Cortés's mind for several years. After graduating from the College, he started working with one of Chocolate Cortés's distributors in New York, going to supermarkets where the family's products were sold and thinking through how they could increase sales and awareness. The experience resulted in an epiphany — he realized they needed to be creative to stand out in a market dominated by giants like Nestlé, Hershey and Mars. While he took some professional detours, studying business and medicine at NYU, the potential to have an impact on NYC called to him.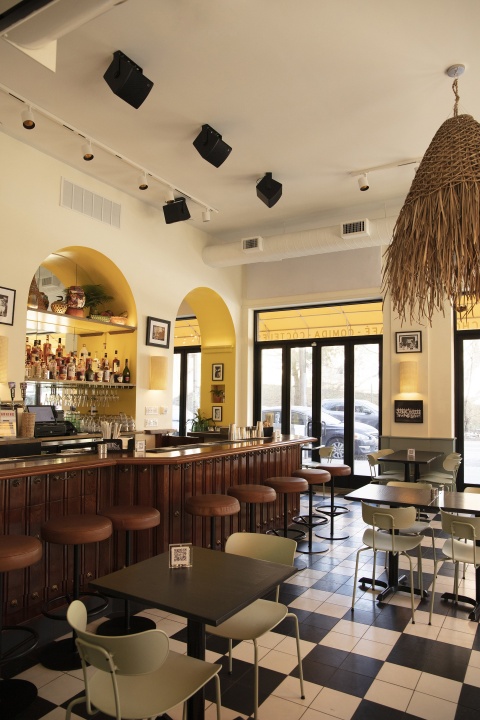 "The restaurant [in San Juan] is a small part of our business, but I saw it as an opportunity to grow the brand outside Puerto Rico," Cortés says. "I've lived in New York for 15 years and have seen the lack of diversity of businesses and concepts here. I started thinking, 'This is where I could make something, this is where I could get involved with the family business.'"

Chocolate Cortés products are ubiquitous in Puerto Rico and the Dominican Republic; they are especially known for their hot chocolate bar — thick, heavy blocks of rich chocolate made for slowly dissolving down into a warm, melty treat (it also comes in pre-grated varieties for people who don't want to wait). Cortés says that the brand stirs up nostalgia in the Caribbean community, and his main goal was to bring those feelings to a new generation and a wider audience.
"To go from Puerto Rico and open a restaurant in the middle of a pandemic in the South Bronx is a bold and risky move," says Cortés. But he saw it not just as an opportunity to branch out the family business, but also as a "necessity" for New York City. "In the Bronx, one out of every two people is Puerto Rican or Dominican, and in New York City it's nearly one out of every six," he says. "That's insane! The contribution of Puerto Ricans and Dominicans to the culture and the DNA of New York City cannot be denied, and yet we do not have enough restaurants and brands and businesses and entrepreneurs that truly do that ratio justice."
He continues, "My goal wasn't to be a restaurateur; it was to celebrate our culture, celebrate our chocolate, celebrate my family's heritage, celebrate our heritage as Puerto Ricans and Dominicans. I want to show our communities that we can have nice spaces and nice things that people can feel proud of. I want to show other entrepreneurs — who maybe don't have many examples of Latinx businesses that are thriving — that they can be entrepreneurs, too. I want people to see that Puerto Rican and Caribbean cuisine is so much more than rice and beans."
The NYC menu reflects that creativity, with chocolate making an appearance on almost every item, from avocado toast made with chocolate guacamole to a chocolate vinaigrette-topped salad. Cortés recommends I try the sandwiches made on mallorca bread, a sweet Puerto Rican staple that Cortés especially wanted on the menu due to its importance in Caribbean cuisine, and says that I can't miss the signature hot chocolates. The menu has nine varieties, including extra thick, spicy chili, mocha chocolate and American-style with marshmallows. I decided on the Puerto Rican 80 percent dark hot chocolate, made with beans exclusively grown on the island; the traditional Puertorriqueño, which comes with cheese slices; and the Vienna hot chocolate, topped with whipped cream. All are delicious, and a perfect accompaniment to the delightful mallorca iberica sandwich, made with serrano ham, Manchego and guava butter, served on the signature bread.

As we dug in to our feast (we also had churros and a guava pastry), for a moment the bleak winter weather and the ongoing stressors of pandemic life faded away, and there was just good food and warm chocolate. Says Cortés, "We want people to be able to sit around and enjoy happy moments with their loved ones. [Our chocolate] is something that brings a lot of comfort to people and it is part of our traditions — that's what we are trying to preserve."

Published three times a year by Columbia College for alumni, students, faculty, parents and friends.
Columbia Alumni Center
622 W. 113th St., MC 4530, 4th Fl.
New York, NY 10025
212-851-7852
cct@columbia.edu

Columbia Alumni Center
622 W. 113th St., MC 4530, 4th Fl.
New York, NY 10025
212-851-7488
ccalumni@columbia.edu