| | | | | | | |
| --- | --- | --- | --- | --- | --- | --- |
| | | || | | || | | |
COVER STORY
Alan Brinkley: Scholar, Teacher, Author - Provost
By Shira J. Boss-Bicak '93

Prominent historian is looking forward to facing new challenges, continuing to teach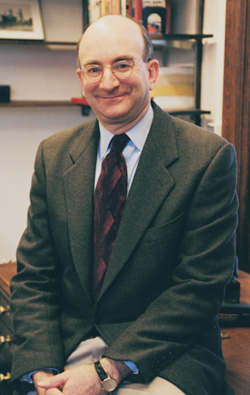 Brinkley's personality, tact and capacity for getting things done serve him well as an administrator.
PHOTO: EILEEN BARROSO

The tapping of prominent historian Alan Brinkley to become University provost last summer came as a surprise to many, most of all to Brinkley himself. "I had no warning," he says. "It came completely out of the blue."
A professor who chaired the history department, Brinkley has a strong service ethic but did not covet administrative positions. Yet, after a national search, President Lee C. Bollinger made his pitch to Brinkley over dinner, and Brinkley only took a few days to accept the position as one of the highest-ranking officials at the University.
"I had many misgivings because I loved what I was doing and expect to go back to it," Brinkley says. "I made the transition because I admire Lee Bollinger and am excited by his work at Columbia. When you value a community, it's hard to say no."
Colleagues in the history department, which Brinkley had chaired since 2000, as well as at other universities, observe that Brinkley's talents extend beyond exceptional scholarship and devoted teaching to his being an energetic and diplomatic leader in the field and a commentator for the public.
"Alan feels the call of duty," says Gary Gerstle, chair of the history department at the University of Maryland and Brinkley's longtime friend. "He's not someone who craves power. He's ambivalent about power. It's about how he can contribute to an institution and a city he cares about deeply."
Students had reason to watch wistfully as Brinkley moved his headquarters to Low Library. He is a universally popular professor with an eloquent way of enveloping students in American political history. The immediate effects have been buffered because 2003-04 was scheduled to be a sabbatical year for Brinkley to finish his biography of Henry Luce, co-founder of Time magazine. Despite becoming provost, after this academic year, Brinkley plans to return to the classroom to teach at least one course. He continues to advise a dozen graduate students and has not ruled out taking on more.
Underneath his tranquil manner is an orderly vault of energy that enables Brinkley to tackle an imposing spectrum of work. In addition to his duties as provost and his plan to continue teaching, Brinkley makes daily progress on the Luce biography (he fits that in at dawn) and is keeping up as a leader in his field.
"He has a tremendous sense of professional service," says Michael Flamm '98 GSAS, an associate professor of American history at Ohio Wesleyan University who studied with Brinkley as a Harvard undergraduate and at GSAS. "He's generous to individuals but also generous to the profession."
Brinkley has been involved in the two major historical societies, writes a prodigious amount of recommendation letters and generously reads colleagues' essays and reviews manuscripts. "He says he rarely reads [history] books anymore - he's read everything in page proofs," Flamm says. (In Brinkley's mysteriously existent free time, he favors contemporary fiction.)
People wonder how he does it. "We used to joke that his desk was the cleanest, and he was the chair," says Alice Kessler-Harris, current chair of the history department. She adds, "One of the things we admired about him was his willingness to take on jobs related to his work."

"Most people would consider [Brinkley] the best, or at least the most influential, political historian of his generation."
-Michael Kazin

Brinkley has not shortchanged students in favor of more prominent work. "Given the quality of his scholarship, I figured he'd be a reserved and distant type," says Kevin C. Murphy, a third-year history graduate student who came to Columbia in part because of the impression made on him by one of Brinkley's books. "He's an extremely friendly person, very approachable, and clearly makes time for students. I've never seen him turn someone away and say, 'I'm busy.' "
"He's very efficient. He must not spend as much time as other people checking e-mail," says Michael Kazin, a history professor at Georgetown, who then pauses to reconsider. "But he does get back to you quickly, so, I don't know. I'm in awe of him."
Professioral duties are only part of Brinkley's contribution. He is chairman of the board of the Century Foundation, a member of the editorial board of The American Prospect magazine, a board member of the New York Council for the Humanities and a member of the American Academy of Arts and Sciences.
"Alan always has emphasized the need for historians to engage the public," Flamm says. Brinkley is doing his part as a public intellectual. In addition to writing scholarly articles, he has contributed to periodicals such as The New York Times, Newsweek, The New Yorker, The New Republic, The New York Review of Books and the Times Literary Supplement and has become a reliable source for the media, appearing as an expert or commentator on television and radio. "He's somebody in the academy who can review and interpret what scholars are doing for people outside the academy," Gerstle says.
Brinkley is appreciated for his straightforward, engaging way of writing and talking. Kazin recalls hearing Brinkley interviewed on National Public Radio: "His answers sounded scripted - they were so articulate, very eloquent with all of these witty touches - but of course, they weren't. Alan just talks like that."
Part of Brinkley's talent for public communication probably was inherited - his parents were journalists. His mother, Ann, started as a reporter at United Press, where she met her future husband, David Brinkley, who became a distinguished broadcast journalist, longtime anchor at NBC News and host of This Week With David Brinkley on ABC. Brinkley's brother, Joel, is a reporter for The New York Times and a Pulitzer Prize winner; his other brother, John, is a former Washington, D.C., correspondent for the Denver Rocky Mountain News.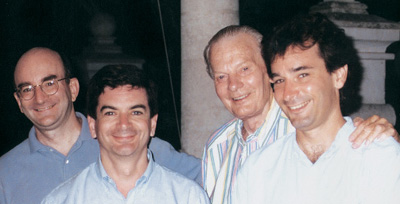 Alan Brinkley with his famous father, David, and his brothers, Joel (next to Alan) and John.
PHOTO COURTESY ALAN BRINKLEY

"I suppose that my decision to become a historian was shaped in part by growing up in Washington and in a somewhat public family," Brinkley says. "I became interested in politics and history at an early age."
Brinkley graduated from Princeton in 1971 and earned his Ph.D. in history from Harvard in 1979. He taught at MIT before joining the Harvard faculty in 1982, where he stayed for six years. "At Harvard, his lectures had a cult quality" with scores of students and several teaching assistants, says Charles Forcey, a Columbia history Ph.D. candidate whom Brinkley advises. "His popularity doesn't come from a dog and pony show but a literary performance, with all of the dramatic qualities of pacing and surprises, [melded with] sophisticated thoughts and ideas."

"The magnitude of this job is balanced by it being very interesting and challenging."

Despite his following, writing a book that won a 1983 National Book Award and winning the Joseph R. Levenson Memorial Teaching Prize in 1987, Brinkley was denied tenure the next year. He taught at the CUNY Graduate Center and Princeton before joining the Columbia faculty in 1991.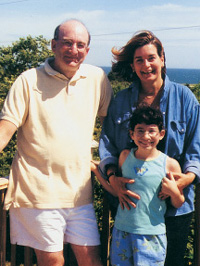 Brinkley with his wife, Evangeline Morphos, and their daughter, Elly, on vacation in Nantucket.
PHOTO COURTESY ALAN BRINKLEY

New York has proven a good fit for Brinkley, who takes advantage of the city's theater, music and museums. His wife, Evangeline Morphos, is an off-Broadway theater producer and teaches theater and film in the School of the Arts. The couple's daughter, Elly, is a seventh grader at Dalton.
"In my eyes, he's been a co-architect, with a few others, of turning the Columbia history department into one of the best in the nation," Forcey states. The department's reputation was flagging, Forcey explains, when Brinkley, Eric Foner '63 and other visionaries changed some of the department's practices - for example, starting to support full funding for all graduate students - and restored it to prominence.
"It's not hyperbole to say that most people would consider him the best, or at least the most influential, political historian of his generation," Kazin says. "He's the central figure in the revival of political history in the U.S. in the past 10-15 years."
An integral part of Brinkley's influence has been his writing, unusually suitable for both academic and general audiences. "It's smooth as butter," Kazin says. Gerstle describes Brinkley's prose as "clear, elegant and efficient. There's not a wasted word."
His work has focused on populism, the politics of reform and the politics of the New Deal, all analyzed within social and cultural contexts.
"He writes about politics and policies, that's not easy to do," Kazin says. "He's able to think about and write about what the government does and tries to do and how people understand what the government does and what they want it to do."
Brinkley's first book, Voices of Protest: Huey Long, Father Coughlin, and the Great Depression (Knopf, 1982), is a scholarly work that had mass appeal and won a National Book Award for history. His other books include The End of Reform: New Deal Liberalism in Recession and War (Knopf, 1995) and Liberalism and Its Discontents (Harvard, 1998). "They're assigned for every graduate student of political history in the U.S.," Kazin says.
Brinkley also is read widely by undergraduates and even advanced high school students, owing to his bestselling history textbooks, American History: A Survey (McGraw-Hill), which is in its 11th edition, and The Unfinished Nation: A Concise History of the American People (McGraw-Hill), coming out in its fourth edition this month. Unusual for such a far-reaching subject, Brinkley is the books' sole author, and he updates them regularly. "He's an incredibly hands-on textbook author," Forcey says. "There's no team of ghostwriters."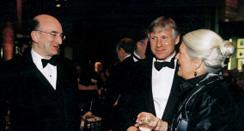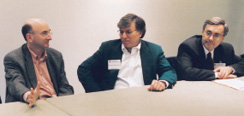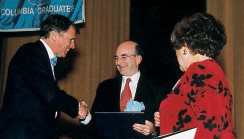 (From top to bottom) Brinkley chats with President Lee C. Bollinger and his wife, Jean Magnano Bollinger, at the recent Alexander Hamilton awards dinner; at Reunion 2003, Brinkley participated in a roundtable discussion with members of the Class of 1973; Brinkley is congratulated by Paul de Bary '68 and Anna Longobardo upon receiving the 2003 Great Teacher Award.
PHOTOS: EILEEN BARROSO

In addition, Brinkley was a co-author of The Chicago Handbook for Teachers: A Practical Guide to the College Classroom, and contributed the section on lecturing.
Beyond his professional credentials and capacity for getting a wide range of things done, Brinkley's personality and tact make him a desirable administrator. "He was a beloved chair," Kessler-Harris says. "He was thoughtful and careful, and had a reputation for being fair and representing the department and its interests fully." He is described as loyal and caring, self-effacing and not interested in self-promotion. "I don't know of anyone who dislikes him," Murphy says. "He's so easygoing."
"He is independent-minded and doesn't waiver from his principles," Gerstle notes. "He has respect for others' views and low tolerance for nonsense, hypocrisy and self-aggrandizing personalities." On a personal level, Gerstle adds, "He can be very unbuttoned, frank and funny."
"The magnitude of this job is balanced by it being very interesting and challenging," Brinkley says. "The biggest surprise to me about this job is that I wasn't prepared for the number of tasks that come to me." Among the issues Brinkley is addressing as provost are the University's physical expansion, improving the sciences, expanding student financial aid and forming a closer collaboration between the Morningside Heights and Health Sciences campuses.
The history department is conducting a search for a junior 20th-century historian, although not specifically as a replacement for Brinkley, Kessler-Harris says. "We're not looking for someone to duplicate what Alan did, because that would be folly," she says. "We're hoping that in five or six or seven years, he'll come back to the department."
There is no term for provost. Brinkley's predecessor, Jonathan Cole '64, held the position for 13 years. "I won't do this for as long as Cole did it," Brinkley says. "But it won't be for just a couple of years."
Contributing writer Shira J. Boss-Bicak '93 is a freelance journalist in New York. Her most recent cover story (July 2003) was about Professor Kathy Eden.
| | | | | | | |
| --- | --- | --- | --- | --- | --- | --- |
| | | || | | || | | |