| | | | | | | |
| --- | --- | --- | --- | --- | --- | --- |
| | | || | | || | | |
FEATURE
Donors, Recipients Meet at Dean's Scholarship Reception
By Alex Sachare '71
Photos By Nick Romanenko '82
The College long has taken pride in its policy of need-blind admissions — that is, admitting students on the basis of their talents and abilities, regardless of their financial circumstances. This is made possible by the generosity of thousands of donors, including many who have set up scholarship funds to directly benefit students in need.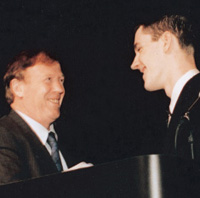 Dean Austin Quigley congratulates Todd Keryc '04, who spoke to the audience on behalf of all scholarship recipients.

On November 6, hundreds of scholarship donors and the students whom they support met in the Roone Arledge Auditorium of Alfred Lerner Hall for the annual Dean's Scholarship Reception. For some, it was a chance to renew relationships, while for others, it was an opportunity to meet face-to-face for the first time.
Speaking on behalf of the scholarship recipients, Todd Keryc '04 thanked the donors for making it possible for students like him to attend the College, when they might not otherwise have been able to do so.
Dean Austin Quigley spoke of the evolution of the campus and compared it to the way students grow and mature during their years as undergraduates. "An educational institution is an immense cauldron of transformation that is constantly infused by the energy of its students," he said. Quigley thanked the donors, saying, "There are all sorts of students whose lives will take a course they would not otherwise have taken were it not for you."

TOP: Many scholarship recipients got a chance to thank their donors in person at the annual Dean's Scholarship Reception in Roone Arledge Auditorium.
BOTTOM , CLOCKWISE FROM UPPER LEFT: Professor C. Lowell Harriss, Lisa Landau Carnoy '89, Joe Kelly '43 and Conrad Lung '72 were among those donors who met with the students who benefit directly from their generosity.
| | | | | | | |
| --- | --- | --- | --- | --- | --- | --- |
| | | || | | || | | |


CCT Home


This Issue


Previous Issue

CCT Masthead