| | | | | | | |
| --- | --- | --- | --- | --- | --- | --- |
| | | || | | || | | |
LETTERS TO THE EDITOR
Windows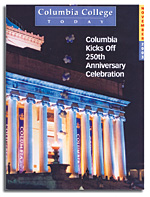 I want to express my appreciation to Dean Austin Quigley, to A.G. Rosen '65 and to Kliment & Halsband Architects for the installation of the Tiffany windows as part of the restoration of Hamilton Hall. While I have never been that fond, aesthetically, of Louis Comfort Tiffany stained glass windows, this installation seems right on several levels.
The windows provide a tangible link to Columbia's past and to New York's past — the old midtown campus, demolished to make way for Rockefeller Center, now is in some small way still present, and still part of Columbia. They also provide a link between Columbia's current students and those of Columbia's past, both the alumni of the classes of 1885 and 1891, who donated the windows, and the students who looked through those windows in the old library before Columbia moved to Morningside in 1897. Many years later, the gifts of those alumni are still giving to Columbia. Best of all, these windows were found and restored after having been stored for decades in crates in the basement of a Columbia building.
I met my wife in a CC class in Hamilton in Fall 1970 (she was one of the few Barnard students given permission to take the course), and our older son now is a student at Columbia, so the idea of Hamilton Hall being a place where one finds links between the past and the present has a certain resonance.
Peter B. Shawhan '75
Delmar, N.Y.
Editor's note: This letter originally appeared in the discussion boards of the Columbia College E-Community.
How To Cut a Class
Your tribute to the late Professor Jim Shenton '49 brought back some fine memories to this acolyte, particularly the following:
One spring, Shenton offered a graduate course (open to undergrads, as well) on the Reconstruction period. His popularity was such that well over 100 students appeared for the first class, a truly unwieldy number. Not wishing to turn any away, he cleverly issued a monstrous list of reading assignments for the course. At the second class meeting several days later, the number of attendees had dropped precipitously to a now manageable level. He then issued the actual reading list to those remaining. What a man.
Jim Mummery '65
Nellysford, Va.
Cover Quiz
I certainly had an easy time recognizing covers 11 and 12 (November 2003, page 34), because I took the photographs! Two stories:
1. I had promised Mark Van Doren that I would give him some prints of the portrait session. I owed him. When I had asked if I could be in his Humanities section, he said, "Just come, and I'll sign you in." What a wonderful experience to learn with that man. The weekend before I was shipped to Europe in 1952, I came up from Fort Dix and printed his photographs at the Camera Club darkroom. He wrote me a very nice thank-you note. Below is another photo of Van Doren that I like.
2. Gene Hawes '49 asked me to do an Eisenhower cover and arranged for me to be at a function during one of Ike's first visits to New York after the election. They kept all the photographers on a balcony overlooking the head table — this was the era before everyone had a telephoto lens. After a frustrating warm-up, I just walked downstairs and into the dining room straight up to Ike and took several photographs. I realized that he wasn't too pleased to see a camera so close, so I withdrew. As I went out the door, two policemen greeted me with, "Stop, and stay where you are." End of session, but I got the cover.
George Zimbel '51
Montreal, Quebec
| | | | | | | |
| --- | --- | --- | --- | --- | --- | --- |
| | | || | | || | | |