| | | | | | | |
| --- | --- | --- | --- | --- | --- | --- |
| | | || | | || | | |
FEATURE
Keeping Up
By Jonathan Lemire '01
Their rivalry was born on an asphalt basketball court in a park near their parents' home on Long Island.
Sometimes the other kids from their Dix Hills, N.Y., neighborhood would play, and occasionally other siblings were involved. But most of the time, it was one-on-one, brother vs. brother.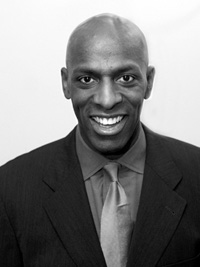 "I knew early on that I wanted to work with young people."
PHOTO: GENE BOYARS

Even now, decades later, both participants clearly remember that in their games, jump shots usually would fall, lay-ups often would be blocked — and trash always would be talked.
Their recollections of who won the majority of these pick-up contests, however, are a little hazier.
"I'd usually win," claims Joe Jones, 37.
"Come on, man, that's a silly question. I'd always kick butt," counters James Jones, 38.
And while the inherent competitiveness of any sibling rivalry can sometimes distort nostalgic memories of long-ago sporting events, this particular blood rivalry is about to be renewed in the Ivy League.
James Jones is the men's basketball coach at Yale. His brother, Joe, was hired in April to resurrect the Columbia program.
Despite the playful disagreements with his younger brother over who won those one-on-one games from their youth, James Jones knows that the Lions landed a good one.
"He's a great choice and he's going to do wonderfully," says James Jones, who, in just four years as the top man in New Haven, has directed the Bulldogs to a co-Ivy title (in 2001–02, Yale's first in 40 years) and their first postseason tournament victory in the program's 107-year-history. "That's because he's enthusiastic and passionate, the same recipe for success that I have.
"As proof," the obviously proud older brother continues, "look at how Joe's already made super strides, in terms of recruiting and fundamentals. And he's only been on the job for a few months."
Joe Jones landed on Morningside Heights following a nationwide search for a successor to Armond Hill in the aftermath of a 2–25 season that included an 0–14 mark in the Ivy League.
To secure the post with the Light Blue, Jones had to beat out an impressive slate of approximately 80 coaching candidates, some of whom had considerably larger national profiles, including Iona assistant Tony Chiles '89, Knicks coaching associate Mike Malone, former Duke star Bobby Hurley and even Hall-of-Famer Kareem Abdul-Jabbar. But while Abdul-Jabbar's unparalleled name recognition stirred excitement on campus and in the media, Athletic Director John Reeves knew that none of the other candidates could quite keep up with Jones.
"When [President] Lee Bollinger arrived from Michigan, he promised a new era in athletics," says Reeves, who dismisses concerns about Jones' lack of previous head coaching experience. "I was astounded by the quality of the pool of people who applied, but Jones' enthusiasm, his honesty and his track record for recruiting while he was an assistant at Hofstra and Villanova gave him the advantage."
Jones grew up surrounded by basketball. The son of a dry cleaning store owner and a nurse, he picked up the game in the third and fourth grades. With an older brother and two younger siblings, he had plenty of potential teammates and opponents under the same roof.
Though he claims to have been a better football player while growing up, Jones took to the hardwood in college and played four years on the varsity squad at SUNY-Oswego, where he majored in communications. But it was a summer job as a camp counselor that enabled him to discover his love of coaching.
"I knew early on that I wanted to work with young people and get involved in sports," says Jones, who worked at the renowned Kutsher's Sports Academy. "It was there that I caught the coaching bug."
After graduation, Jones took a job as a guidance counselor at Comsewogue H.S. in Port Jefferson Station and began his scholastic coaching career by helming the boys basketball team for five years. It was there, during what would be his final year at the school, that Jones received a phone call that presented him with what would turn out to be a life-changing opportunity — an opportunity that he almost turned down.
On the phone was Jay Wright, currently the head coach at Villanova, who was then an assistant at the Philadelphia-based school. Wright had just been offered the head job at Hofstra in Jones' backyard on Long Island.
Wright and Jones met in 1989 at a Villanova basketball camp where Jones, then 23, had been a middle school counselor. When Wright accepted the Hofstra job, he thought of his old friend as an ideal addition to his coaching staff.
Jones, however, wasn't quite sure.
"At first, I thought that I was too happy at the high school to leave and I was reluctant to make the change, which I think piqued his interest even more," recalls Jones with a chuckle. "But he persisted and got me to visit him in his office at Hofstra, and within five minutes, I was completely sold.
"I knew this could be the start of something special."
Impressed by Wright, whom Jones calls "a terrific role model," and the opportunity to coach at the collegiate level, Jones immersed himself in his new job. During his three years at Hofstra, he became the program's top recruiter (he brought in Speedy Claxton, now with the NBA's Golden State Warriors), a skill that he expects to use in rebuilding the Columbia program.
"My experience as a guidance counselor helps. Recruiting is all about being able to deal with people — students, parents, coaches, and administrators," says Jones, who vowed not to shy away from prospects who might be eyeing schools from powerhouse conferences like the Big East or the Atlantic Coast Conference. "Being an effective communicator — getting through to people — may even be the most important part of the job."
Jones moved up the college coaching ladder when he was hired away from Hofstra to become an assistant at Villanova, aiding head man Steve Lappas. When Lappas left Villanova for UCLA, Wright returned to Villanova as head coach, reuniting Jones with his long-time friend and mentor.
"Joe Jones is the most enthusiastic and positive person I've ever been around," says Wright, who is entering his third season as Villanova's head coach. "I'm very fortunate to have had him at Hofstra and Villanova, and Columbia is fortunate to have him now."
"Players want to play hard for him, and people want to root for him. Everyone at Villanova is a Columbia fan now, and I think he's going to be very successful."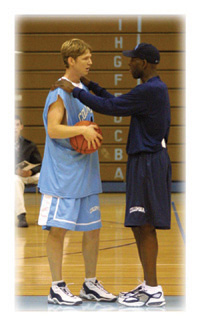 Jones is a hands-on coach who enjoys teaching young players the fundamentals of the game, and his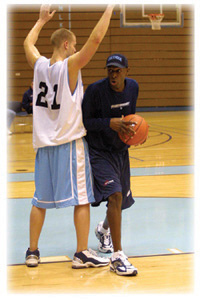 enthusiasm has revived interest in basketball across the Morningside Heights campus.
PHOTOS: GENE BOYARS

Jones' time in the City of Brotherly Love not only instilled in him a desire to coach his own team someday, but it also showed him the effort needed to field a successful program. He's brought that work ethic to the Big Apple. It's what drives him to burn up the phone lines — and the highways — to lure recruits, and it's what keeps him in his office in the Dodge Physical Fitness Center until 11 p.m. or later most nights, reviewing game film and plotting strategy.
"My time at Villanova gave me the opportunity to be involved with the Big East, the highest level of collegiate basketball," says Jones. "I wanted the challenge of every night having to lace them up against the best teams in college basketball."
He also wanted the challenge of his first head coaching job. With encouraging words from his New Haven-based brother ringing in his ears, Jones arrived on Morningside Heights in March to interview for the Columbia job and promptly fell in love with the school.
"I remember walking onto campus from Broadway and seeing the students — some of them were studying, some playing football, some playing music," says Jones, who recalled being equally as impressed with Reeves' goals for Columbia's struggling basketball program.
"When I learned that I got the job — I remember exactly when, it was April 18 at 9:30 in the morning — I was ecstatic. It was one of the great moments of my life," he says with obvious joy as he talks of settling into his new Big Apple home with his wife, Kristin, and their 1-year-old daughter, Sydney. "I felt lucky to be here."
And then he got to work. The recruiting phone calls began, followed by trips up and down the East Coast and beyond, with particular attention paid to wooing stellar student-athletes from the basketball mecca that is New York City. He quickly landed a number of promising players who will join the Columbia program next year. Meanwhile, he met with the Lions' returning players — "the most important persons in this program" — and grew optimistic about the 2003–04 edition of the Light Blue, which is returning 11 players from last season's squad. While the Lions' top two scorers, forward Marco McCottry '03 and center Chris Wiedemann '03, have graduated, Jones expects that players like guards Maurice Murphy '04, Tito Hill '04 and Dalen Cuff '05 and forward Matt Preston '05 will carry the load for his up-and-coming squad.
"We're a quick team and we're going to take advantage of as many fast breaks and transition breakdowns as we can," says Jones, who has scrapped the methodical Princeton offense used in recent years. "We're going to attack and play pressure defense, and while I have nothing against the old system, it's simply not what I teach."
Jones filled out his coaching staff by enlisting Jim Engels from Rider, Mike Bramucci from Manhattan and Chris Parsons from the New Hampton School to help mold this year's team into a competitor and build for the future.
"We're focusing on the present and not focusing on the past," says Jones, who shied away from setting a timetable for capturing an Ivy League crown. "We're going to surprise some people with our success. If we play hard, smart and together and take care of the little things, we're going to win our share of games."
And while the Jones brothers deny that there will be any friendly wagers on the season's two Yale-Columbia matchups, the Lions' new head coach admits that the two games in which his older brother will be on the opposing bench have been circled on his calendar since the day he accepted the job.
"Oh, the games will be for bragging rights, just like the old pick-up games," Jones says. "We'll be too competitive to savor it now, but in the years to come, it'll be a special thing for us.
"Well," he adds with a laugh, "it'll be special if we win."
Jonathan Lemire '01 is a frequent contributor to Columbia College Today and a staff writer for The New York Daily News.
| | | | | | | |
| --- | --- | --- | --- | --- | --- | --- |
| | | || | | || | | |