| | | | | | | |
| --- | --- | --- | --- | --- | --- | --- |
| | | || | | || | | |
ALUMNI CORNER
Enthusiasm, Participation Highlight May Events
BY CHARLES J. O'BYRNE '81
PRESIDENT, COLUMBIA COLLEGE ALUMNI ASSOCIATION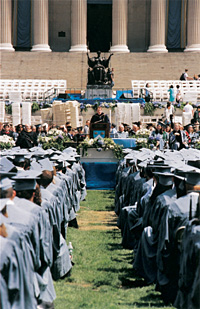 A sea of blue graduation gowns filled the long, grassy promenade
PHOTO: EILEEN BARROSO

The sun shone brightly on this year's Class Day as more than 5,000 parents, family and friends of the Class of 2003 cheered the College's newest alumni. It was a remarkable occasion, and the air was filled with joy, punctuated by the occasional congratulatory or mischievous shout from spectators or graduates.
As we processed out of Low with scores of faculty, administrators and a vigorous delegation from the 50th anniversary Class of 1953, Class Day speaker George Stephanopoulos '82, anchor of ABC's Sunday morning news show, This Week, and I shared memories of our respective Class Day ceremonies, celebrated in Levien Gym with our parents and friends sitting on bleachers. On the surface, these were far different kinds of affairs, and as we were called up to a makeshift stage, I recalled thinking that the scene resonated more with my high school years than with the experience of attending an Ivy League college.
Now, the College's Class Day celebration is very much where it belongs — at the center of Columbia, literally and figuratively. A sea of blue graduation gowns filled the long, grassy promenade that leads from the entrance of Butler to College Walk. Signs of far deeper change than a shift in venue figured prominently on the landscape with Lerner Hall and the renovated Butler Library pushing us forward, as it were, toward the flower-bedecked sundial, where the faculty joined Dean Austin Quigley, President Lee C. Bollinger and representatives of the 50th reunion class. Hamilton Hall, standing proudly off to the northeast, gave further evidence of the changes that have already taken place, as well as a nod to the future. Behind Hamilton's timeless façade, there is a recently-renovated lobby that will feature two Tiffany stained glass windows that will celebrate the Core Curriculum as well as the renovations to the now state-of-the-art classrooms on the floors above.
In his keynote address, Stephanopoulos paid tribute to his experiences at the College by recalling the extraordinary teaching of Wallace Gray, the late English professor and Joyce scholar, as he recalled Molly Bloom's closing lines in Joyce's Ulysses, the subject of Gray's always over-subscribed lecture course and the text Gray invariably chose for the last lecture of the term: " … and yes I said yes I will Yes."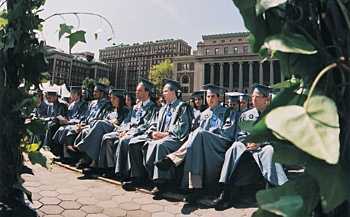 Members of the Class of 2003
PHOTO: EILEEN BARROSO

Reflecting on the myriad professional and personal experiences that have shaped his remarkable life — from his introduction to political science and Joyce at Columbia to a Rhodes Scholarship to study theology at Oxford to the White House and now to being one of the nation's preeminent television journalists and political analysts — Stephanopoulos eloquently and passionately called on the graduates to face their futures fearlessly and to pursue whatever it is they truly wished to do with their talents and skills.
This year's Class Day was Bollinger's first. He was warmly welcomed to the podium by Dean Quigley, a veteran of eight Class Days. Bollinger counseled the graduates to take a good, long look at their dormitory rooms and to remember the joys and happiness they found at Columbia while living in surroundings that will seem quite modest when measured against the material lives that lie before them. He also challenged the Class of 2003 to resist the tendencies in our culture that make a re-reading of the great texts seem too difficult a task. Bollinger encouraged the graduates to continue their relationship with the texts they encountered in the Core Curriculum — works by Aristotle, Dante, Shakespeare and others — which still are read because they grapple so profoundly with the great questions of justice, truth and community.
Laughter and applause highlighted Dean Quigley's reflections and reminiscences with the Class of 2003 as he delivered words of congratulations and encouragement. The class' visible affection for its dean echoed the rousing ovations he received a few days earlier at the Senior Dinner.
Where is all this leading, and why have I chosen to share this with you? This year's Class Day was in many ways the same it has always been, and yet, in many ways, a radical departure. The speeches, in some way, were no more than a prelude to the address by class salutatorian Denise De Las Nueces '03, who represented the best of what Columbia College is, past, present and future. De Las Nueces grew up in Washington Heights. During her high school years at Cathedral Prep, she came to the campus as a Double Discovery student. Her hard work paid off, and she was among the first to receive a New York Times scholarship, in 1999. During her years at the College, De Las Nueces worked with Latino students and alumni while excelling in her premed studies. Elected to Phi Beta Kappa in her junior year, she will begin her medical studies at Harvard this fall.
De Las Nueces opened her address with a quote from Emerson about community and the "religion of service" and emphasized how wonderful a community Columbia was for her, citing the generous service of so many, from the Double Discovery staff to financial aid counselors, faculty, deans, alumni and fellow students. [Editor's note: De Las Nueces' complete address]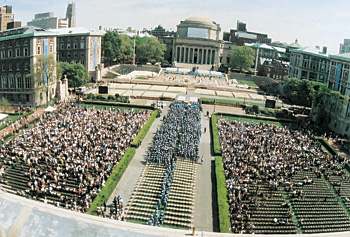 South Field and Low Plaza from a window of Butler Library.
PHOTO: EILEEN BARROSO

And then came what for me, and what I believe for every alum, can only be called a great surprise: A committee of students ascended the platform to present the 2003 Class Gift, a donation that represented gifts from more than 70 percent of the class. That's right: 70 percent plus.
That level of enthusiasm and participation filled the same space where the graduates sat a few days later, when alumni whose class years end in 3 or 8 returned to campus for Reunion Weekend. Despite what seemed like unceasing rain, this year's reunion set a record for attendance, and, by all measures, enthusiasm for the College and its future. More than 1,800 alumni and friends brought down the house at the Third Annual Young Alumni Dance Party, held at the Hammerstein Ballroom, while the Class of 1953 set a 50th Reunion record for attendance, filling Low's rotunda at its luncheon. Bollinger joined several of the events, including the Class of 1963 dinner, and Quigley was his usual omnipresent self, moving from wine tastings to luncheons to discussions to barbeques. Alumni took excursions to Kykuit, the Rockefeller family's beautiful retreat in Tarrytown, N.Y., as well as to Broadway shows and other city spots.
I was lucky enough to join several of the classes for their events, including cocktails with the Class of 1968 in the lobby of Hamilton Hall, where more than 100 gathered, and for the Class of 1983's dinner on Furnald Lawn, where an even greater number listened to Professor Emeritus Henry Graff share some of his wisdom and knowledge of the American presidency, complete with a few anecdotes that brought the house down.
All of this enthusiasm added to a record in reunion giving and a drawing together of the College family in ways that have not been experienced for many years. I hesitate to cite any member of the Alumni Office staff because each member of that hard-working team deserves not only the gratitude of all alumni but our support as well, but I think it only fair that special mention be made of Ken Catandella, director of alumni affairs, for the weekend's success. His creative vision and boundless energy made a real difference.
Next year's events promise to be better than ever as we celebrate the College's 250th birthday. I hope you'll join us.
| | | | | | | |
| --- | --- | --- | --- | --- | --- | --- |
| | | || | | || | | |


CCT Home


This Issue


Previous Issue

CCT Masthead