| | | | | | | |
| --- | --- | --- | --- | --- | --- | --- |
| | | || | | || | | |
Roar Lion Roar
Jones Pledges To Build Basketball Into a Winner
BY ALEX SACHARE '71
The quickest way to become competitive in basketball — or any sport, but especially basketball, as there are only five players on the court at any time — is to recruit a few good players each year and build a program around that stream of talent. The formula is simple. Executing it is the hard part.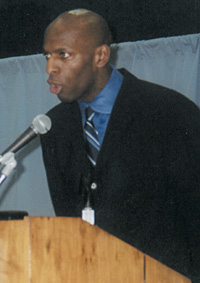 Joe Jones plans to recruit more vigorously in the New York area, as well as nationally.
PHOTO: ALEX SACHARE '71

Joe Jones takes over as Columbia's men's basketball coach with a reputation as a strong recruiter, especially in the New York area, first for Hofstra and then for the past six years for Villanova. He knows that he will need to continue that success if he hopes to turn around a Lions program that endured a 2–25, winless-Ivy season in 2002–03.
"There are not going to be a whole lot of players in New York who will be able to play at the level we want and also be able to succeed academically the way the University wants them to," Jones said. "But if there are three or four of those guys a year in the city who want to do this and want to play in the Ivy League, then we have to make getting those guys to come here our priority."
Columbia's inability to recruit successfully in the so-called mecca of basketball limited its success under Armond Hill, who failed to post a winning record in any of his eight seasons. While the school's academic stature and its presence in New York City made it appealing to prospects from other parts of the country, only three of the 13 returning players on the Lions' roster played high school ball in the metropolitan New York area.
"I've had some success recruiting in this area, and I'm going to tap into that network for Columbia," said Jones. But he's not going to limit his efforts geographically. "We're going to have to recruit nationally," Jones added. "There's only going to be a handful of kids in the metropolitan area who are going to be students who we could recruit, so we're going to have to track the nation."
Director of Athletics John Reeves, who cited Jones' integrity, leadership ability, attention to detail and ability to communicate with his players, says the time is right for a turnaround.
"We wanted someone who would win," Reeves told media members, students, alumni and others who gathered in Levien Gym on April 23 for Jones' introduction as Columbia's men's head basketball coach. "The time has come. The alumni, the students and now the administration, as well as the coaches and the student-athletes, have had it with mediocrity or less. The window of opportunity is open very wide to step up in intercollegiate athletics. With the help of current players, students, alumni, administrators and trustees, Joseph Jones will turn the Columbia program around."
Jones echoed that sentiment, and gave his reasons why. "At some point, this program will be a championship-caliber program," he said in an interview with Spectator. "There's New York City, the resources here, the type of school that this is, the vision that the administration has now and the excitement that's going on with different sports. I think it's going to happen, and it's just a matter of time."
The 37-year-old Jones, whose older brother, James, coaches at Yale, worked as an assistant under two highly successful young coaches, Jay Wright and Steve Lappas. A Long Island native who graduated from SUNY Oswego and was a guidance counselor before turning to coaching, Jones helped attract players such as Speedy Claxton (now with the NBA's San Antonio Spurs) to Hofstra for Wright, then moved to Villanova and served under both Lappas and Wright, who took over at Villanova two years ago. Last year's recruiting class at Villanova was rated among the best in the nation.
While saying it was too early to make any definitive declarations, Jones indicated that the Lions would play a more up-tempo offense than they have in recent seasons. Columbia averaged just 49.6 points per game in 2002–03 while playing a deliberate, Princeton-style offense.
"My coaching philosophy can be summed up in four words," said Jones. "Defend, rebound, attack, execute."
Jones was selected to his first head coaching job from an extensive list of candidates that included NBA legend Kareem Abdul-Jabbar. Other finalists for the job reportedly were Tony Chiles '89, an assistant coach at Iona and previously Manhattan, and Bob MacKinnon, an assistant coach under Matt Doherty at Notre Dame and North Carolina for the past four years.

Jones said he was happy for "the opportunity to work at an outstanding university, in the best city in the world, in the heartland of basketball, with an administration that is committed to excellence. The Ivy League is unique. When you talk to a kid and talk to his parents about the importance of education, you know they're understanding that, and that is what I want. To have a chance to work at a school that preaches education and has different standards than other Division I schools is terrific."
Jones stressed that he wants the basketball program to have a higher profile on campus. "I want everyone to feel a part of our program. We're going to extend ourselves not only to the students, but to the entire community here at Columbia," he noted.
And Jones did not shy away from competitive challenge, telling those who were gathered in Levien Gym what they wanted to hear: "I am confident I can lead this program to an Ivy League title."
Alex Sachare '71, the editor of Columbia College Today, is a former sports editor of Spectator and sports writer for the Associated Press.
| | | | | | | |
| --- | --- | --- | --- | --- | --- | --- |
| | | || | | || | | |