| | | | | | | |
| --- | --- | --- | --- | --- | --- | --- |
| | | || | | || | | |
FIRST PERSON
Crossing Boundaries
BY DENISE DE LAS NUECES '03
Denise De Las Nueces '03 was born and raised in New York City, where she attended Cathedral High School. Since eighth grade, she participated in Columbia's Double Discovery Center, which provides tutoring and advising to high school students from disadvantaged backgrounds, and was one of the first recipients of a New York Times College Scholarship for academic excellence in the face of financial and other obstacles. As an undergraduate at Columbia, Denise remained active in DDC, was Latino Outreach Coordinator of the Alumni of Color Outreach Program and also served as a program coordinator for Project HEALTH. A biology major who plans to enter Harvard Medical School in the fall to pursue a career in pediatrics, De Las Nueces graduated summa cum laude and was class salutatorian. Following is her Class Day address: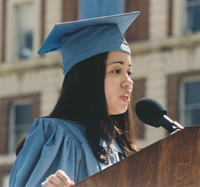 In her Class Day address, salutatorian Denise De Las Nueces '03 stressed the importance of "building community in the face of perceived boundaries," which she cited as the greatest lesson she learned at Columbia.
PHOTO: EILEEN BARROSO

President Bollinger, Dean Quigley, members of the faculty, distinguished alumni, fellow classmates, family and friends: Welcome to you all.
I recently stumbled upon a quotation from Ralph Waldo Emerson that captures the message I would like to convey to us all today: "My country is the world, and my religion is to do good." In these few words, Emerson captures the message of unity in the midst of diversity, a theme that has characterized my four years at Columbia.
This message of community in the face of perceived boundaries has been the greatest lesson that I have learned while at Columbia, through the guidance of various members of the Columbia community. The first of these teachers were the counselors and staff of the Double Discovery Center. Founded by Columbia students in 1965, the center aims to work with community youth, most of them of low income and among the first generation in their families to pursue higher education, by providing them with advising and academic support. As a participant in DDC throughout high school, along with three other members of the Class of 2003, I met men and women who devoted their time and efforts to teaching us that the boundaries separating Columbia from its surrounding communities are merely imagined borders that can and should be crossed. They encouraged us to cross those boundaries that we had built around ourselves, advising us to aim higher, to feel like we, too, could be part of the Columbia community, not just by becoming involved in the center but also by becoming part of the Columbia student body. And they encouraged us to look beyond our own ethnic identities to others, a tradition that they have continued in educating this year's participants on Indian history in preparation for the recent Midnight's Children Humanities Festival.
I found my next teachers in the financial aid counselors, class deans, employers, professors and co-workers who offered support and encouragement when I needed it most. And then there were the members of the Latino alumni community, the many who come before to blaze a trail for current Latino students. These alumni voluntarily come back on campus to help show us that anything and everything is possible, que sí se puede, and to encourage us to push beyond our self-imposed limits.
Last, but certainly not least, I found teachers in you, my fellow classmates; in those friends who inspired me constantly with their dedication to reaching out to inner-city youth through organizations such as Project HEALTH, Community Impact, and DDC; and those friends with whom I learned that it is by our deeds, and not our words, that we shall ultimately be known. On the 20th anniversary of the admission of women to Columbia College, I am especially proud to acknowledge that many of these mentors and friends have been women.
In presenting you with this list of mentors, I would like to stress one thing: the diversity of backgrounds, races, ethnicities, religions, ideas and opinions that these mentors represent. Yet, despite such diversity, their actions echo the spirit of Emerson's words, teaching me that the world is our country, and to do good should be our religion. They could have chosen to confine themselves within narrow borders — borders manifested in their personal concerns and in their own ethnic and religious identities. But in each of these teachers and friends, I have found a sincere desire to reach beyond the individual, regardless of perceived differences, and an effort to build community. In them, I have found the desire to improve the world community by looking beyond themselves and striving to do good.
My fellow classmates, the world as it is today is very different from the one we remember from 1999. Our four years have brought about great change — change in our values, change in our beloved city and change in our world. We have been able to meet the challenges of such change through the support of community. As we move beyond college to pursue careers in fields as diverse as law, business, astronomy, psychology, medicine, education and politics, let us strive to reach beyond ourselves, beyond the small spheres of our immediate confines, to other peoples and communities, beginning first with the communities immediately surrounding us and ultimately to the world community. Let us continue to celebrate our ethnic, racial and religious uniqueness while, in the spirit of Emerson's words, nevertheless embracing the needs and goals we all share as members of a one world community, one where we become global citizens recognizing the need of all people to be understood and respected.
Thank you, and congratulations to the Class of 2003!
| | | | | | | |
| --- | --- | --- | --- | --- | --- | --- |
| | | || | | || | | |


CCT Home


This Issue


Previous Issue

CCT Masthead