| | | | | | | |
| --- | --- | --- | --- | --- | --- | --- |
| | | || | | || | | |
OBITUARIES
Cliff Montgomery '34, Rose Bowl Quarterback
Clifford E. "Monty" Montgomery '34, the quarterback who called and executed the play known as KF-79 that propelled Columbia to a 7–0 upset of Stanford in the 1934 Rose Bowl, died on April 21, 2005, in Mineola, N.Y. A member of the College Football Hall of Fame, he was 94 and lived in Roslyn Heights, N.Y.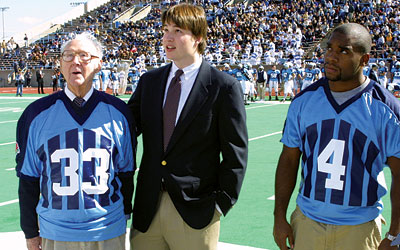 Montgomery served as honorary captain at Homecoming 2003. With him is his grandson, Tyler, and Rashad Biggers '05, a two-time captain.

PHOTO: GENE BOYARS

Montgomery was born on September 17, 1910, in Natrona Heights, Pa., and was raised there. He majored in history at the College, where his arrival in 1930 coincided with that of famed coach Lou Little. After serving as captain of the freshman team, Montgomery moved up to the varsity and led the Lions to a 23–3–2 record across three seasons. Like many of his teammates, Montgomery spent summers painting, repairing and nailing down loose boards at Baker Field's wooden stadium, which was filled to its capacity of 32,000 when he played.
On New Year's Day 1934, the Rose Bowl in Pasadena, Calif., pitted Stanford (8–1–1), which had been scored on only four times all season, against Columbia (7–1), which had lost only to Princeton. For the three days before the game, torrential rains soaked the field. "When we arrived the day before the game [after traveling from New York by train], the Rose Bowl looked like a lake," Montgomery, the team captain, recalled in a 1981 article in The New York Times. "The players' benches were floating up and down the sideline like small boats."
When the rain abated that day, a half-dozen fire departments began drying the field, pumping out 2.5 million gallons of water. But game day brought more rain, a muddy field and a general belief that Stanford, favored by 18 points in part because of a 17-pound-per-man advantage, could run the ball at will.
In the second quarter, with the game scoreless and Columbia in possession on Stanford's 17-yard line, Montgomery decided it was time for KF-79, a trick play that Little had devised. From the single-wing formation, Montgomery took the snap, and the deception began.
"I thought Stanford would be expecting a play into the line, and KF-79 was designed to fool them," Montgomery said years later. "We went into a single-wing formation to the right. I took the snap from center and spun. I slipped the ball to Al Barabas '36, who put it on his left hip and circled out toward their left end. I now faked a handoff to Ed Brominski '35, who headed toward Stanford's right. I followed him, and almost the entire Stanford team clawed at Brominski and me. Barabas, by this time, was in the end zone." Almost a half-century later, Montgomery could still picture the moment when Barabas made it to the Stanford end zone. "Seeing him there was one of the most thrilling sights of my life."
The extra point made the score 7–0, and neither team could score the rest of the game. By winning the Rose Bowl, Columbia staged what is widely regarded as one of the greatest athletic upsets of the 20th century. Montgomery, a 6-foot, 165-lb. senior, was named MVP of the game, the only bowl appearance in Columbia football history. When the team returned home, New York City's new mayor, Fiorello H. La Guardia, led a victory parade from Penn Station to Columbia's campus.
After the Rose Bowl, as Montgomery recalled for USA Today in 2000, "I had a screen test with Warner Brothers. Bert Lahr was in it, and Ginger Rogers. They wanted me to stay and finish college later, but Lou Little talked me into going back and finishing school, which I'm glad he did."
Montgomery became an executive with W.R. Grace and Co., then served as a lieutenant commander in the Navy during WWII. He was awarded the Silver Star during the 1945 invasion of Okinawa, credited with saving the lives of 400 sailors there on April 6, 1945. The commander of a group of close-in fire support ships, he brought his flagship alongside a burning destroyer in rough seas to bring the sailors aboard before the destroyer exploded, according to the then-Secretary of the Navy.
Montgomery then spent 25 years as an advertising executive for McGraw-Hill, retiring in 1972. He served for almost 30 years as an on-field football official, officiating at five Army-Navy games. He also coached local football teams on Long Island.
In 1963, Montgomery was elected to the College Football Hall of Fame. He met seven U.S. Presidents during his lifetime, starting with Calvin Coolidge. He even appeared in a "Got Milk?" advertisement.
Columbia honors include being chosen to Columbia Football's "Team of the Century" in 2000 and named "athlete of the century" by the Athletics Department the same year. In 2003, Montgomery was an honorary Lion captain at Homecoming; the Lions wore replica jerseys modeled after the 1933 team's uniform (see photo).
Montgomery is survived by his second wife, the former Nancy Hoyne, whom he married in 1976; son, Clifford; sister, Gladys Runco; and two grandchildren. His first wife, the former Helen Schorr, died in 1972.
Lisa Palladino
| | | | | | | |
| --- | --- | --- | --- | --- | --- | --- |
| | | || | | || | | |


CCT Home


This Issue


Previous Issue

CCT Masthead