| | | | | | | |
| --- | --- | --- | --- | --- | --- | --- |
| | | || | | || | | |
ALUMNI UPDATES
A Life in Theater
At 98, Robert C. Schnitzer '27 leads a busy and happy life in retirement after a lifelong theater career. After traveling overseas with a State Department program and running the University of Michigan theater department, he's now what he calls "a civilian." Yet Schnitzer keeps active by working with fellow residents on his Stamford, Conn., retirement community's resident council and serving on the Board of Directors of The Players Club, a theater club in the Gramercy Park section of Manhattan.
Born in 1906 in New York City, Schnitzer was educated at Horace Mann School for Boys before attending the College. He was a Philolexian and counted Jacques Barzun '27 as a close friend. In fact, the two shared the theater critic job at Spectator and headed down Broadway together — if neither one was bringing a date — whenever a new show opened. An international affairs major, he "was headed for the Foreign Service, but got sidelined into theater." Not surprising, as he had been in all four Varsity Shows during his undergraduate years and, as a senior, had a paying job in The Brothers Karamazov at The Theatre Guild on West 52nd Street, now The Virginia Theater.
As a young actor in New York, Schnitzer spent 10 years with the Walter Hampden Company, appearing in or stage managing Hamlet, An Enemy of the People, Richelieu, Henry V, Richard III, Caponsacchi, Macbeth and Cyrano de Bergerac. During this time, he also directed his own summer stock theater in Arden, Del. — one of the first barn playhouses. From 1936–39, Schnitzer was deputy director of the WPA's Federal Theatre Project.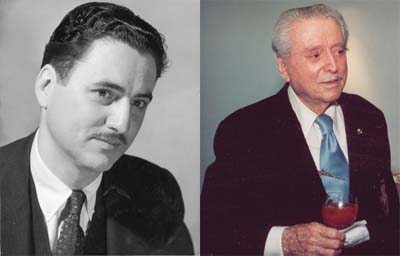 Robert C. Schnitzer '27 at about 30 years old, and at his 75th reunion in 2002.

Several years of academic and regional theater followed the close of Federal Theatre and preceded three years with the American Red Cross in China during WWII. After the war, Schnitzer returned stateside to help revive the long-dormant American National Theatre and Academy and spent several years as general manager for the Experimental Theater in New York. A number of ANTA-sponsored events included performances of American actors, musicians, dancers and vocalists in Europe, Africa, Asia and South America. The hundreds of overseas productions Schnitzer arranged ran the gamut from college choirs and athletes to notables such as Marian Anderson, the Dave Brubeck Quartet, and the New York Philharmonic Orchestra under the direction of Leonard Bernstein. During his time with the program, Schnitzer was involved in sending 3,500 artists to 100 countries.
In 1960, Schnitzer became general manager of the American Repertory Company, which was formed by The Theater Guild at the request of the government to export the best in American theater. He arranged for three plays — The Skin of Our Teeth, The Miracle Worker and The Glass Menagerie — to tour 28 countries in Europe and South America in 1961, with a company that included Helen Hayes.
Schnitzer taught theater at Vassar, Smith, the New School and Columbia before becoming a full professor at Michigan, where he created and ran what became the Professional Theatre Program, the first program to integrate academic and professional theater. He shared leadership of this project with his wife, Marcella Cisney, a theater professor; film, television, stage and opera director; and the first female television director at CBS. They married in 1953; she passed away in 1989.
In the early 1980s and again in the mid-'90s, Schnitzer donated papers and records from his work to George Mason University to create the Robert C. Schnitzer Collection.
Lisa Palladino
| | | | | | | |
| --- | --- | --- | --- | --- | --- | --- |
| | | || | | || | | |


CCT Home


This Issue


Previous Issue

CCT Masthead