| | | | | | | |
| --- | --- | --- | --- | --- | --- | --- |
| | | || | | || | | |
FEATURES
Hurricane Steve Moves On
By Eugene L. Meyer '64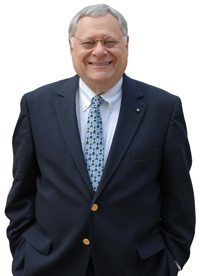 PHOTO: Julie Woodford/GWU

A week after Stephen Joel Trachtenberg '59 graduated from Columbia, he ran into legendary history professor James P. Shenton '49 walking across campus. Gazing into his crystal ball, as he was wont to do, Shenton said he didn't see his young Yale Law School-bound charge making a career of the legal profession. Instead, Trachtenberg recalls Shenton saying, "For you, I predict you'll end up in prison, in Congress or as a university president."
He never made it to Congress, but this summer, Trachtenberg steps down after 19 years as president of The George Washington University. He helped build the Washington, D.C., school into a highly competitive, heavily endowed and highly ranked center of higher learning. This achievement came on the heels of a successful 11-year run as president of the University of Hartford.
Not bad for a kid from Sheepshead Bay, Brooklyn. But for those who know Trachtenberg, not surprising, either. "I can tell you, he was a star early on," says longtime friend George Asch '59. "With him, you could tell the cream would rise to the top."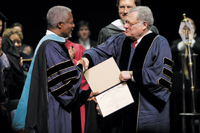 Photo:Abdul El-Tayef/WPPI

Trachtenberg majored in history, joined the Zeta Beta Tau fraternity, worked on Spectator and was secretary-treasurer of the Student Board. "Same as now, he was smart, gregarious, always with new ideas on how to change things," says ZBT brother Mike Curzan '61, a Washington, D.C., lawyer. As a senior, Trachtenberg became a Sachem, president of the pre-law society and class marshal. He graduated Phi Beta Kappa, despite finding himself locked out of Professor Walter Metzger's classroom for tardiness on one occasion, an incident he recounts with much relish. As he tells it, after Trachtenberg tapped several times, Metzger "sent someone to open the door. As I was slinking to my seat, he said, 'Mr. Trachtenberg, this is not a continuous performance.' But I survived and passed the course."
Indeed, Trachtenberg is an inveterate story-teller. Prominent on the coffee table of his presidential library at GW is the book 10,000 Jokes, Toasts & Stories. But the truth is that he needs neither CliffsNotes nor coaching in the fine art of story-telling.

Stephen Joel Trachtenberg '59 retired this summer after 19 years as president of The George Washington University

Take the hippopotamus. Thanks to Trachtenberg, during his tenure the hippo has become GW's faux mascot, almost eclipsing the traditional Colonial, "a gent with a wig and George Washington uniform, looking very Valley Forge," as Trachtenberg describes him. "My wife and I were sailing in Rhode Island some summers ago," he explains, when Francine Trachtenberg, then senior v.p. of Washington, D.C.'s public television station WETA, got called back for a meeting. Not wanting to return home empty-handed, Trachtenberg strolled the shops, at last purchasing a desk-sized bronze hippo as sort of a house ornament. "She was surprised but not aesthetically welcoming," he says. "She rejected it and gave it to GW."

Photo: Jessica McConnell/GWU

Trachtenberg thought it would wind up tucked away in an obscure corner of the student union. Instead, one of the staff planted it on the sidewalk in front of GW's Lisner Auditorium. Now, the student store sells hippo T-shirts and book covers, the student coffee bar is called the Hippodrome and a student dressed as a hippo rivals the Colonial at sports events.
If Trachtenberg has an irrepressibly impish streak, he also comes with impressive academic credentials. After graduating from Yale Law in 1962, he earned a Ph.D. in public administration from Harvard four years later. It was while there he achieved another career benchmark of sorts, being featured at 32 in a Dewar's Profile. "I was on the back cover of almost every magazine in America, including Playboy," he says. "My reward was 10 cases of Dewar's Scotch Whiskey and a brief surge of notoriety."
How did he get to be in that ad? Trachtenberg and Stanley Reiser '59, his roommate at Harvard, were discussing Dewar's ads one night, wondering if the people were models and the ads fiction. So Trachtenberg sent a letter of inquiry to the Dewar's ad agency. They responded by asking if he would like to pose for one. "I was a dean at Boston University when the ad appeared," he recalls. "This prompted the dean of the divinity school at BU (a Methodist institution) to inform me that this was not a positive career move and that it wouldn't count as a publication or a prize."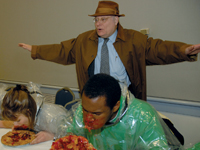 Photo: Jessica McConnell/GWU

Trachtenberg's academic career came about almost by happenstance. He was a special assistant to the U.S. Commissioner of Education when the White House changed hands. As luck would have it, Calvin B.T. Lee '55, '58L, a former College administrator and Trachtenberg friend also suddenly cast off during the change of administration, became dean at Boston University and persuaded Trachtenberg to be associate dean. Trachtenberg had hoped to divide his time between teaching and administration, but at the height of campus antiwar protests found himself more in the role of mediator than educator.
"I was still under 30," he recalls. "I went through a period of blue jeans and denim jackets, boots, longish hair and a full beard. I was an associate professor and an associate dean, but early on was called to mediate between the administration and the students. I had little traction with both, although I remember being characterized in the BU news as a 'freak in sheep's clothing.' I maintained a delicate balance by being obsessively transparent and honest. Also candid, which sometimes resulted in my offending everybody.
"The protests created an imperative that pulled me more and more into administration and denied me the opportunity to get into the classroom," he adds. Moreover, "They made life unpleasant for the BU president, who left." The change of administration led to Lee's becoming acting president of the university with Trachtenberg his assistant, then academic dean of the College of Liberal Arts, then v.p. for academic services. After eight years in Boston, Trachtenberg moved on to the University of Hartford as president.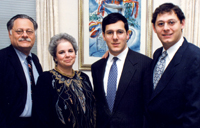 Photo: Courtesy Stephen Joel Trachtenberg '59

While at BU, he met Francine Zorn, an art history graduate student. They have two sons, Adam '97, '03 Business, and Ben '05L, who went to Yale. Before moving on to Hartford, Trachtenberg also acquired another friend and longtime associate, Robert A. Chernak, who worked for him at BU, moved with him to Hartford and followed him to GW, where he is senior v.p. for student and academic support services.
"It's been a terrific ride through three institutions with a dynamic leader," says Chernak. "He's a builder. He's not satisfied with the status quo." At Hartford, Chernak says, Trachtenberg turned what was a private local university into an institution that began to draw students from all over New England and beyond, in the process making it a more residential campus, elevating the school's athletic program and boosting fundraising. It was a successful formula Trachtenberg also applied to GW.
Trachtenberg became GW's 15th president on August 1, 1988. In the nearly two decades since, $500 million has been spent on new buildings, the endowment has climbed from $300 million in 1990 to more than $1 billion and the university has acquired two satellite campuses, one elsewhere in the District of Columbia and the other in nearby Ashburn, Va. Applications for freshman admissions have gone from 6,000 to 20,000 and average entering class SAT scores are now a highly respectable 1,375, compared to around 1,100 when Trachtenberg arrived. In 1988, only 27 percent of entering freshmen ranked in the top 10 percent of their classes as high school seniors; this year, 69 percent were in the top 10th. Faculty salaries also have risen, attracting and retaining the cream of the crop.
Many on and off campus credit Trachtenberg for this growth, but he demurs. "It's a mistake for any president to believe that what was accomplished during his tenure [is due only to him]. The 14 before I came built a foundation I was just fortunate to add to. To advance the institution, I used resources that were laid in by those who came before me.
"Still," he adds, "I can't help but be a little bit proud."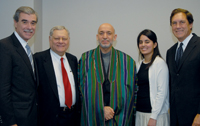 Photo: Jessica McConnell/GWU

Along the way, of course, there have been controversies. He's been called Hurricane Steve (the nickname first appeared in a Washington Post article to indicate he was in a hurry to change things, if not also a force of nature), an empire builder and more. Under his watch, the university's stature has risen, but so, substantially, has tuition — from $9,570 to $37,790 a year, among the highest in the nation. To help offset this, financial aid has risen from $14 million to $118.7 million during his tenure, 65 percent of students receive some form of financial aid and tuition rates have been "frozen" for incoming students for five years from their enrollment dates, taking the mystery out of tuition planning.
Not unlike Columbia's planned expansion into its surrounding neighborhood, GW's acquisition and development of several properties in Washington, D.C.'s once-industrial and residential Foggy Bottom area has been contentious. For this, Trachtenberg offers an explanation, tinged with sarcasm, but no apologies.
"Older people in search of a placid, quiet environment probably shouldn't seek out a residence adjacent to a university or an airport," he says. "It is not all a tale of melancholia, but it is an almost predictable condition of dynamic tension, and we are persistently pursuing reconciliation, but it's a retreating horizon."
Invitations to cultural events, library privileges, special scholarships for D.C. residents and other university benefits extended to the community haven't quelled the overarching controversy over the school's physical expansion. "Our problem is a little bit distinguishable from Columbia's," he says. "We have to live with a height limit" that restricts most buildings to six stories. "This forces us [to build] out since we can't go up."
Says Reiser, who now is a physician and professor at the University of Texas: "He's a tireless arguer and negotiator. He gives his all to seeking compromise and comes up with great solutions. He's an astute political figure. He really understands how people and institutions work."
Trachtenberg tells the story of how he would get his sometimes reluctant GW board to go along with his campus expansion plans. "The university would be interested in buying a piece of real estate," he says. "The questions would come up: Is this a good transaction? Is the price right? Is the property appropriate?" Having lost his patience, POTU (President of the University — part of his e-mail address) would propose asking the opinion of Ted Lerner, a highly respected real estate developer, GW alum and former trustee who now owns the Washington Nationals major league baseball team.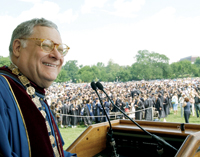 PHOTO: Claire Duggan/GWU

"Everybody would be delighted to have an expert view on the transaction. He always had this pithy response. 'If GW isn't going to do this deal, I'd like permission from the board for the Lerner family to do it.' That was a yes. The board would immediately say if Lerner wants it for himself, it must be a good deal."
Trachtenberg stories are many, but some can be told only by others. Marvin Finkelstein '59 recalls them "studying" together once in their senior year at Columbia. "I think it will be terrific," Trachtenberg told him. But when he showed up at Finkelstein's Livingston (now Wallach) Hall room, Trachtenberg found a comfortable reclining chair and quickly fell asleep. "He was away and gone. That's how we 'studied' together."
Gerry Sigal, a fellow Brooklynite, Washington, D.C., builder and Trachtenberg's racquetball partner, counts him as an uncommonly generous friend. An NYU graduate, Sigal was to be honored by his alma mater and was asked to give a graduation speech — not his forte, he says. "Steve and I sat down and wrote the speech," which drew with humor on their mutual Brooklyn background. "It got a standing ovation. Steve could relate to anything. He could host the Academy Awards."

"I used Columbia as my North Star"

Trachtenberg cares deeply about the students, opening his presidential door to them and famously spending a night in the dorms with incoming freshmen. In this, he takes inspiration perhaps from late Columbia history instructor Bernard W. Wishey, who taught Trachtenberg Contemporary Civilization and who, not widely published, never became tenured but was deeply devoted to helping undergraduates. "He cared about Columbia College and about students," Trachtenberg says, adding, "Of course, that's always a disability at a university."
The last, almost off-handed, remark is characteristic of Trachtenberg, who can be refreshingly blunt and politically incorrect, sometimes to his detriment. "I think university presidents have an obligation to be candid," he says. "I made a commitment to myself I'd try to do my very best never to evade, never to lie, never to dissemble."
Regrets? Trachtenberg admits to having done little actual teaching: "I did about a weekend," he says. He has written three books, largely collections of essays and speeches, and co-edited another, but takes pride in being a prolific letter writer. "I've poured my life out in letters," he says. Last year, Trachtenberg's often amusing letters were compiled in Write Me A Letter!, which contains complementary cartoons from The New Yorker. He is completing a memoir, "partly drawing on my career and partly thinking out loud about universities, higher education and its future."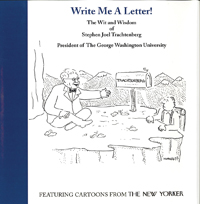 In addressing Columbia alumni in Washington, D.C., last year, Trachtenberg said he looks forward in his emeritus years at GW "to trying out that professorial sense of entitlement that I have been assailing for the last three decades. And finally, I look forward to teaching." His immediate plans call for teaching courses in higher education and public policy and public administration at GW. Not that he expects to match Metzger or Shenton as teachers, "but I see no reason not to try."
During his career, Trachtenberg has received multiple honors, as befitting a longtime university president. He received the Humanitarian Award of the Albert B. Sabin Institute and is a fellow in the American Academy of Arts and Sciences and a member of Phi Beta Kappa and the Council on Foreign Relations. Trachtenberg has received honorary degrees from numerous universities, most recently a Doctor of Laws degree from Columbia on May 16. But one has eluded him.
He recalls a prediction Associate Dean Nicholas McKnight made to entering College freshmen: "Gentleman, somewhere in this room sits a future Nobel Prize winner." "Of course, he was right," Trachtenberg says. "Ronald Hoffmann '59 won a Nobel Prize for chemistry." Trachtenberg's congratulatory letter to his classmate said, "I'm so relieved it was you. It took the burden off my shoulders."
Nonetheless, he says his Columbia experience was "absolutely seminal" and had a "transformational effect on my world view. It defined what it meant to be an educated person, and the courses I took, the books I read, and the people — professors and classmates — have informed my personal and professional life.




Photos: (top) GWU, (middle) Julie Woodford/GWU, (bottom) GWU

"Every institution I have worked at is more like Columbia than it was before I arrived, because I used Columbia as my North Star and introduced ideas and values and models that I first saw at Columbia. My thinking about the arts and sciences, about contemporary civilization and the humanities are informed to this day by what I experienced on Morningside Heights."
Not every lesson Trachtenberg took from his four years on Morningside Heights was academic. For one thing, he learned the proper use of eating utensils from Shenton, who took his history seminar of, in Trachtenberg's words, "13 chimpanzees from Brooklyn and the Bronx," to dinner at Faculty House for the discrete purpose of elevating bush league eaters to Ivy League standards.
"Years later, at a high table at Pembroke College at Oxford, I thought of him with a sense of gratitude for lessons learned," Trachtenberg says. "I knew exactly what to do."
Then there was the balloon incident. As a freshman living on the top floor of Hartley Hall, Trachtenberg recalls, he and his roommate "filled a balloon with water, tied a knot in the end, hung out the window and dropped it on the head of a person walking on a sidewalk. She counted up the floors and across the windows, figured out which room we were in and had us hauled down to the dean of students' office."
---
Eugene L. Meyer '64, a former Washington Post reporter and editor, is an author who freelances from Silver Spring, Md.
| | | | | | | |
| --- | --- | --- | --- | --- | --- | --- |
| | | || | | || | | |