| | | | | | | |
| --- | --- | --- | --- | --- | --- | --- |
| | | || | | || | | |
COVER STORY
From Students to Alumni
Class of 2007 celebrates Class Day, Commencement
By Alex Sachare '71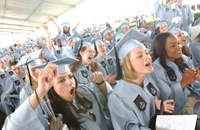 More than 1,000 members of the Class of 2007 joined the ranks of Columbia College alumni following Class Day ceremonies on May 15 and Commencement on May 16.
Actor Matthew Fox '89, the keynote speaker at Class Day, urged the graduates to ask themselves "a tough question, a final final, if you will: How much of what you've done, up to this point in your life, has absolutely and singularly been your idea? How much have you lived for your passion, and how much have you lived out others' aspirations for you?
"I ask this because a commencement is a beginning, and I want to encourage you to use this beginning to strip away the expectations that others have for you and begin writing the story of your own life, in your own hand, guided by your own interests. As of tomorrow, you are the author of your own life. The first chapter is coming to a close. Where the story goes from here is up to you."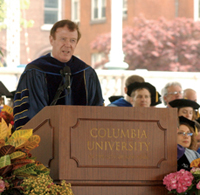 Fox, who played varsity football at Columbia, stars in ABC's popular television show Lost, had a leading role in the film We Are Marshall and formerly appeared on the Fox network show Party of Five.
Dean Austin Quigley drew laughs when he referred to the children's story of dedication and perseverance, The Little Engine That Could, as he spoke of the individual and group accomplishments of the seniors and of the strength they can find in each other. "Together, you guys are going to change the world," he declared to a rousing ovation.
Salutatorian Nicholas Klagge '07 and Class President David Chait '07 also addressed the graduates on Class Day, during which seniors' names were read and they received class pins from representatives of the 50th anniversary Class of 1957. In addition, Senior Fund Chair Arvind Kadaba '07 presented Quigley with a scroll bearing the names of the 858 members of the class who donated to the Senior Fund and announced that the 84.5 percent participation rate was a record not only for the College but for all Ivy League liberal arts colleges. Several awards and prizes were given out by Dean of Student Affairs Chris Colombo, Dean of Academic Affairs Kathryn Yatrakis and Brian C. Krisberg '81, Alumni Association president.
The following day, more than 30,000 students, alumni, faculty and guests filled Low Plaza for the Commencement exercises, at which nearly 12,000 students received University degrees. Following Columbia tradition, President Lee C. Bollinger delivered the Commencement address and Vice President for Arts and Sciences Nicholas Dirks presided over the program.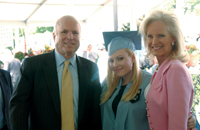 Stephen Joel Trachtenberg '59, who is retiring this summer after 19 years as president of The George Washington University [see feature], was one of eight recipients of honorary doctorates at Commencement. Others were Aharon Barak, former president of the Supreme Court of Israel; Santiago Calatrava, architect, artist and engineer known for his work on the Athens Olympic Sports Complex; Benjamin S. Carson Sr., professor and director of pediatric neurosurgery since 1984 at the Johns Hopkins Medical Institutions; Susan Lindquist, microbiologist and professor at MIT; Barbara Novak, the Helen Goodhart Altschul Emerita Professor of Art History at Barnard; Felix G. Rohatyn, businessman, investment banker and former U.S. ambassador to France; and Jonathan Spence, the Sterling Professor of History at Yale and one of the foremost scholars of Chinese civilization from the 16th century to the present.
Suzanne Malveaux '91J, CNN's Emmy Award-winning White House correspondent, received the University's Medal for Excellence, awarded to an outstanding University graduate under 45.
Five faculty members received Teaching Awards: Joyce K. Anastasi, professor of clinical nursing; Patricia J. Culligan, professor of civil engineering and engineering mechanics; Donald C. Hood, the James F. Bender Professor in Psychology and professor of ophthalmic science; Liza Knapp, associate professor of Slavic languages; and Susan P. Sturm, the George M. Jaffin Professor of Law and Social Responsibility.
Dr. Robert Siroty '56 was one of 10 Alumni Medal recipients and Carlos Muñoz '57, representing the 50th anniversary class, was an honorary hood marshal.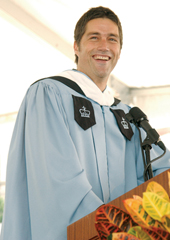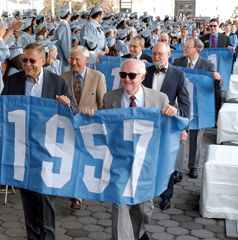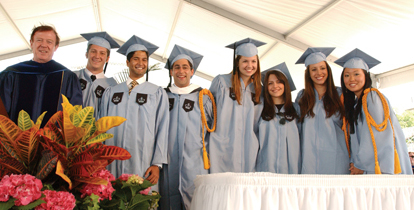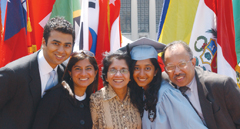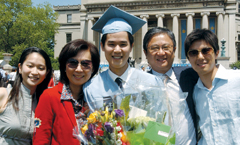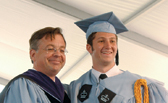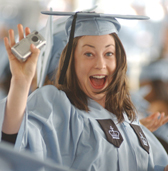 ---
| | | | | | | |
| --- | --- | --- | --- | --- | --- | --- |
| | | || | | || | | |


CCT Home


This Issue


Previous Issue

CCT Masthead