| | | | | | | |
| --- | --- | --- | --- | --- | --- | --- |
| | | || | | || | | |
FEATURES
Laura Cantrell '89: New Yorker Sings Country
By Dina Cheney '99
Flash is not Laura Cantrell '89's thing. Clad in simple garnet stud earrings, a basic black ensemble and a neat hairdo, the delicate-featured, porcelain-skinned Cantrell looks more like a sophisticated New York businesswoman than a country crooner. While others may don rhinestone-studded jackets and kick up their heels, Cantrell is content to strum her guitar and sing, sharing her roots as directly as she can as a radio DJ and singer.
Those roots are evident from the slight twang in her beautiful, understated voice. As a child in suburban Nashville, Cantrell — like everyone else in town — lived and breathed country. Yet, she had reservations about the genre: "When you're born in Nashville and surrounded by country music, you begin to love it by osmosis. However, I couldn't help dwelling on the cartoonish aspect of growing up there. The commercialism of the music does get kind of shoved down your throat. You'll be driving down the highway and there's a big billboard from Garth Brooks thanking his fans, who made his last record go quadruple platinum."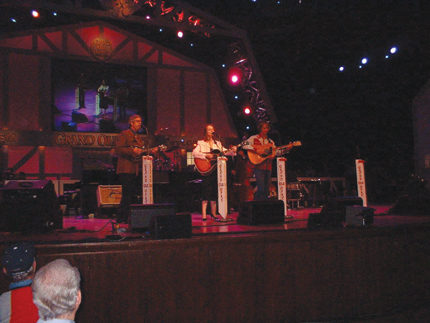 Laura Cantrell performs at the Grand Ole Opry with Jon Graboff (left) and Boo Reiners, July 18, 2003.

Consequently, Cantrell was skeptical when a friend at the Country Music Hall of Fame and Museum helped her get a position as a tour guide in 1985. Cantrell comments, "I went in thinking, 'This will be an easy way to make money,' and came out realizing what a fascinating subject country music history really was."
That fall, Cantrell headed to New York to attend the College. Her mother is an attorney and her father is a Tennessee Court of Appeals judge, and she figured she would follow in their footsteps by studying law, a decision she dramatically reversed after six months in Morningside Heights. While pursuing an English major, Cantrell taught herself to play the guitar and began to DJ at WKCR, where she revived a country music show. "WKCR showed me that I could make music my career, and that working in radio might be the way to go," she says. "I realized how radio could be historically geared rather than commercial."
Through the station, Cantrell met music-loving students from around the country. Though she was considered the official Nashville country music representative, Cantrell's fellow students eagerly exposed her to "the vibrancy of different music traditions" by taking her to various shows at CBGB in Manhattan and Maxwell's in Hoboken, N.J.
Soon, Cantrell — who took piano lessons for eight years beginning in the third grade and sang in the church choir while growing up — was involved in a series of informal bands, including the Nash Ramblers, Potter's Field, Bricks, and Best Western ("a terrible country-western band," she admits). After performing at the Postcrypt Arts Center beneath St. Paul's Chapel, where she made her debut performance with a band, Cantrell went onstage at Ferris Booth Hall, Barnard and Furnald. Yet, the bands were primarily social groups and not serious musical endeavors.
Upon graduating, Cantrell moved to Brooklyn and accepted a position at the ABC Radio Network in Manhattan monitoring stations to ensure that commercials were played according to schedule. "I lasted a year before I was so dreadfully bored that I knew I was never going to survive in the commercial music world," she says. After quitting, she temped while searching for another, less corporate radio job, only to discover that "the most interesting radio work was in the nonprofit, non-paying world." In 1991, Cantrell began to volunteer at New Jersey's WFMU (91.1 FM), whose music director was familiar with her WKCR program.
After volunteering for two years, Cantrell impressed the station director with two demo tapes and, in 1993, was awarded a three-hour free-form country show, which she named the "Radio Thrift Shop." Now in its 11th year, the show shares new and unusual recordings of "old time" country and bluegrass. Even with a rapidly growing body of listeners, "Radio Thrift Shop" was — and is — a voluntary pursuit. Given the nature of the show and her financial circumstances, Cantrell's early segments included only albums from the $2-and-under bin.
Meanwhile, realizing that she "needed to pay the bills," Cantrell accepted a full-time position in 1992 as a member of an analyst's staff at a boutique investment firm where she'd been temping. That analyst, in the media and entertainment sector, brought Cantrell to Bank of America's Equity Research team in 1996, where she became one of the department's administrative managers. After a few years, she became the equity research department's v.p. and business manager, overseeing the planning and day-to-day administrative needs of the department, including managing its 28-person support staff.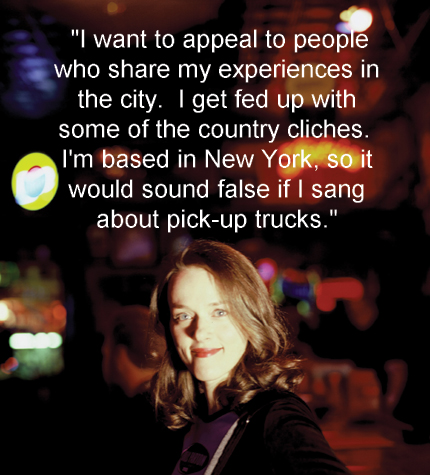 Cantrell has developed a following as host of the "Radio Thrift Shop," Saturdays from noon-3 p.m. on WFMU (91.1 FM). "She has the sort of east Tennessee accent that seems to keep your coffee warm," according to a writeup in The New York Times.
PHOTO: AMY DICKERSON

Cantrell still had a yen for performing, though. "I would do the radio show on Saturdays from noon until 3 p.m. and tuck gigs into whatever time was left," she says. Having met They Might Be Giants member John Flansburgh in 1991 (he lived next door to her in Williamsburg, Brooklyn), Cantrell sang the lead vocal for the single "The Guitar" on the group's 1992 album, "Apollo 18." Flansburgh told W magazine, "I know this sounds grand, but I think Cantrell is the living embodiment of real country. Her motivation is so straight ahead and her roots in it are so direct, she makes all of the commercial stuff seem about as real as a plastic cowboy hat."
Encouraged by such accolades, Cantrell decided to become a "front person," rather than part of a group. She began performing solo (though she worked with a band) at venues such as the Mercury Lounge on East Houston Street and at the Lakeside Lounge on Avenue B.
After a few years of low-paying or non-paying shows, Cantrell began writing. "A loosely-based genre called 'Americana' or 'alternative country' was emerging," she explains, "with younger musicians rebelling against Nashville's air-brushed mainstream music. I was inspired by folks such as Steve Earle, Lucinda Williams and Emmylou Harris, who were starting to break away from commercial country." Thus galvanized, Cantrell, with her band and producer, Jay Sherman-Godfrey, recorded four songs from their live set at Studio G in Williamsburg and at Cantrell's home. Explains Cantrell, "It was an experiment to see how good a recording we could make without the benefit of anyone else funding it."
Sherman-Godfrey gave the recording to a friend of a friend, Francis Macdonald, drummer for Scotland's Teenage Fan Club and the BMX Bandits and the owner of a fledgling record label, Shoeshine/Spit & Polish. Macdonald was so impressed that he convinced Cantrell and her band that the recording could be the basis of an album, which he would put out in the United Kingdom.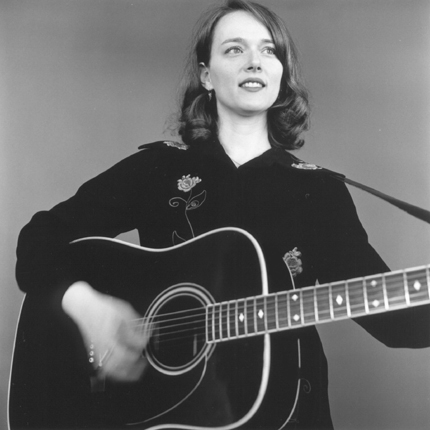 Cantrell's two albums received four-star reviews in Rolling Stone.
PHOTO: TED BARRON

In March 2000, Spit & Polish released Cantrell's first album, Not the Tremblin' Kind, featuring renditions of little-known songs from the fringes of the New York country scene and Cantrell's own compositions, backed by acoustic and electric guitars and mandolins. It wasn't long before 5,000 copies had been sold in the U.K. by word of mouth. Soon, famed British DJ and BBC music legend John Peel heard the album, which he deemed "my favorite record of the last 10 years and possibly my life." He proceeded to play it ad infinitum, fostering a large Cantrell fan base in England.
Encouraged by the U.K. reception, Cantrell's husband of six years, Jeremy Tepper — who works for Sirius Satellite Radio, edits The Journal of Country Music (published by the Country Music Hall of Fame and Museum) and owns the independent label Diesel Only Records — decided to release Not the Tremblin' Kind in the United States. He also sent Cantrell's new recordings to singer Elvis Costello, who had become a fan after buying her record because he liked its cover. Costello became infatuated with Cantrell's new music and asked her to open a six-week, 17-show segment of his U.S. tour last fall. Cantrell knew that she couldn't turn down such an opportunity, so she obtained a leave of absence and went on the road, but kept her hand in Bank of America affairs by attending phone meetings and completing paperwork, often just moments before jumping on stage.
Amazingly, everything went off without a hitch, including the release of Cantrell's second album, When the Roses Bloom Again, also on her husband's Diesel Only label. Produced for the most part in her former Brooklyn loft, the album features a mix of modern pop-oriented songs and Appalachian bluegrass tunes — some vintage covers, others written by Cantrell or local songwriters. "That's the way folk music is supposed to work," says Cantrell. "Someone reclaims a song as his or her own and then it moves along. It's the perfect metaphor for what I do in terms of old music. I try to do something new with it and contribute to it."
Soon, the media began paying attention — lots of attention. Cantrell and her music received coverage in The New York Times, W, and O, The Oprah Magazine. She appeared on Late Night with Conan O'Brien. Encouraged by the positive reception but increasingly stressed by her "double life," Cantrell resigned from her job in April 2003 to focus on her music career. "I started to feel like the dividing line between those two parts of my life was getting dangerously thin and I couldn't maintain that level of juggling," she explains.
Since her big move, Cantrell has toured in the U.K., Europe and the U.S. Highlights from last summer included a free concert in New York's Madison Square Park and her debut on Nashville's historic country radio program, The Grand Ole Opry. Fall dates included an eight-show run opening for Joan Baez in the U.S. and a tour of the U.K. and Ireland opening for bluegrass legend Ralph Stanley. During her downtime in New York, Cantrell planned Radio Thrift Shop's 10th anniversary program, which was broadcast live from New York City's Museum of Television and Radio in October. This spring, she is focusing on songwriting and recording a new album, in addition to hosting her radio show.
Not bad for the "small-town" Nashville girl who has made New York her home. Cantrell, who has lived in New York City for 18 years, acknowledges that her music is classic country, but "filtered through the point of view of a young New Yorker … My music has an odd twist to it because I'm not based in the rural U.S. or Nashville," she says. "There's no point in pretending I have a strong rural connection. The rural aspects of country music might come across in some of my older, more traditional songs. But I also want to appeal to people who share my experiences in the city. I get fed up with some of the country clichés. I'm based in New York, so it would sound false if I sang about pick-up trucks."
Cantrell and her husband recently moved from Brooklyn to Jackson Heights, Queens, partly to have more room for their 30,000-strong CD, LP and eight-track collection (representing country, indie rock, jazz and other genres). Cantrell doesn't plan to leave NYC any time soon: "Jeremy and I bought a home here and want to start a family," she says. Yet, despite plans to plant herself further into her adopted home, she vows: "My roots will not change, no matter how long I'm in New York."
For more on Cantrell and her work, please visit her Web site:
www.lauracantrell.com.
Dina Cheney '99 is a freelance writer and editor whose articles have appeared in Westchester Magazine, Lilith Magazine and the Hersam-Acorn newspapers. She also teaches cooking through her company, Cooking by Heart (www.cookingbyheart.com).
| | | | | | | |
| --- | --- | --- | --- | --- | --- | --- |
| | | || | | || | | |


CCT Home


This Issue


Previous Issue

CCT Masthead