| | | | | | | |
| --- | --- | --- | --- | --- | --- | --- |
| | | || | | || | | |
AROUND THE QUADS
Come Home to Columbia for Reunion Weekend 2004
By Lisa Palladino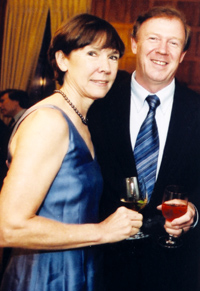 Dean Austin Quigley and his wife, Patricia Denison, enjoy one of the weekend's cocktail receptions.
PHOTO: EILEEN BARROSO

Reunion Weekend 2004, for classes that end in 4 or 9, is scheduled for Thursday, June 3–Sunday, June 6. The weekend is a great opportunity to rekindle friendships, make new friends and enjoy New York's culture and nightlife. It's also a chance to visit the campus and see its many changes and improvements, including Hamilton Hall's renovated classrooms and recently installed Tiffany windows.
The weekend kicks off on Thursday, when early check-in starts at 3 p.m. From 6 p.m.–8 p.m., visit with classmates at cocktail parties and welcome receptions. The night continues further south on Broadway — alumni can purchase discount tickets (first come, first served) to Wicked, Movin' Out or Hairspray. Buses will be provided from campus.
Friday morning and afternoon feature walking tours of campus, historic Harlem, Times Square and the United Nations. Also available is a popular bus trip to the Rockefeller family's Kykuit Estate near Tarrytown, N.Y. (tickets required, adults only).
For lunch, join classmates at Café Columbia and enjoy your meal al fresco on Low Plaza. The afternoon continues with a talk, "The College Admissions Process," and class panels and discussions. At 3 p.m., Barnard professor Robert A. McCaughey will read from Stand, Columbia, his definitive history of the University. Copies will be available for purchase, followed by a book signing. At 4 p.m., the Office of Undergraduate Admissions will thank the Alumni Representative Committee for its hard work in helping to recruit and select the Class of 2008. New members are welcome and will be registered on-site, but all alumni are welcome at this event.
Friday night activities include class cocktail receptions and dinners followed by one of the weekend's most popular events, Casino Royale at the Hammerstein Ballroom in the Manhattan Center on West 34th Street, starting at 9 p.m. Winners can redeem "Columbia Cash" for Columbia merchandise. The tables will remain in play after 10 p.m., when College, Barnard and SEAS alumni from the Classes of 1989–2004 gather in the ballroom for the fourth annual Alumni Dance Party, hosted by the Columbia College Alumni Association.
Relax on Saturday morning with Morning(side) Yoga and Exercise, followed by the Dean's Brunch and Convocation, when Dean Austin Quigley will address alumni and present the President's Cup and Dean's pins. At 11 a.m., Roger Bagnall, professor of classics and history and winner of the 2003 Mellon Foundation Distinguished Achievement Award, will deliver this year's Reunion Weekend Lecture. Bagnall, an internationally respected and prolific historian of the Graeco-Roman world, will discuss the use of technology in humanist inquiry. Also on the afternoon's roster are barbeques on Low Plaza and South Lawn, class luncheons and discussions and a University tunnel tour. The day ends on an up note with a "Great Wines for Under $20" tasting.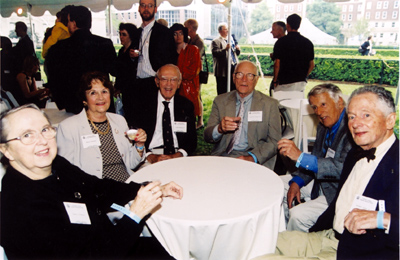 Members of the Class of 1943 and their guests enjoy the "Great Wines for Under $20" tasting at Reunion 2003. The popular event will be held on Saturday at this year's reunion.
PHOTO: Eileen Barroso

The evening festivities are class dinners, including class photos, followed by the Starlight Reception on Low Plaza, which features dancing, champagne and desserts, starting at 10 p.m.
Reunion wraps up on Sunday morning in Lerner Hall with another chance for yoga, followed by bagels, cream cheese, lox and The New York Times.
Throughout the weekend, some classes will have class-specific programming. Please consult class mailings and e-mails.
For children, the College provides a full day of programming on Friday, June 4, from 11 a.m.–4 p.m., and on Saturday, June 5, from 10 a.m.–10 p.m. Supervised activities and meals will be provided. Activities are suitable for children ages 3–12. Youngsters must be toilet trained to participate.
Alumni from reunion classes should have received reunion information and a registration packet in the mail in March. Online registration, a complete program of events (including class-
specific activities), information on housing, child care, parking and other frequently asked questions may be found on the Reunion 2004 website: http://reunion.college.columbia.edu.
For answers to any other questions, please contact Sharen Medrano in the Alumni Office: so290@columbia.edu or (212) 870-2288 (toll-free: 866-CCALUMNI).
| | | | | | | |
| --- | --- | --- | --- | --- | --- | --- |
| | | || | | || | | |


CCT Home


This Issue


Previous Issue

CCT Masthead