| | | | | | | |
| --- | --- | --- | --- | --- | --- | --- |
| | | || | | || | | |
ALUMNI PROFILE
Obama Wins U.S. Senate Primary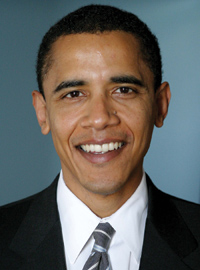 Barack Obama '83, Illinois state senator for the 13th district on Chicago's South Side, won the Democratic primary for the U.S. Senate over six rivals on March 16. He will oppose Republican Jack Ryan in the general election in November for a Senate seat being vacated by Peter Fitzgerald, a Republican who is retiring after one term.
Obama received 55 percent of the vote in the Democratic Primary. His nearest opponent, state Comptroller Dan Hynes, drew 23 percent.
"I think it's fair to say the conventional wisdom was we could not win," Obama told his cheering supporters following the primary victory. "We didn't have enough money. We didn't have enough organization. There was no way that a skinny guy from the South Side with a funny name like Barack Obama could ever win a statewide race. Sixteen months later, we are here."
Obama, 42, was a political science major at the College and went on to Harvard Law School, where he was the first African-American president of the Harvard Law Review. He is a civil rights attorney specializing in employment discrimination, fair housing and voting rights legislation and teaches civil rights law and other subjects at the University of Chicago.
If he wins in November, Obama would become the only African-American in the U.S. Senate and only the third black U.S. Senator since Reconstruction.
Alex Sachare '71
| | | | | | | |
| --- | --- | --- | --- | --- | --- | --- |
| | | || | | || | | |