| | | | | | | |
| --- | --- | --- | --- | --- | --- | --- |
| | | || | | || | | |
ALUMNI UPDATES
Dr. Benjamin Ortiz '92 Helps Children Breathe Easily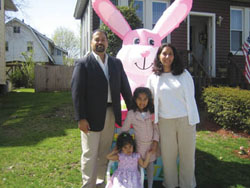 Dr. Benjamin Ortiz '92 has been able to give back to a community similar to the ones in which he grew up by serving as the assistant medical director of the Harlem Children's Zone's asthma initiative. HCZ is a nonprofit that was founded in 1970; its goal is to improve the quality of life for children suffering from asthma in some of New York City's most devastated neighborhoods.
In addition to the asthma research he completes with HCZ, Ortiz serves the Harlem community as assistant attending pediatrician at Harlem Hospital Center and is assistant professor of clinical pediatrics at P&S. His upbringing, along with the education he received at the College, helped him realize the importance of helping those in need.
Ortiz was born in Washington Heights to immigrants, his father from Puerto Rico, his mother from the Dominican Republic. His family, which includes a younger sister, moved to Queens when he was 9. It was while in high school that Ortiz first entertained the idea of going to Columbia, crediting his high school Advance Placement teachers for piquing his interest in an Ivy League education.
When Ortiz entered Columbia, his goal was to become a pediatrician and help his community. During his first two years as a student, he commuted from his home in Queens, a decision he regrets. "I didn't feel like a true Columbia student until I lived on campus," Ortiz notes. "Probably the biggest mistake of my College experience was not living in the dorms for all four years."
Despite this, Ortiz was involved in many extracurricular activities that strengthened his identity as a Latino aspiring to be a doctor. He participated in the Latino student organizations Alianza Latino Americana and Accion Boricua, as well as the Charles Drew Pre-Medical Society. Ortiz greatly appreciated the ethical education he received from the Core Curriculum, citing authors such as Plato and Descartes as helpful in his medical training. "The process by which physicians ask questions and are empathic to health complications continues to be refined and taught," he explains. "The Core remains in the forefront for me in that process, especially now as a teacher of medical students." Ortiz has kept in touch with many alumni through the Latino Alumni Association of Columbia University, where he serves as an Advisory Board member.
Ortiz earned his M.D. from the Mount Sinai School of Medicine. He knew that he wanted to work in pediatrics and was able to conduct pediatric asthma research as a medical student before his residency began. Ortiz completed his pediatric residency in 2001 and started work at Harlem Hospital Center with a joint faculty appointment at P&S.
It was through his position with the Harlem Hospital Center that Ortiz became involved with HCZ. "It's been wonderful working with an organization that has the same level of commitment to the children and families of Harlem as I do," he says.
The organization has seen tremendous growth in the last five years. According to its website (www.hcz.org), its 15 centers serve more than 12,500 children and adults, including more than 8,600 at-risk children. The goals HCZ adopted in order to properly serve the Harlem community include supporting families in caring for their children, stabilizing city-owned housing, improving the physical environment and increasing the use and availability of technology in the community.
In working to serve the community and his patients, Ortiz has developed a special appreciation for his work. "The most rewarding part of my job is the level of trust that my patients and their families have for me. It's wonderful to see how they come to appreciate what I try to help them with, and to their surprise that I recall something about their personal lives."
Ortiz lives in suburban New Rochelle, N.Y., with his wife, Belkis Alonso-Ortiz, an attorney and clerk for a New York State Supreme Court judge, and their daughters, Sophia (6) and Gabriela (3). Ortiz says it's a challenge for working parents to raise children and make time for family outings to parks and the zoo. "But it has been increasingly rewarding, as our children grow up knowing that their parents are involved in their lives, and that they learn where their parents grew up," he notes.
By Roy Cureton '08
| | | | | | | |
| --- | --- | --- | --- | --- | --- | --- |
| | | || | | || | | |