This academic year, the Columbia College experience is taking place in all corners of the world. To help keep our community connected, we're asking students to share about their classes and extracurriculars, what they're learning about themselves during the pandemic and what they look forward to doing when they are able to return to campus. This week, we speak with Alex Siegal CC'21, an economics and political science double major from Bradenton, Fla.
What do you like to do outside of class?
I was co-chair of this year's Voting Week (held during the last week of September) at Columbia; I'm also editor-in-chief of the Columbia Political Review; president of Columbia College Student Ambassadors, which is affiliated with the Columbia College Alumni Association, and president of the Political Science Honor Society. I come from a small city in Florida, and politics there can be pretty personal. One of the things that Columbia teaches us is that the job of a Columbia student is to be a facilitator, an advocate and an organizer — at least, that's how I approach being a student.
What is something you've learned about yourself during the pandemic?
I'm not such a bad cook! On a deeper level, I think we have all learned something about our personal relationships and how we prioritize them, and it reinforced for me the importance of staying connected to the Columbia community. I'm also being more intentional about being available — for example, for the people I mentor or for whom I serve as a resource in any of the student groups I'm in, I'm just being very intentional about accessibility and being invested in their development. Because it's such a strange time, we have to make up for some of the things that they would otherwise be experiencing on campus.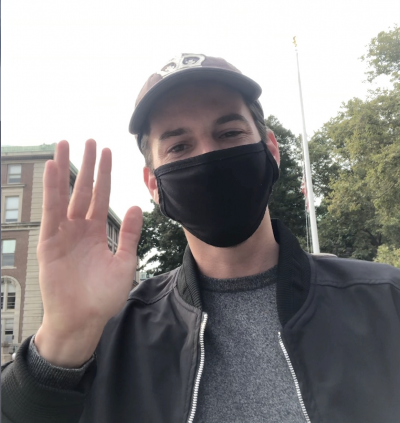 What's the first thing you'll do when you're back on the Morningside Heights campus?
I live off-campus in New York City right now, so I go to campus pretty regularly; I use the libraries. I love the setup on Amsterdam Bridge; Columbia put several picnic tables there, and I've enjoyed sitting and working outside.
What has been your favorite class at the College, and why?
The class that really introduced me to Columbia and made me say, "Wow, this is college and this is great," was Professor Adam Tooze's "Capitalism in Crisis." It's a history class, and it has informed my perspective ever since. Also, my upper-level political science seminar with Professor Judith Russell. She's great, she's very accessible; she set me up to succeed in my honors thesis this year. She also wrote my recommendation for law school.
What keeps you close to Columbia while remote?
One thing I've done for my groups — and I think more people should do — is I've made our student groups as large as possible. When I took over the Columbia Political Review we had a staff of about 40; now we have a staff of 105 and an open community pitch function where students can submit to us freelance. We launched that this past the summer to make sure that students had an opportunity to participate in the Columbia community remotely, and that it was open and accessible.
For facilitating connections, we had tremendous success with Voting Week — there are certain advantages to Zoom. For example, we had two chats with Columbia alumni; one was with Hillary Clinton's former campaign manager, Robby Mook '02, and the other featured a large delegation of alumni from across the political space to discuss careers in activism and politics. We also brought in speakers from all over the country for a panel on the effects of coronavirus on civic engagement — we had policymakers from New York, Massachusetts, Pennsylvania and Florida, just to name a few. [Having virtual events really helped us] to diversify and expand our audience.