Thursday, September 29, 2022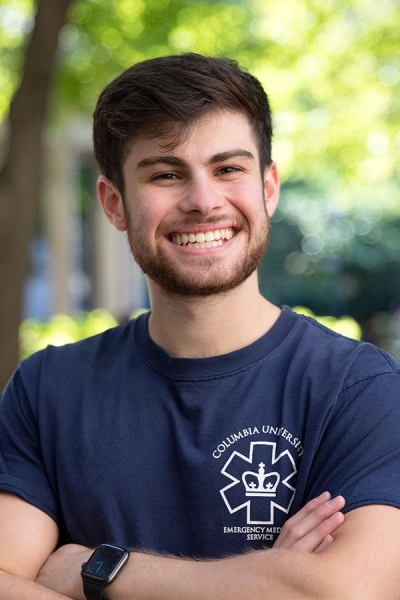 Andre Balian '23 (he/him/his), a neuroscience and behavior major from Princeton, N.J., stays busy on campus as a member of the Columbia University Emergency Medical Service. CUEMS is a student-operated, New York State-certified, basic-life support volunteer ambulance corps that provides free emergency medical care to the Columbia community 24 hours a day. Balian joined the corps in his sophomore year and has been passionate about the work ever since. We spoke with him recently to learn more about him and his work with this important service.
---
What is your favorite part about being involved in CUEMS?
One of my favorite parts is that I get to ensure the safety and health of students, faculty and employees on campus and in the Morningside community. When we get called, it's probably because the patient is having a really bad day, so giving them the help that they need is really fulfilling. My other favorite part is the people I've met on the corps; they've become some of my best friends.
How much time do you spend with CUEMS?
We have 12-hour shifts, and I'll work two to four a week, but we can do as few as one 12-hour shift every other week. To stay fresh we also have hourlong weekly trainings. The time commitment depends on how much you want to put into it, and that translates to how much you get out of it. I like to put a lot into it.
What's been your favorite class at the College, and why?
Either physiology or organic chemistry. In physiology, I had a great group of friends — actually from CUEMS; we reviewed weekly case studies and tried to diagnose the patient. It was great to be with my friends just doing what we do, but in class. I also learned a lot about really interesting physiological body processes.
What do you like to do outside of class?
I'm a big sports guy; they are kind of my release. I play volleyball, soccer, basketball, tennis and squash. I also like to work out and hang out with friends.
How do you take advantage of being in New York City?
Columbia is the best hybrid situation — you get a school in a city but in its own isolated area. When I want to experience the city, all I have to do is walk down Broadway or Amsterdam or get on the 1 train and everything I need is right there. But when I want to feel like I'm at a college in the middle of nowhere, I can do that sitting on campus