Leopold Aschenbrenner CC'21, an economics and mathematics-statistics major from Berlin, and Sofia Montrone CC'21, a creative writing major from Los Angeles, have been named valedictorian and salutatorian, respectively, the top academic honors for the Columbia College Class of 2021.
Aschenbrenner and Montrone were selected by the faculty Committee on Honors, Awards and Prizes based on the strength, breadth, depth and rigor of their academic achievements, as well as on evidence of their intellectual promise, character and achievement outside the classroom.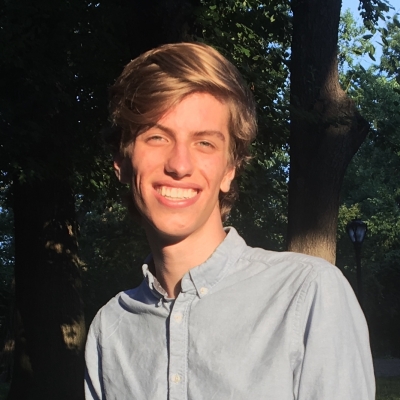 Photo courtesy of Leopold Aschenbrenner
Susan Elmes, the Andrew Barth Senior Lecturer in the Discipline of Economics, says of Aschenbrenner, "Leopold's record of scholarship exceeds that of any student in the department in the last 20 years. His analytical brilliance is matched by his originality and creativity. Moreover, his willingness to engage in public conversations on 'big' topics marks him as a true public intellectual."
"I see this honor as an impetus to apply myself and all that I have learned," said Aschenbrenner. "Columbia gave me the chance to let my curiosity run wild. It has been a privilege and a joy. I am incredibly grateful to my inspiring professors and mentors, whose generous support has been the foundation of my Columbia journey."
He extends "special thanks to [family friends] Vicki and Paul, without whom none of this would have been possible, and to my extraordinary family. Most of all, this honor is a testament to their unconditional love. I can only hope to pass that along to the next generation and to children of my own."
Aschenbrenner has done research in economics at the Future of Humanity Institute at the University of Oxford, and is currently a research affiliate at the Global Priorities Institute at Oxford. He is particularly interested in issues surrounding existential risks, economic growth and the very long run. He awarded an Emergent Ventures grant from the Mercatus Center, a think tank at George Mason University.
He also was a research assistant in Columbia's economics and political science departments.
Outside the classroom, Aschenbrenner co-founded and co-organized Columbia College Effective Altruism. He was also a member of the Columbia Debate Society.
He also won a Parker Prize for Summer Research from the economics department, and an Honorable Mention in the Columbia George William Curtis Prize in Oration Competition.
After graduation, Aschenbrenner will be a research fellow at the Forethought Foundation.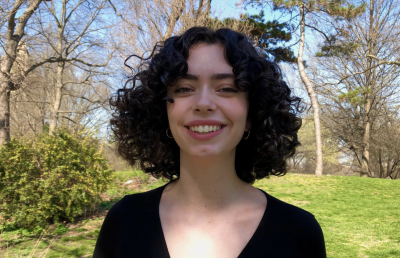 Photo courtesy of Sofia Montrone CC'21
Montrone, is a Junior Phi Beta Kappa inductee. She has been the editor-in-chief of The Columbia Review, an undergraduate literary magazine, and is a tour guide for the Undergraduate Recruitment Committee in Columbia Undergraduate Admissions.
Montrone is currently a research assistant at the Columbia University Center for Spatial Research, where she's mapping historical New York City.
"I am stunned and honored to have been chosen as this year's salutatorian," said Montrone. "This recognition is a testament to the incredible writing community at Columbia. I could not have asked for more supportive professors or more generous peers. I am grateful for their collaboration, their kindness and their encouragement. The strength of our connection — to the work and to each other — has proven resilient in the face of this year's many challenges.
"I am also deeply thankful for my friends, with whom I have shared every hardship and success during my undergraduate journey, and for my family, whose love has always been unconditional," said Montrone. "I hope to one day grow into the person that they have always believed me to be."
"Sofia possesses two essential qualities for a reader and writer: mature intellect and a curious mind," said Valentina Izmirlieva, professor of Slavic languages And, as a bonus, she can write really well. [...] There are not many students of her caliber out there. We are lucky if we get to teach some of them in our careers."
After graduation, Montrone will pursue an M.F.A. in writing.
Graduates of the Class of 2021 were recognized at Class Day on Wednesday, April 28.