Under picture-perfect Columbia blue skies, members of the Columbia College Class of 2019 entered the tents on South Lawn for their Class Day ceremony on May 21.
More than 1,200 students from the College took part in the ceremony, celebrating their accomplishments with family and friends from across the globe, as well as faculty and alumni from 1954 to 2018, who returned to campus to process in the annual Alumni Parade of Classes.
Actor, activist and producer Brandon Victor Dixon CC'03 was Class Day speaker. Dixon has performed numerous starring roles in theater and television, including playing Aaron Burr, Alexander Hamilton CC 1778's law-partner-turned-rival, in "Hamilton: The Musical"'s Broadway production.
Photo: Killian Young/Columbia College
In his speech to graduates, Dixon spoke of his Columbia College journey, noting that "I knew Columbia would be the best place to cultivate the skills and emotional fortitude to go on my journey." He also offered words of wisdom about post-graduate life.
"Do not run, walk through failure. Lean into fear. Make plans. Work hard. Shine. Repeat," he said.
Addressing the Class of 2019, Columbia College Dean James J. Valentini highlighted "My Columbia College Journey," a framework for the Columbia College education, reminding students that their journey does not end with graduation.
"We wrapped the Core Competencies within the envelope of My Columbia College Journey using the first person singular possessive pronoun 'my' to emphasize self-reflection and how to make your own assessments," Valentini said. "We want to encourage you to make the best decisions you can, and not to rely on the presence or absences of approval from others — 'likes' and 'followers' in any form — to determine or judge your choices. The best decisions come from understanding yourself and giving careful Beginner's Mind thought before making a decision."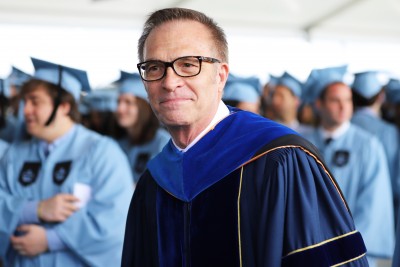 Photo: Killian Young/Columbia College
Caravaggio Caniglia CC'19, a chemistry major, was selected to be the Class of 2019 Student Speaker at this year's Class Day ceremony. In his remarks, Caniglia spoke about the Core Curriculum and how it shapes the Columbia College student experience.
"By questioning what we thought we knew, and by learning what we had never thought to know, we made ourselves better citizens, better students, better siblings, better children and better friends," Caniglia said. "The fog of uncertainty about who we ought to become made us more conscious of who we want to become, and it was in the thicket of doubt that we discovered the path to the best versions of our best selves."
Columbia College Student Council Senior Class President Mina Mahmood CC'19 also shared words with her fellow graduates, in which she encouraged them to wear the Columbia name with pride.
"As we end our time as undergraduates at Columbia, I urge all of us to leave feeling proud to bear the name Columbia College Class of 2019. You are powerful and unstoppable—and your work does not end here," Mahmood said. "Congratulations, Class of 2019. Here's to you shattering expectations."
Photo: Eileen Barroso/Columbia College
The ceremony also included a presentation of awards by Lisa Hollibaugh, dean of Academic Affairs, and Michael Behringer CC'89, president of the Columbia College Alumni Association, as well as a recognition of the student winners of the King's Crown Leadership Awards given this spring by Cristen Kromm, dean of Undergraduate Student Life. The morning concluded with remarks by University President Lee C. Bollinger.
The following day, on May 22, graduates from the College joined students in the Class of 2019 from schools across the University for University Commencement. Their families and friends filled campus from Low Library to Butler Library, for the ceremony, a tradition that dates back to 1758 in which students' degrees are officially conferred by the University president. Waving inflatable lions, students in the College listened to speeches from the deans of all of Columbia's schools — including Valentini — before Bollinger formally conferred their degrees. Students and families filtered out to the sounds of "Empire State of Mind".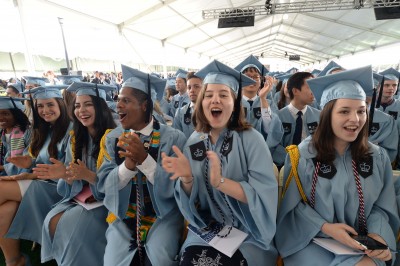 Photo: Eileen Barroso/Columbia College
The following alumni were recognized at University Commencement: Armond Adams CC'06, Leslie Gittess Brodsky CC'88 and Tracy V. Maitland CC'82.
Later that evening, the Empire State Building was lit in blue and white in celebration of the Columbia Class of 2019.
If you were unable to attend Class Day or Commencement, the ceremonies' live streams are available: Class Day | Commencement.