Wednesday, March 25, 2020
Columbia College mourns the loss of Terrence McNally CC'60, a Tony Award-winning playwright and screenwriter, who passed away on March 24.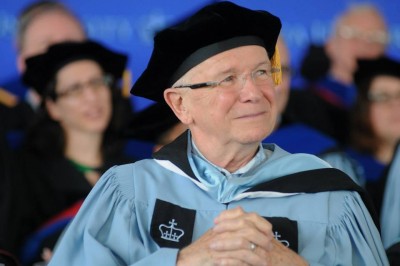 McNally's well-known works include his plays Love! Valour! Compassion!, Master Class, Frankie and Johnnie at the Claire de Lune and the books for the musicals Ragtime and Kiss of the Spider Woman.
McNally won multiple Drama Desk, New York Drama Critics' Circle and Tony Awards. In 2019, he was awarded a Special Tony Award for Lifetime Achievement in Theatre. He received a citation from the American Academy of Arts and Letters, was inducted into the American Theatre Hall of Fame in 1992 and was awarded the Dramatists Guild Lifetime Achievement Award in 2011.
While at the College, McNally wrote the 66th Annual Varsity Show, "The Streets of New York," in 1958. In 2004, he was the first-ever recipient of The Varsity Show's highest honor, the I.A.L. Diamond Award for Achievement in the Arts.
"It is with great pride that we count one of America's most important playwrights as one of our own," said James J. Valentini, dean of Columbia College and vice president for undergraduate education. "As an undergraduate at the College, he became enchanted with New York City, which served as an inspiration for him his whole life. He approached his work from a commitment to tell his own story and those of the people he knew, engaging deeply with humanity. We are better because of the work he put out into the world. He will be missed."
McNally also received a John Jay Award in 1992, the College's top honor for distinguished professional achievement. In 2013, he was selected by a nominating committee to give the keynote speech at Columbia College Class Day.
Read more about McNally and his prolific career from The New York Times.