First-year Tyler Hamblin has been named a 2011 National High School Scholar-Athlete from the Midwest Region by The National Football Foundation & College Hall of Fame. Hamblin, who attended Cretin-Derham Hall in Saint Paul, Minn., will be honored at an awards luncheon on Tuesday, December 6 at the Waldorf-Astoria in New York.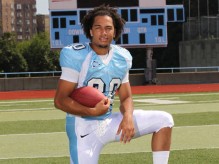 Columbia defensive back Tyler Hamblin
Hamblin is one of five winners of the 2011 NFF National High School Scholar-Athlete Awards, each of whom was selected as the best from their region of the country.  The five winners were selected from approximately 400,000 high school football players for their high school accomplishments.
Hamblin, who is now a playing for the Columbia Lions, said he is honored to have received the award.

"Receiving this award means a lot to me and I couldn't be any happier to represent Columbia University by doing so," he said. "I know the history of this award and the National Football Foundation and it is a blessing to officially be associated with such an influential and prominent foundation," Hamblin said. 

 For more information about Hamblin and the  National High School Scholar-Athlete Awards, click here.