Thursday, February 9, 2023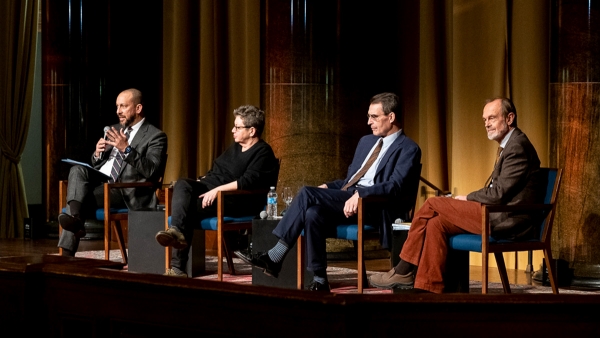 As the cornerstone of a Columbia College education, the Core Curriculum is an unforgettable intellectual adventure — whether you are an undergraduate currently immersed in Literature Humanities or Contemporary Civilization or an alum decades out from the experience. Now, in the same spirit of creative thinking the curriculum inspires, a new literary initiative, the Core Knowledge book series, invites readers to consider works from Lit Hum and CC in a different light.
"The Core Curriculum invites students into a dynamic intellectual community and ongoing dialogue that has bound them together with alumni and faculty for over a century," says Dean Josef Sorett. "Front of mind in all of our conversations about the Core is ensuring it remains as transformative for current undergraduates as it has proven to be for preceding generations. What better way to celebrate this tradition than providing new avenues for exploring some of its central texts from unexpected and thought-provoking perspectives."
The series, published by Columbia University Press, functions as a companion to Core courses, enhancing, paying tribute and offering fresh approaches to the curriculum's works and thinkers. The books are written by faculty from the College and other institutions; the first two releases are On Ovid's Metamorphoses, written by Gareth Williams, the Anthon Professor of Latin Language and Literature, and On John Stuart Mill, by Philip Kitcher, the John Dewey Professor Emeritus of Philosophy and a former CC chair. The series was officially launched at an event in Low Rotunda on February 1.
"The Metamorphoses is far too complex, slippery, maddening, troubling and enthralling for its essence to be easily captured or conveyed in words," Williams writes in his preface. "The aim is rather to explore some experimental angle of approach to the poem, to address some of the challenges that confront Ovid's newest audience in our fast-moving times, and to suggest why it speaks in compelling ways to a 21st-century readership."
"The excitement of finding new treasures in familiar places is one of the great joys of teaching this course," Kitcher writes. "Mill is one of the easiest of the canonical authors on the syllabus … we are overconfident, believing we have fully understood him. I hope some of the subsequent pages will shake that confidence."
Both books are dedicated to the memory of Deborah Martinsen GSAS'90, a distinguished Dostoyevsky scholar, professor of Russian language and literature and administrator of the Core Curriculum who passed away in 2021. Martinsen was instrumental in developing the series as an extension of the celebration of the Core Centennial, which began in 2019 but was interrupted by the pandemic.
Speaking at the launch, Lisa Hollibaugh, dean of academic affairs, recalled her conversations with Martinsen that led to the Core Knowledge series' creation. "How else can we mark this special moment in the history of the Core Curriculum, with something that would be like the Core — continuous, collective, concrete and yet complex, rooted and yet evolving?"
Additional oversight for the series comes from an eight-member editorial board co-chaired by Williams and Elisabeth A. Ladenson, professor of French and comparative literature. Though the board hopes to eventually extend the series to include meditations on other Core courses, the next two books are also rooted in Lit Hum and CC: On Mary Wollstonecraft's A Vindication of the Rights of Woman, by Susan J. Wolfson, a professor of English at Princeton, will be released in April; a take on Machiavelli by Gabriele Pedullà, an associate professor of Italian literature at Roma Tre University, will follow later this year.
Capturing the Spirit of the Core
At the Core Knowledge event last week, the audience of more than 100 students, alumni and faculty buzzed about before start time, chatting and picking up complimentary books to be signed by the authors. Hollibaugh introduced Dean Sorett, who moderated a discussion about the genesis and goals of the series with Williams, Ladenson and Kitcher before opening the floor for questions.
Williams said he felt liberated by the opportunity to "inject a certain liveliness" into his book. "It seems to me that if you have the chance to add a bit of zip to a book on Ovid, even if you fail, you've made the attempt to bring out some of the dash of color in the way Ovid writes," he said. "Because Ovid writes in colors. He writes in smells and tastes, and brings text to life in all sorts of extraordinary ways."
Kitcher aimed for a similar sprightliness: "I think Mill is a profoundly underrated thinker and I wanted to show how we can think about him in a more exciting and more lively way," he said. "And as Gareth noted, 'to put a bit of zip' into it. Zip is very important in a book."
Ladenson described the conversations had by the editorial board about the series' target audience. "We want to capture the spirit of the Core, but not confine the authors to Columbians," she said. "And while certainly these books are conceived as something that a student might want to take a look at, students have a whole lot to read already. So we also conceived them as something that would appeal to a general audience."
All three professors strongly agreed that teaching in the Core was formative for them. "The Core is a fantastic educative experience, it changes us," Kitcher said. "It's why I really wanted to write a book in this series — I wanted to try to put on paper what it's like when a group of 22 students come together and engage in a text together from different perspectives, and start a conversation.
"All of a sudden, completely new things can happen."