Friday, November 22, 2019
On November 21, Dr. George D. Yancopoulos CC'80, GSAS'86, VPS'87, a renowned biotech leader and Regeneron Pharmaceuticals' co-founder, president and chief scientific officer, was awarded the Alexander Hamilton Medal at the 72nd annual Alexander Hamilton Award Dinner held in the rotunda of Low Library.
The Alexander Hamilton Medal is the highest honor awarded to a member of the Columbia College community for distinguished service and accomplishment in any field of endeavor. The dinner raised a record-breaking $2.35 million in support of the College, with $1.35 million specifically to support College students pursuing scientific research.
Eileen Barroso/Columbia College Alumni Association
"It's a really special night for me," said Yancopoulos. "I owe so much to Columbia and to so many others. Channeling my favorite Columbia alum... Lou Gehrig [CC 1925], I have to say, today I consider myself the luckiest man on the face of the earth."
Yancopoulos, the son of Greek immigrants and a life-long New Yorker, attended New York City public schools and graduated as valedictorian of the Bronx High School of Science, where he was a top winner of the nation's premier high school science competition, then known as the Westinghouse Science Talent Search. This competition is now known as the Regeneron Science Talent Search, after Yancopoulos' company committed $100 million in support over ten years.
Yancopoulos graduated from the College Phi Beta Kappa and as valedictorian. He was a member of the varsity crew and a recipient of the Dwight D. Eisenhower Watch Award, an honor given to the senior student-athlete with the highest grade point average.
After graduating, Yancopoulos stayed at the University to earn a Ph.D. in biochemistry and molecular biophysics from the Graduate School of Arts and Sciences as well as an M.D. from the Vagelos College of Physicians and Surgeons. As a Ph.D. student, he worked with former Columbia molecular immunologist Dr. Fred Alt and was mentored by esteemed physician Dr. Roy Vagelos VPS'54, an ardent supporter of the University for whom the Vagelos College of Physicians and Surgeons was named in 2017.
"Columbia is a very special place… I bleed Lion blue," said Yancopoulos. "You have to remember, I didn't just go to Columbia College, I went to Columbia Medical School, I did my Ph.D. at Columbia, I was a post-doc at Columbia, I started a faculty job at Columbia and I'm still an adjunct faculty... so, it's my school."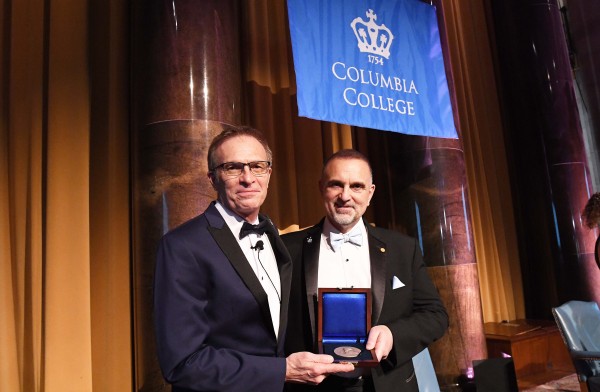 Eileen Barroso/Columbia College Alumni Association
In 1989, Yancopoulos left academia to join Dr. Leonard S. Schleifer, the co-founder, president and CEO of Regeneron. Under their leadership, Regeneron has become one of the most admired and innovative companies in biotech and has produced seven FDA-approved medicines since 2008, a rarity in the industry; fewer than 100 biotech companies have invented and successfully obtained FDA approval for even one drug during the past two decades. Regeneron's medicines are used to treat vision loss, asthma, atopic dermatitis, heart disease, arthritis and cancer, and the National Institutes of Health recently announced the effectiveness of Regeneron's investigational Ebola virus infection therapy.
"The luckiest moment of my professional career was being able to partner with George," said Schleifer. Regarding Yancopoulos' ability to innovate, he says, "It's quite remarkable — almost as if he's been to the future and has just come back with the ideas that are there."
The Regeneron team leads biotech innovation, through initiatives such as the Regeneron Genetics Center — an effort that has already sequenced the exomes of nearly one million people. Regeneron routinely appears on Forbes' list of the most innovative companies in the world.
"It's really remarkable that someone with the scientific talent that George displays is also able to run an enterprise," said Columbia College Dean James J. Valentini. "This is really special, because those are different talents."
Yancopoulos has authored more than 400 papers and holds more than 100 patents. He was among the 10 most highly cited scientific authors in the world during the 1990s, and the only one in the industry on the list. He was elected to the National Academy of Sciences in 2004, was inducted into the Biotech Hall of Fame in 2014 and was named Ernst & Young's Entrepreneur of the Year in 2016. He has received numerous other awards and honors, including the College's 2013 John Jay Award for distinguished professional achievement and the University's 2002 University Medal for Excellence, awarded to alumni whose record in scholarship, public service and/or professional life is outstanding.
"He was the smartest of the smart young scientists they had known," said Vagelos, recalling how Yancopoulos was described to him by the Nobel Laureates who were recruiting Vagelos to Regerneron's board of directors. "He was at the top of everything he had ever been in."
In addition to his leadership roles at Regeneron, Yancopoulos leads the company's numerous STEM education and mentorship programs.
"As a child, I fell in love with science, and I dreamed about using science to make a difference. And I got to do that," said Yancopoulos, reflecting on his career. "I got to live the American dream, all while being able to give back to the world and making the world a little bit better off."
Columbia was an integral part of Yancopoulos' path to Regeneron. During his first year on campus, his student adviser invited him to join the scientific research in his lab and the rest was history.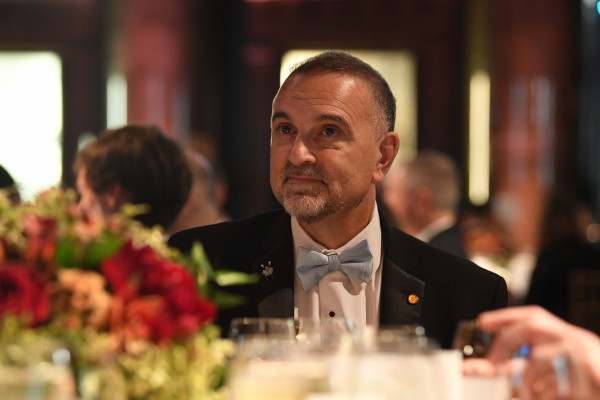 Eileen Barroso/Columbia College
A longtime supporter of financial aid, athletics, campus revitalization and scientific advancements at Columbia, Yancopoulos is a member of the Irving Medical Center's Precision Medicine Council and vice-chair of its Board of Advisors. In 2013, he established the Yancopoulos Family Science Fellowship for Columbia College students.
At the dinner, Yancopoulos surprised attendees by announcing a $10 million commitment to found a Beginner's Mind initiative or institute at Columbia. He explained that Beginner's Mind is a concept he first encountered in Valentini's address when his daughter Nia Yancopoulos CC'16, LAW'22 graduated from the College in 2016; it is the idea of engaging the world without preconceptions, as if you're seeing everything for the very first time.
"I believe that there is nothing more important than helping the next generation to face and conquer the truly existential threats, the challenge[s] of humankind," said Yancopoulos. "Listening to the dean, it became so clear to me that Beginner's Mind defines both the key to uniting humanity to do great things as well as the key to using science to address the most devastating threats to humanity from disease to climate change."
Yancopoulos' friends and family as well as alumni, faculty and students remarked on his drive, his passions and his contributions to the College over the years.
"Every entity George has been part of at Columbia has felt and recognized the deep impact of his engagement," said Valentini. "George, you are a great Columbian."
Speaking on behalf of Yancopoulos' family, all of whom were in attendance, his daughter Nia said of her father, "This is a man who is not just about science.… More than anything, he loves his kids. ... It's because of who he is and how he has shaped my life that I am so proud to be a part of this tradition, this legacy, this community that could only be Columbia."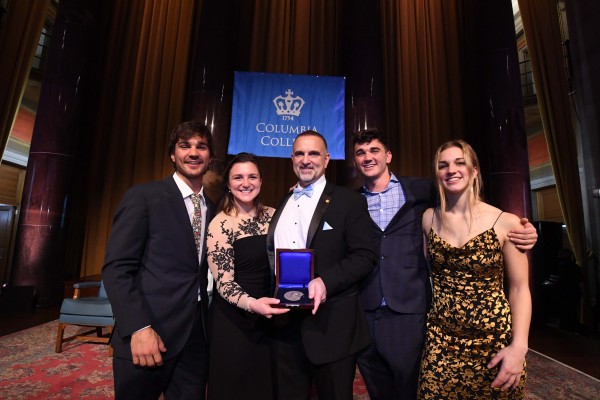 Eileen Barroso/Columbia College Alumni Association
Many of Yancopoulos' fellow scientific leaders at Regeneron also have Columbia roots, including his co-inventors of the VelociGene and VelocImmune technologies, Lynn MacDonald, who completed a post-doctoral fellowship at Columbia, and Drew Muprhy GSAS'87; Christos Kyratsous GSAS'09, who spearheaded development of Regeneron's Ebola treatment; the leaders of the company's global development efforts, Dr. Ned Braunstein and Dr. David Weinreich SEAS'93; Dr. Israel Lowy GSAS'91, who leads Regeneron's clinical program in oncology; and Dr. Jay Markowitz CC'84, who oversees strategic portfolio management.
"I could not have made a better decision. Going to Columbia in 1976 was a whole new beginning for me," said Yancopoulos. "A whole new set of eye opening experiences that totally changed my life."
More photos from the evening are available in the Columbia College Alumni Association Facebook album.