Tuesday, September 29, 2020
Farah Jasmine Griffin, chair of the Department of African American and African Diaspora Studies and the William B. Ransford Professor of English and Comparative Literature and African-American Studies, is the Columbia College faculty recipient of one of two Society of Columbia Graduates 2020 Great Teacher Awards.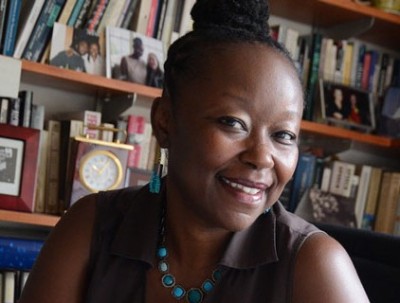 Courtesy of the Department of English and Comparative Literature
Established in 1949, the award is given annually to a Columbia College and a Columbia Engineering professor based on their abilities to challenge and inspire undergraduates; demonstrated interest in students and ability to relate positively to students outside the classroom; and recognized standing in their respective academic disciplines.
Griffin, an affiliate faculty member of the Center for Jazz Studies, earned an A.B. in American history from Harvard and a Ph.D. in American studies from Yale.
Her major fields of interest are American and African-American literature, music and history, which have translated to her published works on issues of race and gender, feminism, jazz and culture politics.
Griffin is a frequent radio commentator on political and cultural issues and has collaborated with various artists on two major theatrical projects: Geri Allen and Friends Celebrate the Great Jazz Women of the Apollo, which premiered at the Apollo Theater in May 2013, and A Conversation with Mary Lou, which premiered at Harlem Stage in March 2014 and was performed at The John F. Kennedy Center in May 2016.
Recipients of the Great Teacher Award have included illustrious professors including Lionel Trilling CC 1925, GSAS'38; Mark Van Doren GSAS 1921; Moses Hadas GSAS 1930, Elmer Gaden SEAS'49; Gerard Ateshian SEAS'91; Kenneth T. Jackson, Mario Salvadori, Mort Friedman, Kathy Eden, Donald Goldfarb, Hilary Ballon and David Helfand.
Rocco Servedio, chair of the Department of Computer Science, is the Columbia Engineering recipient of the Great Teachers Award.
Awards are typically presented during Columbia Reunion, however, given the pandemic, the society hopes to honor this year's recipients in 2021.