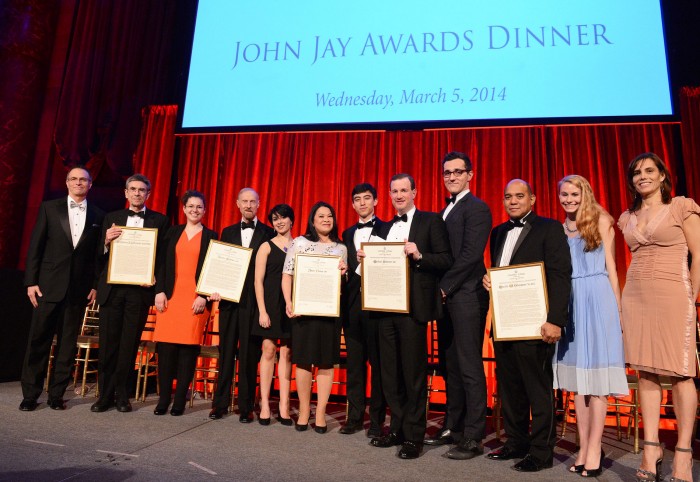 Five accomplished alumni were each presented with a 2014 John Jay Award for distinguished professional achievement at the annual John Jay Awards Dinner, held at Cipriani 42nd Street on March 5. This year marked the 36th annual dinner; 195 honorees and 11 decades of alumni have been honored. The dinner raised $1.1 million for the John Jay National Scholars Program, which provides financial aid and special programming to enhance the academic and extracurricular experiences of outstanding students.
The 2014 honorees are Joyce Chang CC '86, managing director, global head of fixed income research, J.P. Morgan; Dr. Robert J. Lefkowitz  CC '62, P&S '66, investigator at the Howard Hughes Medical Institute and the James B. Duke Professor of Medicine and professor of biochemistry and chemistry at Duke University Medical Center; James L. Melcher CC '61, founding partner, Balestra Capital; Michael S. Solender CC '86, Americas vice chair and general counsel, Ernst & Young; and Mozelle W. Thompson CC '76, LW '81, CEO, Thompson Strategic Consulting.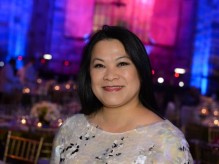 Joyce Chang CC '86 Chang is a leader at J.P. Morgan and throughout the international finance industry. She specializes in emerging markets and oversees hundreds of analysts and economists in 14 countries who hold top industry rankings for their economic forecasting and research on foreign exchange, rates and credit markets. Before moving to Wall Street, Chang, a native of rural Iowa, worked in public policy for the United States Agency for International Development in the Philippines, Jordan and India and as a New York City Urban Fellow. She earned an M.P.A from Princeton and previously worked at Merrill Lynch and Salomon Brothers.
Chang has been named No.1 for fixed income research by Institutional Investor for the last four years and No. 1 for her emerging markets expertise for more than 15 years, was named one of the 25 most powerful women in finance by American Banker for two consecutive years and was recognized on Crain's Business New York list of 40 under 40. Chang is also on The Wall Street Journal's list of "Top 50 Women to Watch" and is one of Asian American Business Development Center's "Outstanding 50 Asian Americans in Business."
Chang says: "Columbia was my introduction to New York City and first experience figuring out how to live and take advantage of everything that a big urban city has to offer. Columbia cultivated my love of history and desire to travel and work on emerging markets. ... The Columbia experience gave me a way to realize my dreams by developing my personal strengths while also working on my weaknesses and learning to take risks … Columbia started me on a path for which I am forever grateful."
Dr. Robert J. Lefkowitz CC '62, P&S '66

Dr. Robert J. Lefkowitz CC '62, P&S '66 Through years of research and groundbreaking studies, Lefkowitz has altered the way prescription drugs are created. He has made numerous pioneering advances in the study of receptor biology and signal transduction, and his research on plasma membrane receptors has had a lasting effect on the understanding of how best to design prescription drugs, revealing how they react with receptors to cause drug tolerance and desensitization. Other discoveries have helped the scientific community understand how to better treat disease by developing drugs that could block harmful effects without hampering positive pathways.
Lefkowitz was honored in 2008 by President George W. Bush with the National Medal of Science, the country's highest scientific honor, and received the 2012 Nobel Prize in Chemistry. The American Heart Association has recognized his work twice with its Basic Research Prize and its Research Achievement Award. He earned an M.D. from P&S before completing a residency at the Massachusetts General Hospital.
Lefkowitz says: "Despite my highly focused interest in the pre-medical courses and my chemistry major, the exposure to the Core Curriculum of great books and other liberal arts courses with great professors opened a whole world of reading and culture, which has influenced me in a profound way ... A course I took in my senior year with Dr. Ronald Breslow introduced me to biochemistry. ... I never knew that I would someday do research in this area. I simply thought that it was a great background on which to build an understanding of medicine. ... More than 50 years out from my bachelor's, it is exciting to be making contact again with Columbia College, where my higher education began."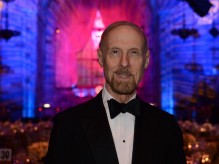 James L. Melcher CC '61 Melcher founded Balestra Capital in 1979 as an investment advisory firm. In 1998–99, he started a fund of funds and global macro hedge fund that compose the majority of the firm's activity. The global-macro hedge fund has earned top ratings among international investment firms. Prior to creating Balestra, Melcher worked at Oppenheimer & Co. before starting First Venture Fund as a limited partnership, building on earlier work at A.G. Becker and Co.
Melcher also has pursued fencing as an internationally-ranked competitor and leading promoter of the sport. He began fencing at Columbia and developed his technique at Fencers Club, becoming a master of the épée and earning national championships in men's individual épée in 1971 and 1972, gold medals in two Pan American Games in 1963 and 1971, and a World Cup bronze medal in 1972. In 1972, he represented the United States as a member of the Olympic fencing team and later became a founding member of the U.S. Olympic Athletes Advisory Committee. He was heavily involved in creating Olympic regulations to aid amateur athletes in their training. Melcher continues to fence and mentor; he will be inducted into the U.S. Fencing Hall of Fame this year.
Melcher says: "I learned how to work hard and effectively and, more importantly, I learned how to learn. ... As it has been said by others many times, it is still true that a good education is beneficial not only to the student but also to society. Those of us who have benefited from it owe it to those who follow us."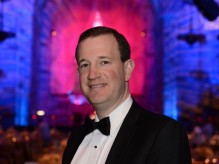 Michael S. Solender CC '86 Solender is Americas vice chair and general counsel of Ernst & Young; he has supervised the legal department since 2009. Simultaneously, he has taught and been a visiting lecturer and senior research scholar at Yale Law and a distinguished visitor from practice at Harvard Law. Prior to his appointment at Ernst & Young, Solender supervised the Legal and Compliance Department at The Bear Stearns Companies. During that time, he also was chair of the Securities Industry and Financial Markets Association's General Counsels Committee 2007–08. Prior, he was a partner at Arnold & Porter, specializing in litigation and regulatory matters, for almost a decade.
Solender attended Oxford and earned a J.D. from Yale, where he was a senior editor of the Yale Law Journal. At Columbia, he is member of the Columbia Undergraduate Campaign Council and served on the Columbia College Board of Visitors for six years.
Solender says: "Who I am is in significant part a product of my experience at Columbia. ... In CC [Contemporary Civilization], I learned to think and see the world from different vantage points. ... The future of our country turns on our continuing to lead in innovation, rule of law and higher education. Keeping our higher education available to the best and brightest is critical."
Mozelle W. Thompson CC '76, LW '81
Mozelle W. Thompson CC '76, LW '81 Thompson was commissioner of the U.S. Federal Trade Commission and established policies to promote competition and protect consumers. He was a leader in the emerging area of consumer privacy, inspiring some of the first online privacy standards, and was elected chairman of the OECD Committee on Consumer Policy. As president of the International Marketing Supervision Network, he developed its first strategic plan for worldwide consumer law enforcement cooperation and its international consumer enforcement database.
Thompson's expertise extended to antitrust cases, including participation in appraising high-tech mega-mergers such as AOL/Time Warner and HP/Compaq. He also played a key role in the development of the FTC/DOJ Joint-Venture Guidelines and the FTC's work on patent reform. This work was preceded by time as deputy assistant secretary at the U.S. Treasury and as acting executive director of the New York State Housing Finance Agency and its sister corporations.
After his public service career, Thompson founded Thompson Strategic Consulting, becoming strategic policy adviser to Facebook when it was a start-up. As CEO of TSC, he continues to advise young businesses as well as established global companies. Thompson has been a faculty member at several law schools and is an international advocate for the safety of children online. At Columbia, he has donated time to the Columbia College Alumni Association and the Columbia Alumni Association. In addition to a 1981 degree from the Law School, Thompson earned an M.P.A. from Princeton's Woodrow Wilson School in 1980.
Thompson says: "My Columbia education gave me the tools to confront any challenge and the humility to understand that Columbia was only the beginning of a lifetime of learning. … Columbia taught me how to value ideas, from whatever the source, and gave me to confidence to fight for them. These are lessons that I learned not only from the classroom, but also from my classmates... I believe that each of us has an obligation to help develop future generations of leaders. Columbia plays a critical role in identifying and nurturing them. … I am deeply humbled by the honor, and hope that I can help other Columbians with their journey."
PHOTOS: EILEEN BARROSO.
Photo above: Honorees (left to right) Dr. Robert J. Lefkowitz  CC '62, P&S '66, James L. Melcher CC '61, Joyce Chang CC '86, Michael S. Solender CC '86 and Mozelle W. Thompson CC '76, LW '81 with Dean of Columbia College James J. Valentini (left), Columbia College Alumni Association President Kyra Tirana Barry CC '87 (right) and John Jay Scholars (left to right) Iona Moga CC '14, Laura Quintela CC '14, Phillip Ross CC '14, Roko Rumora CC '14 and Sydney Small CC '14.