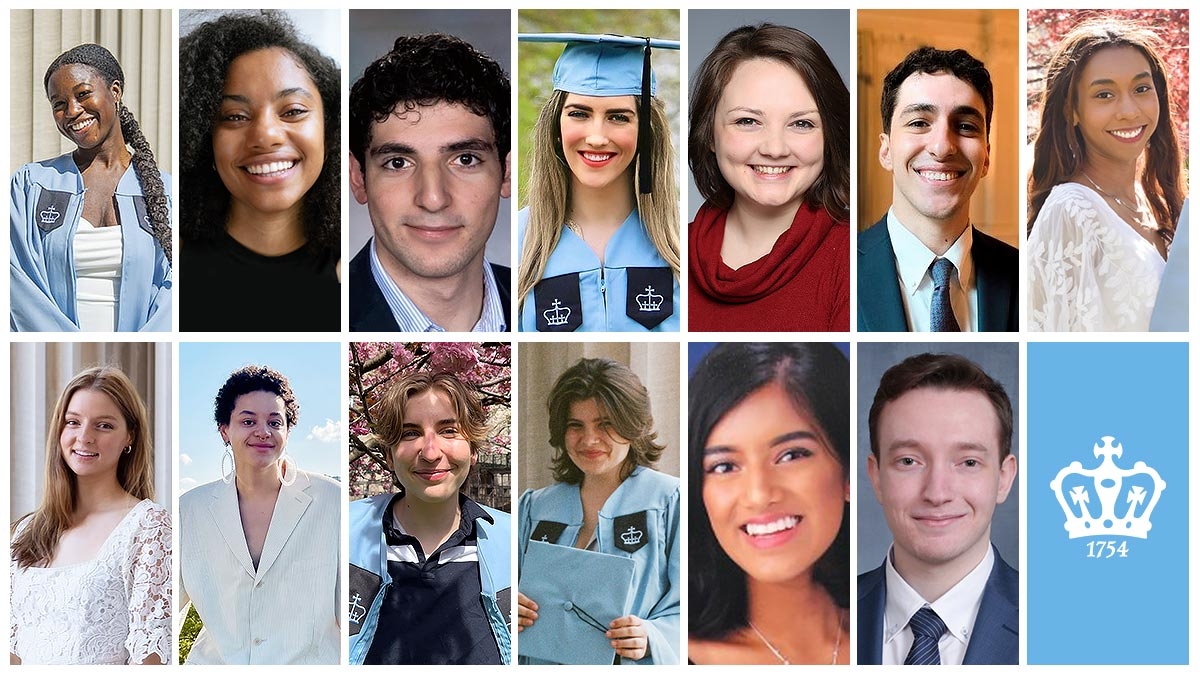 Fifteen Columbia College alumni along with one General Studies alum have been awarded Fulbright U.S. Student grants, which offer funding for students and young professionals to pursue individually-designed international research and study projects or to teach primary or secondary school in English-language classrooms around the world.
The program awards approximately 1,900 grants annually in all fields of study and operates in more than 140 countries worldwide.
Read on to learn more about the projects and adventures that await this year's awardees!
---
2022–23 Fulbright U.S. Student Awardees
Andrea Akinola CC'22
Akinola, who is from Irvine, Calif., graduated with a major in political science and a concentration in education. She will be a Fulbright English teaching assistant on the Canary Islands, Spain, and says she is excited to bring her passion for social justice into the classroom. Akinola hopes to engage her students in dialogue and empower them to take action on matters that are important to them and their communities.
Bella Barnes CC'22
Barnes double majored in English and urban studies. She is from Kansas City, Mo., and, while at the College, taught social entrepreneurship courses to high school students at Columbia's Global Centers in Amman, Jordan, and Istanbul, Turkey, through CORE''s Building Blocks program. She also was a volunteer Spanish interpreter with New Sanctuary Coalition, working pro bono legal defense cases for climate refugees seeking asylum in the United States. She will teach English in the Canary Islands, Spain, through the Fulbright, and says she looks forward to continuing to advocate for migrants' rights to citizenship in the European Union in addition to sharing her love for intercultural exchange.
Kavin Chada CC'22
As a Fulbright Scholar at the University of St Andrews in Scotland, New York City native Chada will continue his study of philosophy, specializing in Kant's moral philosophy. His long-term philosophical project, which he began during his senior undergraduate philosophy thesis, involves a synthesis of Kantian philosophy and modern Buddhist practice and aims to provide the foundation of a secular Buddhist understanding of ethics and transforming Western religious practice. Kavin majored in philosophy with a special concentration in linguistics.
Katie Curran CC'20
Curran majored in American studies, focusing on law, history and education. While at the College she tutored first-generation, low-income college-bound youth from Harlem and Washington Heights at the Roger Lehecka Double Discovery Center. Curran is from Cape Cod, Mass., and for the last two years pursued a master's in history at Oxford, where she has continued to foster her passion for foreign languages and teaching. She says she hopes to further combine these interests through the Fulbright English Teaching Assistant Program in Spain.
Katherine De Chant CC'16
De Chant is from Charlotte, N.C., and earned a B.A. in English and comparative literature. This autumn, she will pursue a master's in advanced global studies at Sciences Po in Paris through the Fulbright U.S. Student Program. While there, she intends to specialize in human rights and humanitarian action with a thematic concentration in gender studies, and says she hopes to work eventually with nonprofits and think tanks that aim to advance women''s and LGBTQ+ rights internationally.
Joshua Elias CC'21
Elias graduated with a concentration in political science and, while at the College, took courses about Central Asia and the Middle East that referenced, but rarely dove into, the Caucuses. Elias, who is from Miami, Fla., will travel to Lankaran, Azerbaijan, to be a Fulbright English teaching assistant. He says he is excited to learn more about this unique region of the world and prepare for a career of promoting mutual understanding in the Foreign Service.
Jose Esquer GS'21
Esquer, who is from Escondido, Calif., earned a major in human rights while at School of General Studies and will join the English Teaching Assistantship Program in Colombia in 2023.
Gavin Goodrich CC'22
Goodrich hails from the San Juan Islands, Wash. He studied music and mathematics while at the College. Goodrich will be an English teaching assistant in Galicia, Spain. He says he is eager while there to integrate his musical practice as a composer and pianist into the local music scene while sharpening his Spanish, Galician and Ladino.
Skylar Green CC'22
Green will pursue a master's in Korean studies at Yonsei University in Seoul, South Korea. She is from Atlanta and began formally studying Korean during her first year at the College. In summer 2019, Green was awarded three fellowships to study in Seoul at Ewha Womans University. Since then, she has continued studying Korean and has combined her interest in Korean culture with her major in sociology and a concentration in East Asian studies. Through pursuing a master's, Green aims to gain a deeper understanding of cross-linguistic cultural exportation while focusing on the flow of popular culture across the unique sociolinguistic landscapes of the United States and Korea. She says she hopes to work in international marketing and strategy and to pursue a PhD in sociology.
Kate Elise Johnson CC'22
As a Fulbright scholar in Bologna, Italy, Johnson, who is from Napa Valley, Calif., will work with local beekeepers and Luca Fontanesi, PhD, of the University of Bologna to study human viruses found in bee products such as honey, beeswax and propolis. Johnson says she hopes to develop a novel viral analysis approach that can be used to study the distribution of pathogenic viruses across the region. She majored in neuroscience and behavior.
Samuel Klein-Markman CC'17
Klein-Markman lives in Oakland, Calif. He double-majored in music and political science at the College and has developed a project that will allow him to study a unique lineage of guitar composition and performance with renowned experts in the Brazilian guitarist tradition. Klein-Markman says he looks forward to bringing his extensive experience as an accomplished American guitarist into conversation with Brazil's distinguished history of guitar music and learning more about its complex development of ways to use the instrument.
Ky Mahar Luther CC'22
Luther majored in urban studies and education studies with a specialization in creative writing. They are passionate about volunteering, mutual aid and working in their communities to both learn and educate about environmentalism and environmental racism. Luther believes creative expression is fundamental to connecting and healing communities and hopes to support communities through sustainable urban planning and creating accessible and equitable educational opportunities. They are from Fairfield, Conn., and will be an English teaching assistant in Uganda this fall.
Franziska Nace CC'22
Nace will be an English teaching assistant this fall in Semey, Kazakhstan, in the northeast region of the country. A native of Pittsburgh, Nace majored in English literature with a concentration in Russian literature and culture.
Isa Pierce CC'22
Pierce is from Katonah, N.Y., and earned a degree in linguistics. They also did research focusing on queer and gender nonconforming language emerging in Russian. As a Fulbright English teaching assistant in Georgia, they will continue to engage with topics of post-Soviet linguistic identity and queerness while fostering their joy of teaching. Upon their return to the United States, Pierce hopes to pursue a Ph.D. in linguistics.
Maryam Rahaman CC'22
Rahaman is from Syracuse, majored in English and will join the English Teaching Assistantship program in South Korea in January 2023.
Steven Zeldin CC'22
Zeldin, who is from Brooklyn, N.Y., earned a B.A. in neuroscience and behavior. He says he looks forward to the Fulbright U.S. Student Program, where he will join the Karolinska Institute in Solna, Sweden, to research medical mistrust in the Swedish HIV+ community in order to investigate tactful patient outreach methods amidst severe disease stigma. Zeldin hopes this project will inform a long-term career in medicine in which he can directly assist patients and better facilitate their entry into the healthcare system.
---
Students or alumni interested in the Fulbright U.S. Student Program are encouraged to connect with Undergraduate Research & Fellowships.