Gerald "Jerry" Sherwin CC'55, who became known as "Mr. Columbia" for being one of the College's most devoted alumni, died in New York City on January 29, 2022, of heart failure. He was 87.
Sherwin's profession was marketing but his passion was Columbia. He mentored students and young alumni with limitless energy and enthusiasm, and generations of Lions benefited from his expertise and experience. Sherwin was omnipresent at College events and seemed to know virtually everyone on a first-name basis.
"Jerry was a Columbian through and through, with a boundless love for the College that was immediately evident to anyone who met him," said Dean James J. Valentini. "He was a friend to all, always ready with a kind word and a smile, had a gift for bringing people together, and gave generously of his time as an alumni leader, mentor to students and supporter of athletics. In passing, he leaves a seat that no one else can ever take."
Sherwin was president emeritus of the Columbia College Alumni Association (CCAA) for two decades after a term as president (2000–02); served two terms as a University Senator; was co-chair of the Senate Alumni Relations Committee; was a board member of the Columbia Club of New York; and was a founding board member of the Columbia Alumni Association (CAA). Among the myriad honors bestowed upon him were the Alumni Award at Athletics's Varsity C Celebration (1985); the Alumni Medal, given for building Columbia's community (1989); a John Jay Award for distinguished professional achievement (2003); and the President's Cup for his work on his class's 50th reunion (2005).
A Commitment to the Lions
A lifelong New Yorker, Sherwin was born on April 22, 1934, in Manhattan and graduated early from Forest Hills H.S. in Queens, then took extra courses so he could enter the College in 1951. He was a manager of the men's basketball team, played baseball and was heavily involved at WKCR, where he hosted a nightly sports program and broadcast numerous Lions sporting events. Sherwin's lifelong passion for and commitment to Columbia sports culminated with his induction into the Columbia University Athletics Hall of Fame in 2010.
"Losing Jerry is a tremendous loss for our Athletics program. He touched the lives of numerous student-athletes and embodied all the best qualities of Columbia University," said Peter Pilling, the Campbell Family Director of Intercollegiate Athletics and Physical Education.
Following graduation, Sherwin served for two years in the Army before beginning a distinguished career in communications, advertising and marketing at Grey Advertising (1958–61). That was followed by roles at WINS Radio (1961–64), Block Drug (1966–72) and Lehn & Fink (1972–77). He then worked for 25 years at the Bozell Group, where he was senior partner-in-charge in account services for 10 years and senior partner-in-charge of professional development for four years before he retired in 2002.
Retirement enabled Sherwin to devote himself full-time to all things Columbia. He was on campus as many as five days a week to attend meetings for the many committees he served on, sit in on a class, visit with friends at the Columbia Alumni Center or attend an Athletics event.
"Jerry helped define what the Columbia family has become and what it means to be an active and responsible member of it," said Austin E. Quigley, the Brander Matthews Professor of Dramatic Literature and dean emeritus of Columbia College. "Wherever I went during my years as dean, Jerry would be there. Whether it was a routine gathering of alumni, an emergency meeting to deal with a crisis or a celebration of someone's great achievement, he would be there. He understood the history of Columbia, the indispensable role of alumni and the vital role of the College in the lives of young people."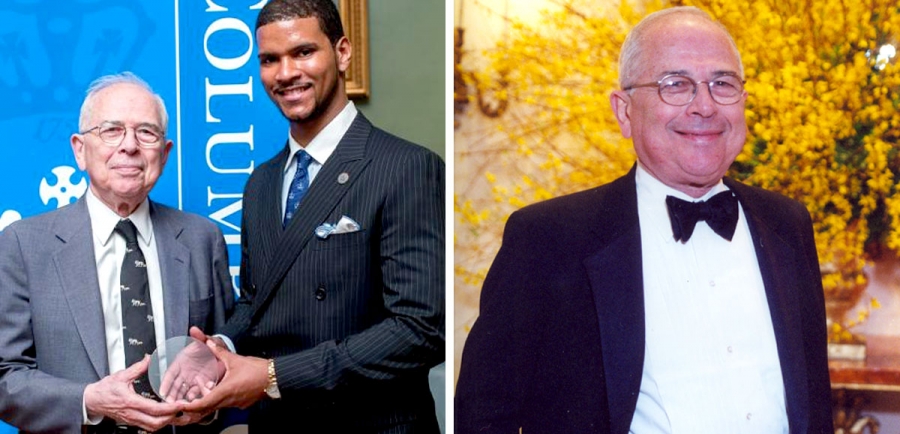 SCOTT RUDD / EILEEN BARROSO
Giving Back to Columbia
Sherwin was a mainstay at major events like reunion and Homecoming, Convocation and Class Day, and the John Jay Awards and Alexander Hamilton Award Dinners. He was an active supporter of Columbia College Young Alumni, which named its annual service award in his honor, and Columbia College Women. He was chair of the Board of Friends of the Double Discovery Center and co-chair of the Manhattan region of the Alumni Representative Committee.
Sherwin also was president of the Class of 1955, working indefatigably on reunions and facilitating classmates staying in touch with each other and the College through his Class Notes column in Columbia College Today. He authored the column from 1980 until shortly before his death.
In 2015, when asked about the motivation behind his devotion to Columbia, Sherwin said, "Very simply, giving back — I give back to Columbia to because the school gave to me. I learned quite a bit here. I enjoyed myself here. When I accomplish something, when I get things done, that's happiness."
That feeling was evident to all who knew him.
"Jerry was a consummate gentleman with an easy smile and an ever-present kindness — a rare breed," said CCAA President Ted Schweitzer CC'91, LAW'94. "His legacy will live on in his good works on behalf of alma mater and all the lives he touched, especially the young, impressionable ones."
"For Jerry, Columbia was family," said Brian Krisberg CC'81, LAW'84, a former president of the CCAA Board of Directors and a former chair of the CAA Board of Directors. "Be it the men's basketball program, Athletics, the CCAA and its board or the College generally, Jerry treated every interaction like engaging with a family member. Columbia has lost a member of its extended family, and he will be dearly missed."
"My brother adored Columbia and was in love with everything about it," said Patricia Sherwin. "He considered everyone he worked with to be family. It truly was an ongoing love affair that brought out all the good in him."
In addition to his sister, Sherwin is survived by several cousins. Memorial contributions may be made to the Columbia College Fund or the Double Discovery Center.
— Alex Sachare CC'71