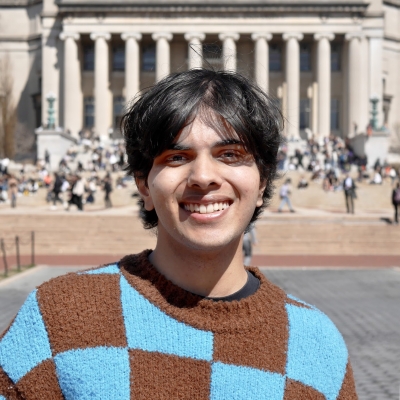 Meet Haroon Arain '24 (he/him), co-president of the Columbia Culinary Society. A Washington Heights native who is dedicated to showcasing and sharing the amazing food in his hometown, Arain is a neuroscience major with a concentration in chemistry. The Culinary Society became inactive several years ago, but under Arain and his co-president, it's back and has quickly grown to more than 700 members. The Culinary Society now hosts popular events throughout the year like Columbia Restaurant Week and participate as student judges in Columbia Dining's Battle of the Dining Halls.
---
What prompted you to restart the Columbia Culinary Society?
My friend and co-president, Jake [Bernstein '24], and I felt that there was a huge need for an organized food community on campus and it was crazy there wasn't one already. We did a lot of research and saw that one had existed but had faded away, so we thought, "This needs to come back!"
We wanted to host events related to food and share a love for food, as well as have a community where we can talk about food and get restaurant recommendations. We were delighted with how quickly it took off, but not surprised. I feel like every school needs a culinary society, especially a school in New York! And this is a school near Harlem, where some of the best restaurants in the city are; we are lucky to be in such a great area for food lovers.
Do you have a favorite thing you've done with the Society?
The biggest thing so far is Columbia Restaurant Week; that was a lot of fun. We modeled it after New York Restaurant Week; we reached out to local restaurants and partnered with them to offer discounts for students who showed their ID. We timed it for when students returned from Winter Break so that students wouldn't be overwhelmed by classes and had time to have some fun. It worked out great! One night [during Restaurant Week] I was at Anār, which is one of my favorite restaurants, and I overheard some students talking about how much they appreciated that it was happening!
What's been your favorite class at the College so far?
I really liked "Cognitive Neuroscience," taught by Mariam Aly; that was super fun. As a neuroscience major, I'm interested in philosophical ideas of the brain in addition to scientific ideas, and she really touched on that. I also enjoyed Music Humanities with Grant Woods [GSAS'22]; he never made it feel like we were just learning facts about people or learning redundant things. It always felt like he was applying it to something and integrating music into how we think.
What do you like to do outside of class and the Culinary Society?
I enjoy playing guitar and trying to make music. I'm also a huge cricket enthusiast — I'm always trying to find people on campus who are interested in cricket!
How do you like to take advantage of being in New York City?
I'm from Washington Heights, so I have the ability to pretend to know all about New York. I like showing people my favorite spots. I especially love to show off Washington Heights — that area is so peaceful and calm and a lot of people don't go there, especially students. So it's fun to take friends to Fort Tryon Park and to the other nice places in the neighborhood.