Thursday, September 23, 2021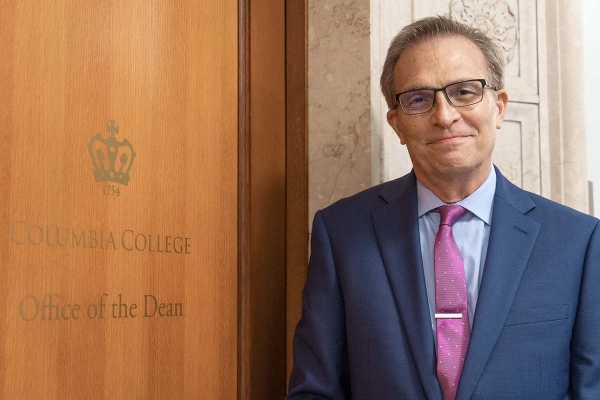 James J. Valentini, the dean of Columbia College for the past decade, will conclude his deanship at the end of this academic year, in June 2022. Dean Valentini, a former chair of the chemistry department, served as interim dean beginning September 2, 2011, and was then appointed dean on June 11, 2012. "I love the College, I love the students in it," Valentini said in an early interview. "I feel a great sense of responsibility and obligation to them, and a similar sense of obligation and responsibility to the faculty. The faculty and the students, they are the College."
This commitment characterized the entirety of Dean Valentini's tenure, and inspired his two key priorities: enhancing the student experience and sense of well-being, and shaping a strategic and multi-dimensional vision for the College's future, supported by ambitious fundraising initiatives designed to fulfill that vision on every level.
"Serving as dean of Columbia College has truly been the greatest privilege of my professional life," Valentini said in a message announcing his departure. "I went from a boy whose earliest access to reading materials was a library bookmobile that made occasional visits to our little Appalachian town, to a scientist who was offered the dazzling opportunity to lead a top institution of higher learning."
Connecting with Students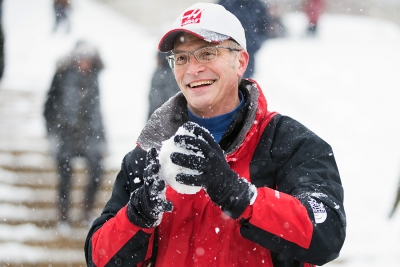 Dean Valentini succeeded Michele Moody-Adams, the Joseph Straus Professor of Political Philosophy and Legal Theory, who served as dean from 2009–2011. From his first days, and reaching even further back to his more than 30 years as a member of the chemistry faculty, Dean Valentini has been known for his personal warmth and approachability.
From hosting Dine with Deantini meals and handing out candy during study periods in Butler Library, to participating with students during snowball fights on Low Plaza, Dean Valentini regularly sought to create personal connections with students. Affectionately nicknamed Deantini, he became a favorite featured guest in New Student Orientation welcome videos, was often seen in the front row at Columbia basketball games and was known to stop frequently on College Walk to speak to students about their experiences.
The Journey and Beginner's Mind
Prioritizing the well-being of students early on, Dean Valentini introduced two concepts during his deanship — My Columbia College Journey and Beginner's Mind — that bridged his thinking as a philosopher and scientist, and his interest in helping students develop into well-rounded, open-minded and open-hearted selves.
My Columbia College Journey, which was developed with the input and backing of over 200 faculty, provides a framework for approaching personal development and skill-building that encourages students to view themselves as "more than a transcript." During his tenure, students have been encouraged to value opportunities that build their skills as communicators, community-builders, advocates for inclusion and more, a total of 13 competencies that prepare them for greater success in life, rather than just in their jobs.
Similarly, students frequently heard Dean Valentini say the line, "In the beginner's mind there are many possibilities, in the expert's mind there are few" — a reference to the Zen Buddhist concept of Shunryu Suzuki, who prescribes engaging with the world as if we're seeing everything for the first time, with eyes wide open. This concept became particularly potent as, over his 10 years as dean, the College's undergraduates grappled with an increasingly divided society. Recognizing the complex and evolving challenges faced by students, the dean encouraged them to embrace intellectual debate and disagreement, and to engage in the critical thinking and interrogation that are central to the college experience and in particular, to the College's Core Curriculum.
Indeed, the refrain of Beginner's Mind might be seen as definitive of the dean's legacy, in which his bold and innovative vision for the College was achieved through his creation of a College strategic plan that invited the voices and ideas of many, not just his own.
Revitalizing the Student and Alumni Experience
Dean Valentini focused not only on inspiring personal growth and well-being in College students but also on improving the range of opportunities made available to them. Whether increased financial aid to take on internships and global experiences, new curricular offerings or guiding the phenomenally successful fundraising and engagement campaign Core to Commencement — the first dedicated exclusively to the College — Dean Valentini raised and surpassed expectations across almost every dimension of the student experience.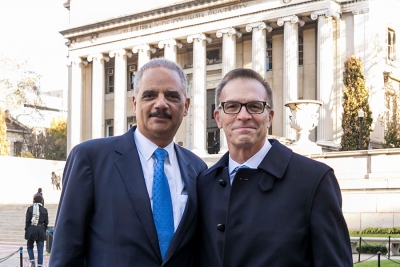 Significantly, Valentini's commitment to providing College students with opportunities to turn their intellectual learning into action led to his partnership with former U.S. Attorney General Eric H. Holder Jr. CC'73, LAW'76 to create the Eric H. Holder Jr. Initiative for Civil and Political Rights; launched in 2017, the initiative fosters scholarly inquiry, policy debate and public engagement that draws on the principles of the Core.
"All of us who love and have been shaped by the College owe an enormous debt of gratitude to 'Deantini,'" Holder said in a statement. "His has been a historic tenure and is a reflection of the depth of his character, unquestioned integrity and commitment to the values that define Columbia at its best."
The dean's scope of interest expanded beyond current students to revitalizing alumni engagement through the Columbia College Alumni Association, with a goal of strengthening the overall community and extending to "former students" a sense of connection to and support from the College. He also helped reinforce alumni's roles as mentors, advisors and inspirations to current students, underscoring alumni's importance in the current life of the College and, in turn, nurturing a culture of increased volunteerism and engagement.
"I have been honored to work with Dean Valentini, a person with the highest integrity, generosity of spirit, intellect and decency," said Nairi Balian CC'88, chair of the Columbia College Board of Visitors. "Jim is that rare human who not only inspires and makes an impact individually, but also affects us, in the best way possible, collectively."
Roar, Lion, Roar
Throughout his time as dean, Jim Valentini has imparted a joyful sense of pride in the distinctive identity of Columbia College. He frequently offered commentary about the history of Pantone 292 (otherwise known as Columbia Blue) and expressed heartfelt affection for what he calls "the greatest college in the greatest university in the greatest city in the world." In fact, Columbia reached the #2 position in the U.S. News & World Report rankings just weeks ago, a testament to the meaningful change made by Dean Valentini since 2011, when the school was positioned at #4.
Dean Valentini will conclude his remarkable deanship in June 2022, and plans to celebrate his decade of leadership will be shared as they unfold.
---
Read President Bollinger's announcement to the Columbia community.