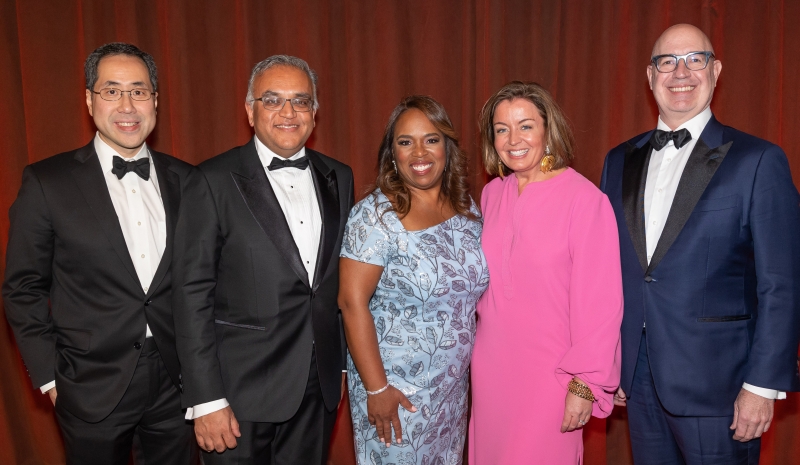 Photo courtesy of Sam Hollenshead
March came in like a lion — or five Lions, to be exact — with the 43rd annual John Jay Awards on March 1. The event, which celebrates College alumni for distinguished professional achievement, raised nearly $1 million for the John Jay National Scholars Program.
This year's honorees were: Anna Brockway CC'92, president and co-founder of Chairish; Alicia D. Guevara CC'94, CEO of Big Brothers Big Sisters of New York City; Dr. Ashish K. Jha CC'92, a national leader on public health and Covid-19 response; Victor Lopez-Balboa CC'82, vice-chairman of the Global Financial Institutions Group in Global Banking & Markets, Goldman Sachs; and Raymond Yu CC'89, SEAS'90, president, Yuco Real Estate Co. and Yuco Management.
"What makes this group particularly impressive is that their professional accomplishments are each distinguished and enhanced by a common factor," said Dean Josef Sorett. "They are tied to a deeper commitment to improving their communities and they each display a commitment of time, energy and resources — and skills both personal and global — that goes far beyond the top line of their CVs and any of the traditional metrics of professional success."
"In receiving the John Jay award tonight, I think less about why I'm being recognized and more about the impact that the John Jay Scholars program and other financial aid programs have had and will have on generations of students to come," Lopez-Balboa said. "I hope recipients and donors will always remember that we are all better off when we give someone a chance, no matter their background. And that when we provide a student with an incredible education, we also give them the confidence to achieve their dreams."
"Columbia furthered my belief in my possibilities and in my potential, and it provided me with a community that expected and counted on my leadership," Guevara said. "Columbia offered me fertile ground to claim community and make a difference; Columbia taught me to be unabashed about my passions and to live them with authenticity. Columbia allowed me the space to identify the issues in my community that I know could be better, and create possibilities that yield lasting impact."
More than 430 people attended the dinner and awards ceremony, held at Cipriani 42nd Street. College students for the first time introduced each of the honorees, and a number of current John Jay scholars were in the audience. The John Jay program, whose scholarships are awarded to incoming first-year students, provides financial aid and special programming to enhance both the academic and extracurricular experience.
Among the other speakers were Sherri Pancer Wolf CC'90, the new president of the Columbia College Alumni Association; John Jay scholar Jonathan Tanaka CC'23; Claire C. Shipman CC'86, SIPA'94, a vice-chair of the Board of Trustees; and University President Lee C. Bollinger. Bollinger, who will step down this year, took the opportunity to express his optimism for the future of the College: "I believe its deep roots — intellectual roots — in great texts and art and its openness to change and evolve is an unbeatable combination," he said.
Pancer Wolf also presented a surprise gift to Lisa Carnoy CC'89 and Jonathan Lavine CC'88 to thank them for their service as co-chairs of the University Board of Trustees. The gift — each received a limited-edition small sculpture of the Scholar's Lion by artist Greg Wyatt CC'71 — is "given by the College on rare and special occasions to extraordinary individuals who have served the community," Pancer Wolf said.
In reflecting on the honorees, Dean Sorett also spoke to the impact of the Core Curriculum in forging "the intellectual threads that tie this group together, that helped shape their mindset [and] honed their ability to interrogate and understand the world around them, and also motivated them to believe that they could indeed change that world.
"On evenings like this," he added, "we're given a vivid reminder of the promise represented by Columbia College's holistic approach to its mission."
Sorett's observations were borne out in the honorees' acceptance speeches. They spoke about their experiences at Columbia as well as its influence on their lives and careers. Brockway described finding "the confidence in my own original thinking and how to use it," while Yu emphasized learning "to think critically, how to problem solve, how to be creative — and to be compassionate."
For Dr. Jha, there were three key lessons: "That science and religion and humanities are not at odds with each other; they all seek knowledge and understanding and meaning in a seemingly chaotic world. That narratives matter, that stories matter, that data without stories have no purchase in people's hearts. And last but certainly not least, that an essence of a life well lived is to serve others, what in Sanskrit we call seva."
Jha concluded with an appeal: "Columbia was the catalytic experience in my life. Columbia transforms, and it continues to transform every new generation. That's our job tonight — that we have to continue that tradition. We have to make sure that Columbia remains accessible [and] a place of belonging for the next generation of people."
---
Find additional photos in this Columbia College Facebook Album.