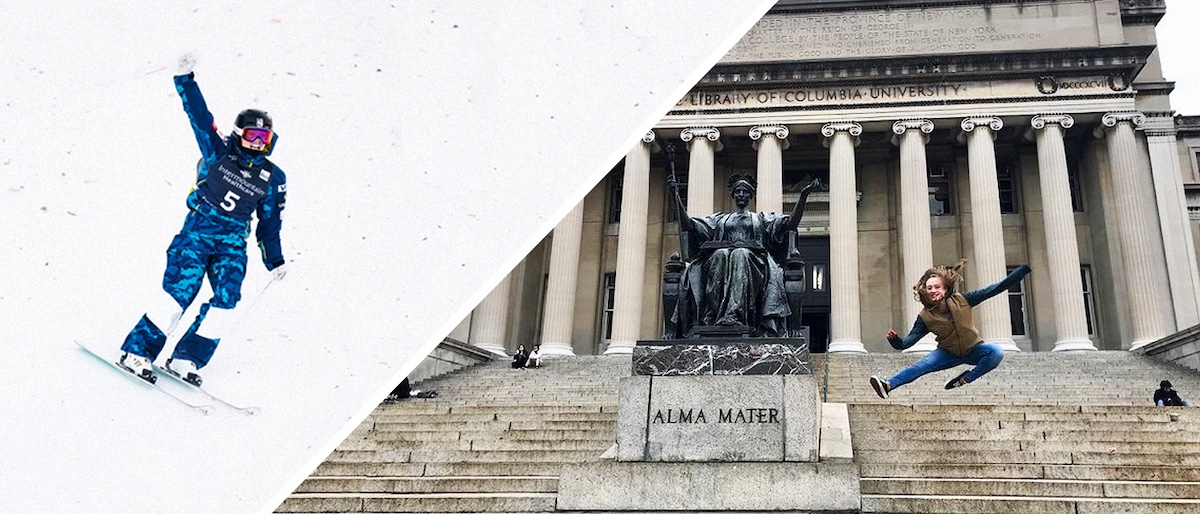 Courtesy of Olivia Giaccio
Mogul skiing is a thrill to watch, with skiers bounding over the bumpy slope, soaring off not one but two jumps as they race for the finish line. For Olivia Giaccio CC'24, the complex dance on snow is all part of the appeal, and now she's heading to the Winter Olympics as a member of Team USA to go for the gold in mogul skiing. You can watch her compete in Beijing in the first mogul skiing qualifier on Thursday, February 3, at 5 a.m. EST. The second round of qualifiers is on Sunday, February 6, at 5 a.m. EST, and the finals take place at 6:30 a.m. EST on the same day.
We spoke with Giaccio right before she left for Beijing to talk about setting records — she's the first woman to land a cork 1080 (two full flips and a full spin!) in World Cup competition — balancing school and the slopes, and her post-injury comeback.
---
Columbia College: Thanks for taking the time for this interview! How did you get into skiing competitively?
Olivia Giaccio CC'24: I grew up skiing Killington [Vermont] on the weekends. My younger brother and I were in ski school; we kind of progressed through the ranks and once we had reached the top, my parents asked the instructors how we could excel further. They pointed us to the Killington Ski Club, and we got signed up for a random program in moguls. I loved it!
Mogul skiing seems very complex, with the scoring being based on turns, jumps and overall speed. What is it about the sport that you love?
The combination of those three things really attracted me. Moguls is a really cool way to hone in on a lot of different aspects of skiing and to show them off in a competitive setting, where it takes a lot of skill to execute.
The freestyle ski World Cup is one of the biggest competitions in your world — especially this year, as your performance over the course of the season built toward making the Olympic team. In December you had your first, first-place World Cup finish, in Ruka, Finland — what was that moment like?
It had been a bit since my first World Cup podium, which was during my rookie year back in junior year of high school. And so to get to that top step, especially at the very first event of the year — and during an Olympic qualifying year — was so exciting, and I think it was a testament to all the hard work I've put in.
Speaking of hard work, on January 8 in Mont-Tremblant, you became the first woman to land a cork 1080 in a World Cup event. What was that moment like?
It was really, really cool! I had actually [attempted the 1080 in competition] in 2019, but I wasn't close to landing it at all. This time, my coach and I approached it strategically, and I had full confidence that I was going to execute it. When I got to the bottom — usually it's each country cheering for their own team — the entire staff and all the athletes erupted into cheers, just because it was a step forward for women's mogul skiing. It was cool to see how excited the community was, because if you are a male in the sport, you can't even think about making a World Cup podium without having that trick in your repertoire.
Do you think you've set a precedent for what judges are looking for in the aerial aspect for women?
Yes, definitely. Over the last two years especially, the women's side of the sport has progressed quite a lot. It used to be, most girls would do a 360 on top air [the first jump] and a flip on bottom air [the second jump] — so their top air wasn't an upside-down aerial maneuver. Now, in order to be competitive, you have to do that on both jumps. And in most cases, do an even tougher trick involving spinning and flipping in the same jump on at least one of your jumps. I do think we'll see more girls doing cork 10s — there are actually four of us now in the United States who are able to do them on snow!
Videos of you landing the 1080 are incredible! How did you learn aerial tricks?
Learning aerial maneuvers is a huge part of summer training. A lot of our days — when we aren't on snow or working out — are spent with skis on our feet sliding down a plastic jump into a pool. We do those things hundreds and hundreds of times, so that by the time we get to snow we feel 100 percent confident with the tricks. I started flipping when I was about 12; back then I was on the early side to flip, especially for girls, but these days a lot of girls are training on water ramps when they're 10. So it's starting earlier now, which is cool — it will make the progression of the sport even better.
You injured your knee in 2019; what has the recovery been like?
When you tear your ACL, most people [who get this injury] can live a normal life and not have to get surgery — you can do essentially everything but mogul skiing! So I had to get surgery; my recovery to being back to snow was 10 months. One thing I say about that time is that it was more of a mental recovery than a physical recovery; I was able to hone in on who I was as a person and find who I was outside of mogul skiing. I've always had sport in my life, and I've been on a competitive level for skiing since I was 10. So it was nice to have a mental break and then bring all my energy back to it and capitalize on my newfound momentum when I got back to being healthy.
How has it been balancing competition and school? What does a typical day look like for you?
It varies a lot, but as an example, I can talk about last year [when classes were online] and I returned to snow at a training camp in Europe. I would wake up, do my warm-up, have breakfast, go out for the first session of skiing, come home and do some homework, go out for a second session of skiing, then come back and do some more homework. Evenings usually were devoted to online classes because of the time change. Then I would have dinner with my team, have recovery and video review, and then prep for the next day.
You've been on Team USA since you were 17. What's it been like growing up representing the United States around the world?
It's been awesome! My first year of World Cup was during my junior year of high school, so I was balancing my work on the road and schoolwork, and then my senior year was the last time the Olympic qualifying process was happening, so I was balancing college applications, schoolwork and qualifying for the Games, which was a crazy and stressful time. I grew up pretty quickly in those two years. I learned how to be accountable for myself in all aspects of my life and how to take charge of managing my time. To represent the U.S. has always been such a huge honor! When I was younger, I definitely looked up to World Cup skiers in the U.S.; I wanted to do that and one day to go to the Olympics. So to be in that position now, representing my country, I'm very thankful.
Speaking of the Games, how did it feel to learn you'd be going to Beijing?
I just started crying! My longtime coach came over and told me after I had finished fourth [at a qualifier in Deer Valley]. I started crying and gave him a hug and thanked him for believing in me.

---
Images Courtesy Olivia Giaccio CC'24