More than 1,300 job seekers turned out on September 23 for the Center for Career Education's (CCE) fall Undergraduate Career Fair — the first multi-industry fair to be held in person since before the pandemic. The event took place from 11 a.m. to 3 p.m., and the energy in Roone Arledge Auditorium was palpable from the outset: Students were ready to go when the doors opened, dressed to impress, and within half an hour the lines at many companies' tables ran three and four deep.
As for employers, while the recent need for virtual recruitment may have temporarily rewritten the business of hiring, the prevailing sentiment was clear: They were thrilled to be back on campus.
"Being in person is for the best," said Christie Tully, head of human resources for asset management firm Alger. "For younger students, it's a chance to really learn about companies and industries they might not otherwise know about."
"Face-to-face interaction is one of the best ways to tell our story," said Peace Corps senior recruiter Michael Kunkel. "Nothing replaces it."
"We're not an Accenture or a Google," said Alyssa Verhoof of data analytics company Kantar. "People may not know who we are, they may not come to us. But being here in person I can pull them over to the table — I love doing that. And then I can gauge their interests and help them to see, 'This might be a good fit.'"
A total of 63 employers participated in the fair, which was open to students and alumni of Columbia's four undergraduate schools. (It was actually CCE's second in-person fair of the term; the first focused on finance and consulting, and the next, on engineering and tech, is scheduled for October 7.) Beforehand, CCE hosted a "Warm-Up Event," where students were invited to settle their nerves by practicing introductions, thinking through questions and testing different ways to share their story. CCE also set up several "Ask a Counselor" stations, with staff offering advice and other info throughout the fair.
"Hosting employers on campus once again, and facilitating connections to opportunities for students for recruitment and career exploration is enormously gratifying," CCE Dean Kavita Sharma said. "It is at the core of the work of CCE. The enthusiasm of both students and employers is infectious. The success of the fairs surpassed all my expectations."
Inside the auditorium, a steady stream of enthusiastic attendees navigated the maze of tables, collecting swag and business cards here, snapshotting a QR code there. The cross-section of opportunities was notable: The FBI staffed a pair of tables across the aisle from Teach For America; the NASDAQ team sat alongside reps from fast food giant RBI. Other companies hailed from the technology, healthcare, media, law, consulting and nonprofit sectors. "We care a lot about our new talent; it's a competitive industry," said Siddarth Kethireddy of trading firm SIG. "These are jobs where you're constantly talking to people, so it's important to interact with [potential hires]. A lot of people can make a better impression in person because they're able to communicate more effectively."
Around the corner, NASDAQ's Darshana Hariharan underscored the point: "If you have a good conversation and you want to remember that, you can take a person's resume and make a note, what you liked about the person, right then and there."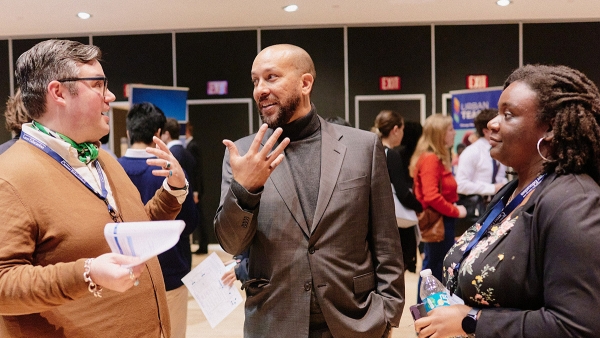 Dean Josef Sorett, who visited the fair in the afternoon, said he was thrilled at the turnout. "Preparing students for their life beyond Columbia, and helping them to imagine all the possibilities, is one of the College's most important responsibilities," Dean Sorett said. "I'm pleased that so many students took advantage of the opportunity not just to connect with employers, but to ask questions and really learn what's out there."
Employers had high praise for Columbians, citing their intelligence, passion, and diverse and well-rounded backgrounds. Speaking just an hour into the fair, Kantar's Verhoof said, "Honestly, it's such a prestigious school. I could confidently say if I had to leave right now and hire three people, I already have my candidates."
A few feet away, John Sidman of ASR Group, a global leader in the sugar industry, smiled when asked if he'd recruited at Columbia before. "I'm an alum," he said (SEAS'12, BUS'21). "I actually got my job here several years ago through a spring fair."
---
Learn more about CCE, its career counseling services, Design Your Next Steps series and other events and resources.