Abbee Cox CC '14, a psychology major, has been selected as a 2014 Humanity in Action Fellow, the international educational organization announced on Wednesday.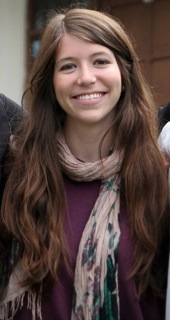 Abbee Cox CC '14
The Humanity in Action Fellowship brings together college students and recent graduates from around the world to explore different national histories of discrimination and resistance to injustice, as well as contemporary issues affecting minority groups. Humanity in Action received a record 605 applicants for the 40 spots in its 2014 fellowship program, and recipients were ultimately selected for their high academic standing, active participation in human rights issues, and outstanding letters of recommendation.
An honors graduate of MacArthur High School in Lawton, Okla., Cox has been active at the College with Delta Gamma, Order of Omega, and the GEQUA (Gender Equality, Agriculture and International Service) Ecuador alternative spring break program, among other activities. She has held internships with the Citizens Crime Commission of New York City, the Midtown Community Court's Center for Court Innovation, the New York City Mayor's Office Criminal Justice Coordinator and the Columbia University Psychology Department. She studied abroad at the University of Cape Town in 2013. 
Cox said she has been interested in criminal justice issues for as long as she can remember, but experiences she had at the College helped her see these issuses in a different light.
"Only in light of the opportunities Columbia has given me to travel and volunteer abroad have I begun to conceptualize these ideas within the broader framework of international discourse on human rights," Cox said. "I hope that my participation in HiA will give me the tools necessary to work to end the epidemic of mass incarceration, which is in my opinion the most significant rights issue currently facing the United States." 
Cox's fellowship will begin with an orientation program at the Council on Foreign Relations and the U.S. Holocaust Museum in Washington, D.C. in late May and conclude in late July on the border between Denmark and Germany.