Friday, September 23, 2011
Before he graduated from the College in May, Max Craig '11 visited the Center for Career Education for help and advice choosing a career. His efforts paid off. On Friday, Sept. 23, he returned to campus for the annual Fall Career Fair to recruit Columbia College students for his new company – Bloomberg L.P.
Max Craig '11 with Columbia College Dean James Valentini
 "The company I'm at right now is a great place to be," said Craig, a fixed-income analyst who was also considering a career as a professional basketball player. "To make a transition here from Columbia… [was] just a natural step. I feel like I have the right connections with the people I met at Columbia."
Craig's company was one of more than 130 represented at the annual Fall Career Fair in Lerner Hall on Friday, Sept. 23. Employers came from industries ranging from consulting to chemical engineering to education to the arts. The Center for Career Education also organized a special "not-for-profit and public service gallery" in the Lerner Hall basement, and there were three alumni panels: "Careers in Education," "Careers in Sustainable Technology and Energy Policy," and "Working in Start-ups."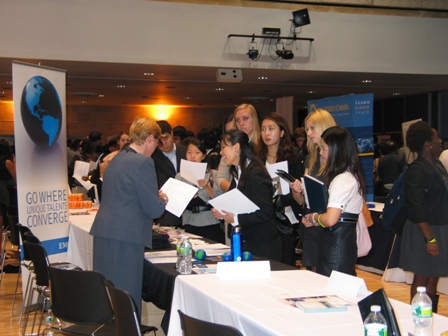 The career fair was sponsored by the Center for Career Education, which works to help students and alumni take the necessary steps and make informed decisions to achieve their career goals. Nearly 1,900 students attended the Fall Career Fair, including students from Columbia College and the six other undergraduate and graduate schools served by the Center for Career Education.  College attendance was up 28 percent from last year.  
College students were there looking for summer internships and jobs after graduation and making contacts for the future.
"I'm looking for somewhere I can intern over the summer or do some research, just to get some experience," said Eugenia Uche-Anya '13, a biochemistry major.
"I've met a lot of people," said Bruno Mendes '14, an economics and political science major, who said he "definitely" planned to return as a junior next year.
Sarika Doshi '00, an alumni recruiter, said Columbia College students are often a good match for her law firm, Axiom.
"Being here is about finding more of us," she said. "There's so much about the DNA of a Columbia student that really matches Axiom's values."
"I absolutely loved Columbia with all my heart and felt like it played such an important role in helping me shape my interest as a professional," she added.