Tuesday, November 23, 2021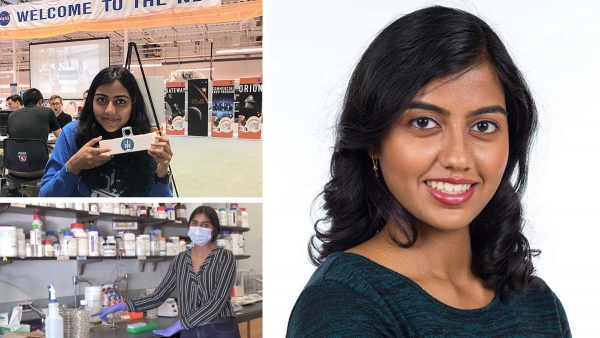 Swati Ravi CC'22, of Plano, Texas, has been selected as one of twelve recipients of the George J. Mitchell Scholarship. Ravi plans to pursue an MSc in Space, Science and Technology at University College Dublin.
Established in 1998, Mitchell Scholarships provide one year of postgraduate study at an Irish university in either the Republic of Ireland or Northern Ireland. Named after Senator George Mitchell, the program seeks to support future leaders in any field who will benefit from study on the island of Ireland. This is the second year that the Scholars were selected virtually, due to the COVID-19 pandemic.
Ravi is interested in Dublin's unique role as a hub in aerospace subsystems engineering: "I am most excited about how specialized and hands-on the education will be," explains Ravi. "The curriculum includes a lab to design and launch miniature satellites, a spacecraft mission design course culminating in a final project conducted in Spain's Canary Islands, and at least three months of full-time aerospace/astrophysics research or work."
Ravi, an Astrophysics major with a concentration in mathematics and biology, was admitted to Columbia as a Science Research Fellow (SRF) and has engaged in a wide range of research projects and experiments. She participated in computational astrophysics research, working to model distant galaxies with high-resolution near-field stars.
She collaborated with NASA's Neutral Buoyancy Laboratory to develop and test an astronaut tool that detects hazardous portions of handrails on the International Space Station. As President of the Columbia Space Initiative, she led a team of 25 fellow students to create a proposal for studying bacterial growth in space that so impressed design engineers at NASA, that it is set to run on the International Space Station in December 2021--the first experiment of its kind.
Ravi has also coordinated public outreach and K-12 educational programming through her position with the Columbia Space Initiative, focusing on supporting students who are underrepresented in STEM, particularly those living in the Morningside Heights community.
"Swati's insatiable curiosity feels like the perfect match for the exploration and discovery that her field demands," said Ariella Lang, Associate Dean of Academic Affairs and Director of Undergraduate Research and Fellowships, "She embodies all of the finest qualities of a Mitchell Scholar".
In reflecting on her fellowship journey, it is clear that Ravi tackled this project as diligently as she has others, and her advice to others reflects this fact. "Start drafting early," she recommends; "seek feedback regularly; and use the personal statement to reflect on both extracurricular and intellectual interests."
Current students and alumni can learn more about the Rhodes and other fellowship offerings through the Undergraduate Research and Fellowships office.